Spa on the Water
It would be a bit of a stretch, considering I can hardly breathe in an underwired bra – but nonetheless, I can't help picturing myself swanning daintily through the extra-wide, historic halls of Montreux' legendary Le Fairmont Palace in my hooped skirts. But I'll be damned if I let my old-timey daydreams get in the way of three days of proper pampering on the shores of beautiful Lake Geneva.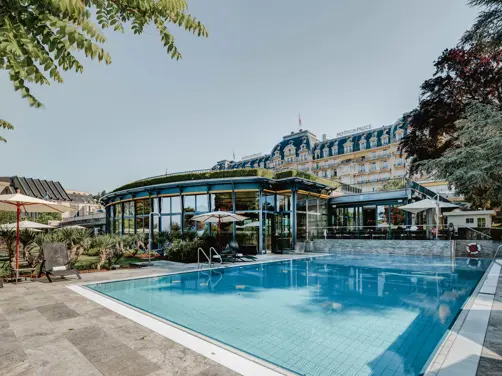 My visit was cleverly scheduled in late spring, when the town is not quite yet buzzing with music lovers or Grand Tour travellers… but is just starting to show the first, promising signs of its magical summertime vibe. The beauty expert's mission was clear: grab your favourite bathing suits and a pair of flip flops, a girlfriend to chat with in the sauna and immerse yourself in the hotel's impressive spa. And no matter what your main goal is when checking into the Fairmont Le Montreux Palace, you'll be hard-pressed to find a lovelier view of Lake Geneva. Nestled right on the lakeshore, this Belle Époque highlight has been the town's number one address since its opening way back in 1906.
The Swiss Riviera's official largest hotel boasts an impressive 236 guest rooms, an overwhelming number of them with beautiful lake views, and has been the number one address for luxury and entertainment for nearly 120 years. A large part if its charm is the Fairmont Le Montreux Palace's commitment to its own history, combined with the energetic, life-affirming vibe of the Montreux Jazz Festival and its sorely-missed founder Claude Nobs that mesh here in a wonderful way. We were lucky enough to be able to enjoy a delicious dinner at the Montreux Jazz Café, but we didn't let the freewheeling spirit of the venue interfere with our true destination, which awaited early the next morning – the Fairmont Spa! The spa services had been returned into the lap of the Fairmont family since my last visit a few years ago, so I was keen to discover what changes had been implemented. I was relieved to see that the light and airy spa is still as wonderfully laid-back and tranquil as I remembered, while offering plenty of distractions for both sporty types and those looking fora deeply restorative stay.
Stretching out over 2000 square metres, the Fairmont Spa includes separate Men's and Ladies' saunas, whirlpool and hammam ar-eas, two pools, private gardens with sun beds and a small, yet lovely relaxation room.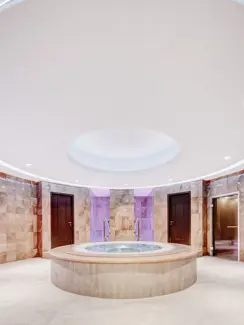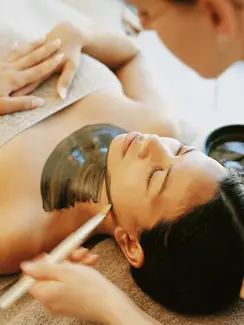 The indoor pool invites you to get sporty and swim a lap or twenty, and if you get bored – or chilly – during your athletic endeavours, you can simply pop into the whirlpool and relax for a bit. At the time of our visit, it was still too chilly for the outdoor pool to open, but I'm quite sure that, come summertime, the outdoor area and piscine become quite the place to be! After much relaxing and chatting on the comfortable loungers by the pool, it was time to experience some much-needed rejuvenating. The Fairmont Spa offers an impressive range of massages, facial and body treatments, as well as a full palette of beauty services.
My friend and partner-in-spa-crime Andrea, who was gearing up for her stint as Zurich Film Festival's 'green carpet' PR expert, isn't one to sit still for long, so it counts as a bit of a miracle that she was able to keep her constantly pinging phone on flight mode for the entire duration of her facial. For me, it was no problem at all to tune out completely and put myself into the gentle hands of aesthetician Camille. With glowing skin, full bellies and a spring in our steps, we were able to enjoy a last breakfast in the sunny 'La Palmeraie' restaurant before boarding the train back to Zurich, where – and I say this as a true Zurich native – even I have to admit that, looking onto our lake, it's quite easy to miss the wide-open views from beautiful Montreux. Merci beaucoup for a wonderful stay!