The Call of the Mountains
I sigh contentedly. Warm water bubbles up all around me as a soft, cool little snow flake falls on my head. I open my eyes and take in the amazing view from the Kulm Spa's outdoor pool: Lake St. Moritz and the Piz Rosatsch are already bathed in sunlight, as the ­weather up here in the Engadine can change quickly. But that's about all the drama I'll experience during my stay at one of Switzerland's most historic ­hotels. Come join me for an extraordinary, pine-scented spa experience in a truly breathtaking setting.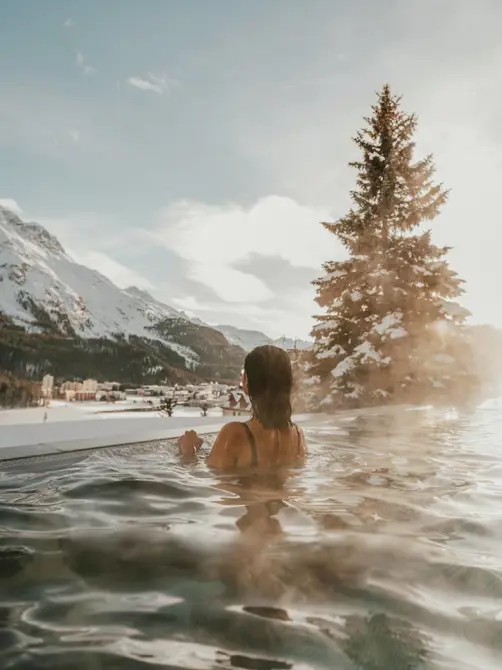 Upon arrival at the Spa, one is immediately ­greeted by a bird's eye view of the impressive indoor swimming pool.
They're every­where. No matter where I turn, be it walking through the impressively large Kulm Hotel, grabbing dinner at the Kulm Country Club or taking the public escalators from the village down to the lake.
The heroic – or some would say crazy – bob riders on both the Olympia bob run and the Cresta Run that put St. Moritz on the map over 150 years ago by ­creating brand-new winter sports – and the ice tunnels they required. And indeed, the Kulm has been the clubhouse of the Cresta Run crowd practically since its establishment in 1864. Founder Johannes  Badrutt, who gazes fondly from a number of paintings throughout «his» ­hotel, certainly wasn't wrong when he boldly declared the Engadine one of Switzerland's most beautiful  winter destinations, boldly in the face of his (mostly British) clientele's doubts. The amazing sunlight, both ­winter and summer, and St. Moritz' ­location on a picturesque lake make points I don't have the heart to argue. And why should I? I'm here on official duty: to make full use of the Kulm Hotel's legendary spa!
For other hotel guests, the mountains are the reason for their stay – perhaps including a quick shopping trip at Prada, Hermès or Gucci. But for me, the draw of the 2,000 square metre Kulm Spa is more irresistible than any ­designer frock, so I slip into my hotel slippers and make my way through the deceptively long hallways of the Kulm Hotel, straight to the ­exclusive Spa elevator. Upon ­arrival at the Spa, one is immediately greeted by a bird's eye view of the impressive indoor swimming pool, as the treatment facilities and spa reception are located above the spa facilities. Airy, modern and ­deceptively minimalistic, the Kulm Spa has been designed according to a three-pillar wellness concept that unites «relaxation, detoxification and regeneration» – all while decelerating your body and mind. A plan I can absolutely get on board with, as it turns out. Wellbeing is key here, both in the indulgently large indoor pool and the slightly warmer open-air pool. Both treat you to a ­fantastic view of the Kulm gardens, and the surrounding Alpine  panorama. It's blissfully quiet this time of the morning, and I make full use of the serene mood while happily making my rounds through pools, saunas, steam baths and (brr!) even the icy-cold Kneipp therapy pools. It's so relaxing I forget to take pictures, much to my post-lockdown-physique's relief.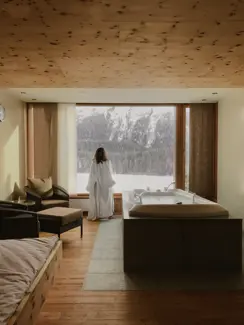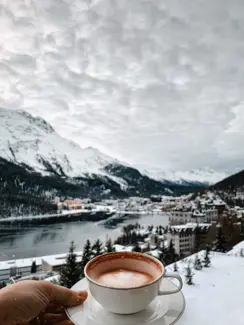 "Contemplating life, love and the perfect cup of coffee while enjoying the amazing views."
Valmont of Switzerland has been setting standards in cell cosmetic expertise since 1985, but for the Kulm Hotel St. Moritz, it's quite a new brand to offer their overwhelmingly international clientele. And somewhat surprisingly, as I've been a beauty editor for nearly 10 years, I was able to experience my very first Valmont facial in St. Moritz (see my «signature treatment tip»). I don't want to drop any spoilers, but you may want to warn your significant other beforehand, as your unabashedly glowing complexion may cause extreme distraction later on. If organic beauty is more your thing, then the Kulm Spa offers a selection of facial treatments by Pharmos Natur, a certified organic brand that focuses on 100% ­natural Aloe Vera… and if my mountain-biking husband is to be believed, the Kulm Signature Massage is just what one's well-used hiking or ­biking muscles need after a day spent up on the mountain peaks surrounding St. Moritz. Not that I'd ever need the excuse of outdoor exercise to enjoy an indulgent day wrapped in a terrycloth robe! All in all, my stay at the Kulm Hotel was an immersive ­experience, and a thoughtful lesson in what hospitality means in challenging times such as these. I ­reluctantly pack my bags and return to the hustle and bustle of Zurich. But I'm pretty certain my gorgeous ­complexion has «The Top of the World» written all over it.