Professional Cool
Transformed into an exclusive Krug pop-up bar for a second year running, the terrace of the Dolder Grand is arguably one of the best vantage points to admire the awe-inspiring panoramic vistas over Zurich. The perfect place to catch up with Lisa Bader, Head Sommelier at the Dolder and GaultMillau Sommelier of the Year 2021.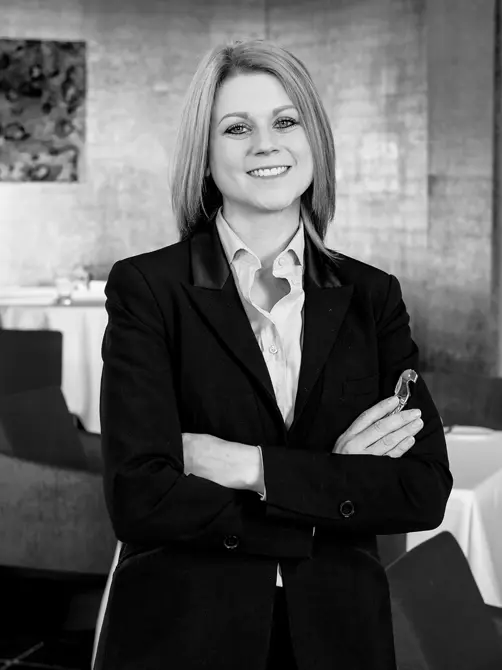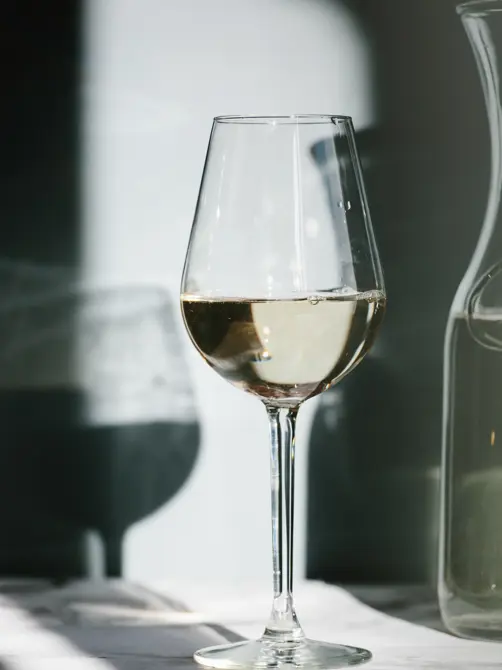 Ms Bader, we're having a Krug Grande Cuvée, 170ème Edition. What does it bring to mind? What I particularly like about this Krug is the timid character of this champagne, which is also evident in this edition based on the 2014 vintage. Its aromatic depth paired with intense minerality, freshness and complexity makes it a perfect food companion but also an exciting soloist.
The Swiss business magazine Bilanz named you Sommelier of the Year in 2018; now, this prestigious award from GaultMillau in 2021. What do these awards mean to you? Naturally, I'm very flattered. But what sets the GaultMillau Sommelier of the Year apart is that they follow your progress over several years. It's not just about technical expertise and specialist knowledge but also about working with diners. It is, of course, a great honour and an incentive to become even better in the future.
What has been your most memorable wine experience? I can think of two: a 1986 Chateau Talbot, a gift from my then director when I passed my sommelier exam. It thrilled me with its elegance and perfect balance. Also, a 1945 Château Lafite, which a diner ordered in The Restaurant. He very generously invited the team to taste. This is one of the most outstanding wines of the 20th century – even as a sommelier at the Dolder Grand, it's not every day that you have the privilege of having something like this in your glass. A sip of liquid history of this magnitude still gives me goosebumps.
Few Swiss restaurants place more emphasis on wine pairing than at The Restaurant (2 Michelin Stars, 19 GaultMillau points). Is it true that you taste several dozen wines together with Chef Heiko Nieder to find the ideal pairing? Yes, we deliberately make an effort that is probably unique in Switzerland. We sometimes uncork 7 or 8 bottles for each course until Heiko and I are satisfied. We want to propose something truly exceptional to our diners. It doesn't necessarily have to be a big name, although l often like to include a Burgundy Grand Cru in the pairing.
What makes a perfect wine pairing, in your opinion? Is it about harmony between food and wine, or does the secret lie in more exciting contrasts? Contrast and harmony are two sides of the same coin. If you try to achieve perfect harmony across all courses, the experience can be monotonous. If, on the other hand, the pairings are highly demanding or too rich in contrast, it can have the opposite effect; it can completely overwhelm the palate. That's why we always include one or two sparkling wines in the paring, which makes you receptive to new impressions. In essence, it's all about finding the perfect balance. What if you and Heiko Nieder can't agree on the right wine pairing for a dish? Who has the final word? We always try to find common ground, but if we can't, I have the last word on wine, just as Heiko has the final word in the kitchen.
You are not only responsible for the wine list of the fine dining restaurant but for all food and beverage outlets at the Dolder Grand. How do you select the wines that are served by the glass? I have to be aware of what's trending internationally and locally here in Zurich because we have many local customers. Furthermore, it has to fit everyone's budget while still being exciting. In other words, wines should offer diners the characteristics of a grape variety or the vineyard region, but should also have added value, so that a diner might say, 'I've never tasted a Sauvignon Blanc like this before; it's so good!'
In a recent interview with the NZZ newspaper, you said that Greek wines particularly fascinate you at the moment. And we discovered a spontaneously fermented Assyrtiko from 80-year-old vines from Santorini on your menu – a somewhat idiosyncratic wine. Where does your fascination for such niche wine-growing regions that receive little international attention come from? Precisely that! They are often underestimated. Greek wines are the perfect example of this. Everyone thinks of Retsina headaches, but there are fantastic wines from autochthonous grape varieties in Greece that can easily compete internationally and offer excellent value for money. That makes them particularly interesting, as I also have to pay attention to the commercial side.