A Celebration of Diversity
An exceptional event with a varied programme and open-minded approach, Lucerne Festival provides a stage for star performers and opens doors for new names on the music scene. For the first time in its long history, the main event was pre-empted by a short but emotionally charged spring festival in 2022.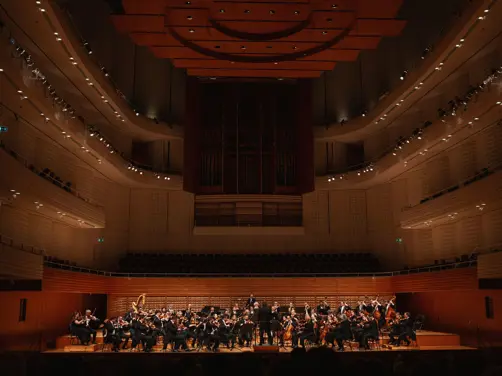 When I was younger, I used to go to the international classical music festival in Lucerne every summer with my dad and my uncle – members of the Zurich Opera Orchestra. To be honest, I only really went for the meals out in restaurants after the concerts. And yet I was obviously aware that this festival really meant something to the pair of them. Even my father, who showed lifelong admiration for his teacher Heinz Holliger and always slightly doubted his own ability to play oboe, couldn't hide his feelings of pride. And now, over three decades later, I can't help but feel proud that my family was part of this extraordinary event for a while. An extraordinary event that has been called the Lucerne Festival since the year 2000. What I wouldn't give to jump in a time machine and travel back to the days when my dad and my uncle were making music in Lucerne.
Now, that's obviously not possible. But, as luck would have it, the Lucerne Festival is still an incredible event to this day. And that's because it's being run by a team that's not afraid to try new things and deal with sensitive issues. Like the connection between Richard Wagner, who lived in Lucerne for six years, and Felix Mendelssohn Bartholdy. Although Wagner was a talented composer, he was also a vehement anti-Semite. After Mendelssohn's death, he made it clear that he resented the admiration he had once felt for his fellow musician. As a way of paying tribute to the wrongfully vilified composer in Lucerne, a place Wagner once called home, the first-ever spring festival in April 2022 was dedicated to Mendelssohn. 'We came up with the idea of focusing the programme on the musical genius of Felix Mendelssohn Bartholdy. His symphonic repertoire mixed with pieces that are linked to his work or had some influence on him,' explains Riccardo Chailly, the Music Director of the Lucerne Festival Orchestra, who, like Mendelssohn Bartholdy himself, was the Conductor of the Leipzig Gewandhaus Orchestra for many years and has studied the life and work of the famous composer extensively.
"Music expresses that which cannot be said and on which it is impossible to be silent."
Chailly and the Lucerne Festival Orchestra opened the first concert of the three-day spring festival with Wagner's Parsifal Prelude. The Music Director had his reason for this decision: 'It's important to me to make the link between the Parsifal Prelude and Mendelssohn's Symphony No. 5 – because of the Dresden amen. Wagner used the sequence in his Parsifal exactly half a century after Mendelssohn had used it.' The Neue Zürcher Zeitung newspaper praised this idea in its article with the headline 'Gratification at last for Felix Mendelssohn'. It went on to say: 'Wagner once stated in his anti-Semitic pamphlet that 'Jewish musicians were capable of nothing more than parroting back what they had already heard'. And yet his criticism can quite easily be turned back around on himself.' Alongside Mendelssohn and his nemesis, there was plenty of room for more contemporary music on the spring festival programme.
On the second evening, the Lucerne Festival Orchestra performed a fundraising concert for war-torn Ukraine. Ukrainian composer Valentin Silvestrov's bagatelle for piano, op. 1, no. 2, and Dmitri Schostakowitsch's piano trio op. 67 were added to the original programme of pieces by Mendelssohn and Robert Schumann. Schostakowitsch composed his iconic funeral music in 1944, using it to process the death of his friend and scholar of music and literature, Iwan Sollertinski, along with his despair at the Second World War. The piece perfectly embodies the words of French writer Victor Hugo: 'Music expresses that which cannot be said and on which it is impossible to be silent.' German violinist Anne-Sophie Mutter, Austrian-Iranian cellist Kian Soltani and Russian pianist Yulianna Avdeeva played for free – as did all the other musicians that evening. The KKL Lucerne didn't charge for the hire of the venue for the fundraising concert. All proceeds were donated to the International Committee of the Red Cross and the International Red Cross and Red Crescent Movement to help people in need in Ukraine and Ukrainian refugees who have been forced to flee to neighbouring countries. An honourable gesture during these dark days. The theme of the summer Lucerne Festival, taking place between 9 August and 11 September 2022, is diversity. This is acknowledgement of the fact that classical music was reserved mainly for white men until the second half of the 20th century.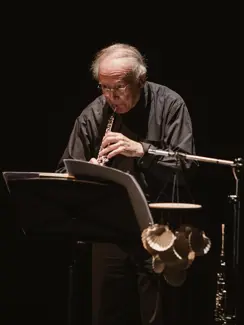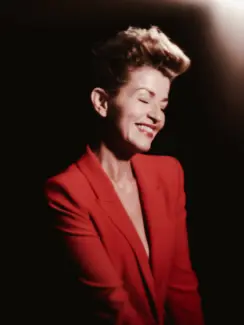 The festival website explains that there is still plenty of progress to be made in this area even though the situation has obviously improved a lot since then. The festival theme is a cry for more diversity within the world of classical music. And the Lucerne Festival team, headed up by Executive and Artistic Director Michael Haefliger since 1999, has made a real effort to invite musicians from groups of the population who have traditionally been under-represented on the classical music scene. For one thing, women are well represented in the programme, which features 24 female composers from the Romantic period to the present day along with plenty of soloists. Even for the biggest names in classical music, appearing at this festival on Lake Lucerne is a special occasion: 'I'm impressed that the Lucerne Festival always manages to put together such a fantastic programme and I'm absolutely delighted to be performing this year,' says leading Chinese pianist Lang Lang.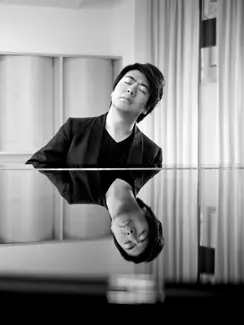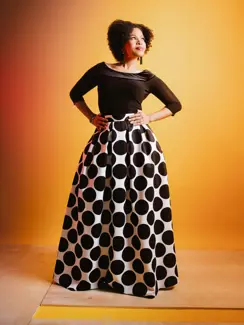 "I fell in love with it as a teenager when I heard Alicia de Larrocha perform it. I don't need to explain why it's the perfect choice for a summer festival."
He's due to appear at the KKL Lucerne on 15 August, when he'll be performing works by Maurice Ravel (Rapsodie éspagnole and Boléro), Manuel de Falla (Noches en los jardines de España) and Claude Debussy (Images pour orchestre II: Ibéria). He'll be accompanied by the West-Eastern Divan Orchestra, which was founded in 1999 by the conductor Daniel Barenboim and the Palestinian professor of literature Edward Said. What makes this orchestra special is the fact that it is made up of young musicians from Israel and the Arab world in equal parts. Other members of the orchestra come from Turkey and Iran. Barenboim, a successful pianist in his own right, will be appearing at the conductor's stand in Lucerne himself. Lang Lang is thrilled by this news as a former student of Barenboim: 'I've missed performing with him! Even though I find myself feeling more nervous than usual when I'm around him. Maestro Barenboim doesn't just know every single note in a piece of music. He also knows all the background behind it. That  alone is so admirable.' Lang Lang has his own links to the West-Eastern Divan Orchestra too.
'We collaborated many years ago in Seville. I remember being impressed by the orchestra's passion and thirst for knowledge. The line-up has obviously changed since then, but the same spirit remains strong,' he says. Noches en los jardines de España by Manuel de Falla is one of the Chinese pianist's all-time favourite pieces of music: 'I fell in love with it as a teenager when I heard Alicia de Larrocha perform it. I don't need to explain why it's the perfect choice for a summer festival.' Music Director Riccardo Chailly and the Lucerne Festival Orchestra will officially be opening the summer of music in Lucerne on 12 August. Before that, though, world-famous youth orchestras will provide a warm-up for the summer's main event as part of Music for Future.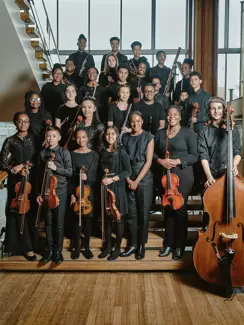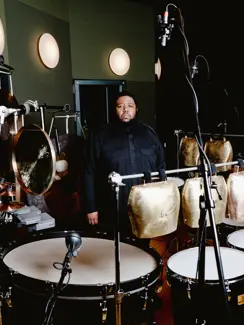 The Chineke! Orchestra – founded by bassist Chi-chi Nwanoku and starring musicians aged between 11 and 20 – will perform the first concert on 9 August. Next up will be the National Youth Orchestra of the USA, a group from the Ilumina festival and social project founded in São Paulo in 2015, and the choir and orchestra from Superar Suisse, a charity that gives children and teenagers the chance to play music regardless of their social background and financial situation. Eighteen orchestras will be making guest appearances in Lucerne within the space of a month, including the Berlin Philharmonic, the Vienna Philharmonic, the Royal Concertgebouw Orchestra from Amsterdam, the Cleveland Orchestra and the Philadelphia Orchestra. The music has obviously been selected with the festival's theme – diversity – in mind, with many of the concerts at the Lucerne Festival giving a nod to other musical genres.
Tyshawn Sorey will be encouraging the Lucerne Festival Contemporary Orchestra to improvise with jazz and avant garde music, while Juan Diego Flórez will be putting Spanish operettas centre stage with the Sinfonía por el Perú Youth Orchestra and a selection of tunes from zarzuelas. George Gershwin's Porgy and Bess will be performed given that it was the first opera that featured people of colour exclusively along with its songs, spirituals and jazz influences. The Vienna Philharmonic will play the Turangalîla Symphony by Olivier Messiaen with its Indian rhythms and Indonesian gamelan sounds.