Raphaël Brunschwig
Entering a new era, Swiss Top Events' dedication to sustainability promises a bright future for the organisation, elevating it to new heights, fostering collaboration, promoting diversity, and ensuring that each event leaves a positive, lasting impact on society.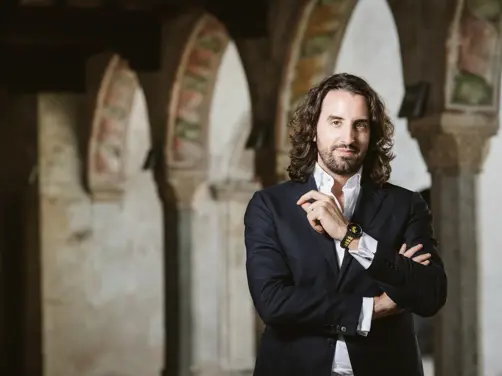 On a quiet, unremarkable afternoon in Locarno, Raphaël Brunschwig greets me with a warm smile and a firm handshake. As Managing Director of the renowned Locarno Film Festival, Brunschwig's reputation precedes him. As President of Swiss Top Events, he succeeds his colleague Richard Dillier. Born and raised in Switzerland, Brunschwig is driven by the desire to unfold the potential of his endeavours. A permanent fixture of Switzerland's cultural scene, his career in Locarno started a decade ago, where he steadily climbed the ranks, honing his project management, marketing, and event organisation skills to the position of Managing Director he now holds. Three's a charm, so the upcoming appointment as President of Swiss Top Events comes in addition to his current role at the Festival and the presidency of Eventi letterari Monte Verità.
Now in its 75th year, the Locarno Film Festival has become synonymous with discovering new talents and celebrating unique, daring films. Under Brunschwig's stewardship, alongside long-time President Marco Solari and the Festival's artistic director Giona A. Nazzaro, the Festival has flourished, embracing innovation and establishing new partnerships to expand its reach to a global audience. 'We aim to keep pushing the boundaries, to challenge the status quo, and to create a platform where films from every corner of the world can be discovered and celebrated,' he tells me.
In his new role as President of Swiss Top Events, Brunschwig is poised to bring the same innovative approach and tenacity to the organisation responsible for Switzerland's most prestigious cultural and sporting events. Swiss Top Events comprises eight events, including the Locarno Film Festival, the Montreux Jazz Festival, Weltklasse Zürich and Art Basel. With such an impressive portfolio, Brunschwig is well aware of the expectations of his new role. Yet, he remains unfazed. 'Swiss Top Events is an undisputed quality seal,' he says. 'My vision is to strengthen the existing activities established by my colleagues while exploring opportunities for growth, diversification and, most importantly, sustainability.' 
His plans include leveraging best practices and knowledge sharing amongst the member events to become best-in-class role models for top-end events and their concerns around sustainability. 'At Swiss Top Events, all Swiss regions are represented. What we do should have a relevant or conscious impact across socio-cultural, economic and environmental areas related to our events,' he adds.
As we discuss the future of Swiss Top Events and the association's tangible efforts in sustainability, Brunschwig's passion is palpable. He envisions a world where cultural exchange is embraced, barriers are broken down, and sustainability is at the forefront of every event. 'The world is becoming more interconnected every day. It's our responsibility as cultural and sporting event organisers to reflect this, to bring people together and promote understanding through our shared passions while ensuring a sustainable future for generations to come,' he says. 'As a collective, we look at what can be implemented across all Swiss Top Events to become interlocutors in the national and international arenas to reinforce Switzerland's image abroad through excellence and measurable results.'
Words S. Hottinger-Behmer