A Foodie Roadtrip
A zippy vintage car, striking scenery and some of the finest epicurean destinations the country has to offer. With Switzerland's landscapes that are nothing short of sensational, what could be more enticing than a road trip through its idyllic scenery starring wondrous mountains and lakes?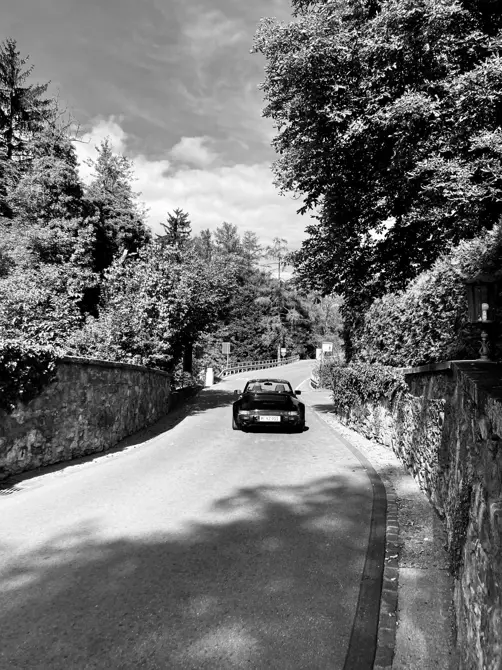 We set off in a vintage Porsche 911 with the top down (the last G model in case you're wondering), ready for an epic gastronomic road trip starting in Grisons, taking in the most scenic routes through the cantons of St. Gallen, Glarus, Schwyz, Lucerne, Zug and finally Zurich. Working our way up the Rhine along the Hinterrhein, we cruise leisurely over the rough-and-ready rural roads that eventually lead us to our first stop, Fürstenau. The tiny village – by some accounts the smallest in the world – holds a paramount place on the international foodie map. The reason for such notoriety is Schloss Schauenstein, a historical castle perched atop a hill overlooking Fürstenau, and famous as the gourmet home to legendary chef Andreas Caminada. Since 2003 the Swiss culinary supremo has been delighting patrons in his three Michelin-starred restaurant, offering guests a compelling reason to stay longer in one of nine beautifully appointed guestrooms at the castle. The perfect place to rest after enjoying an exquisite and memorable gastronomic experience.
Green thumb magic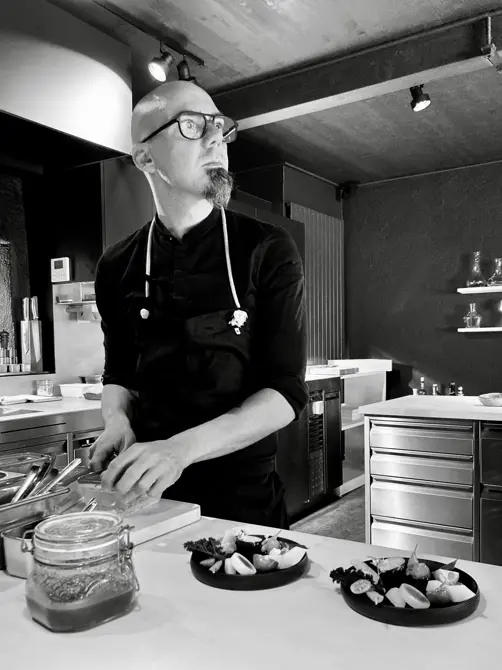 Schauenstein offers not one but two top-tier epicure outposts ranking high on any self-respecting bon vivant's bucket list. Just a stone's throw away in the property's old carriage workshop, the garden-to-table OZ fares vegetarian masterpieces under the auspices of chef Timo Fritsche. The former head chef of three-Michelin starred La Vie in Osnabrück now delights his guests over a custom-made sycamore chef's table – or counter – that wraps around the open kitchen in the shape of a horseshoe. Patrons get up close and personal as Fritsche works his magic with the freshest of produce. Wandering through the estate's gardens every morning, he creates daily menus based on what looks fresh, ripe and tasty. Giving live to skilled creations, it is a pleasure to watch him conjure up delicious dishes such as the aubergine in a saffron sauce with fermented garlic. Oz means 'today' in Romansch and lends itself perfectly to the restaurant's concept. As we continue our journey, we find ourselves marvelling at the picturesque scenery of the Bündner Herrschaft region in the northernmost corner of Grisons. You'd be forgiven for not having heard of the fine wines originating from this region. That's because the Swiss tend to keep them for themselves, with local bottles served across the tables of the country's top hotels and restaurants. Driving into the canton of St. Gallen, we head to the spa town of Bad Ragaz, famously known for its natural spring. The Grand Resort Bad Ragaz has become synonymous with wellness and medical health like few other hotels in the country. We check in to the luxurious Quellenhof designed by Swiss architect Claudio Carbone, and enjoy all of its creature comforts. As part of the resort, it is one of several high end accommodation options, but we have actually stopped here to see one man and one man only: Sven Wassmer, the chef behind two restaurants with three Michelin stars each – the celebrated Memories and Verve by Sven. Needless to say, yet another set of culinary experiences that are a definitive cut above the rest.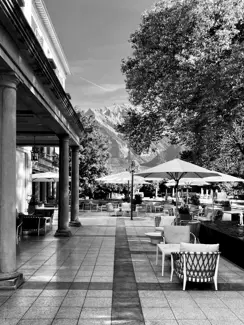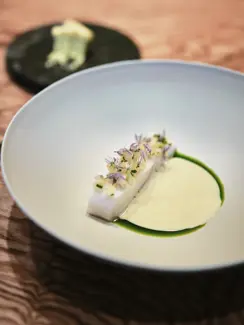 A Feast for the eyes
This faultless resort feeds the mind, body and soul. Before continuing our trip, we decide to walk off our breakfast in the sprawling park in the town's centre. As luck would have it, we come across the triennial Bad RagARTz art trail, showcasing the works of international artists including Stefano Bombardieri, whose monumental bronze sculpture 'Marta e l'elefante' has proven to be a genuine crowd pleaser.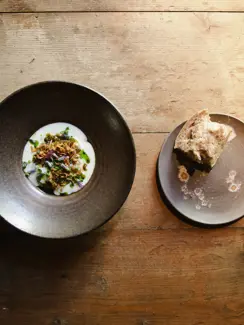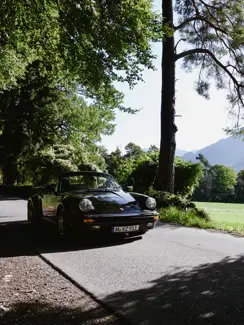 Alluring Sunset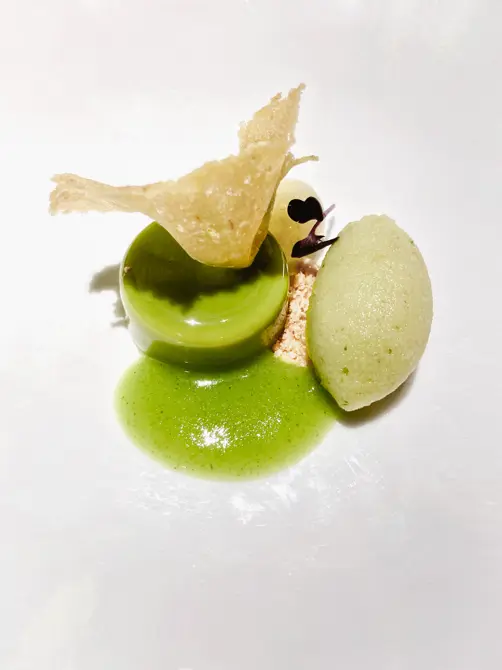 With the roof down, we continue on to the next leg of our journey and are treated to magnificent views of Sant Jöüri, Eastern Switzerland's oldest Roman chapel. Just half an hour's drive later, we are greeted by spectacular panoramic views of the southern shores of Lake Walen, where we stop for a laid-back stroll around the local monastery just as the sun begins to set. The sight of the water shimmering in the twilight is so captivating that we almost forget to check-in to our next top sleepery. That would have been a terrible shame, of course, considering that Park Hotel Vitznau is one of the country's most luxurious (almost) private retreats. Amongst the 48 residences, rooms and suites, the most appealing ones are those overlooking the majestic lake. As night falls, we head to yet another epicurean highlight. Focus Atelier headed by chef Patrick Mahler is as known for its fare as it is for the 32,000-label wine cellar, judiciously overseen by Head of Wine and sommelier Sven Uzat. Following our visit to this wine-lovers Shangri-la, we are seated for dinner in the glass building that stands in stark contrast to the palatial structure of the property. Uzat recommends a 2015 Saumur AOC Brézé, a wonderful Chenin Blanc from Domaine Romain Guiberteau. The perfect pairing for our cod dish served with mussels, walnuts and a light butter sauce that is masterfully prepared by chef Mahler. Back in our respective suites, it is hard to tear ourselves apart from the breath-taking vistas of the water and the mountains beyond. As we pull into Zurich the next day and navigate the city's hustle-and-bustle, La Réserve Eden au Lac's Neo-Baroque façade reflects handsomely on our bonnet. There was never any doubt that this lakefront property, another fine example of Swiss Deluxe hospitality, would feature as a sure stopping point on our route. Inside, the contemporary décor and cool vibes of this establishment of only 40 rooms lives up to its reputation as Zurich's latest place to be. With the swimming pier of Utoquai just a few steps away and Lake Zurich's panorama spreading in front of us as far as the eye can see, designer Philippe Starck has created the decor in the style of a yacht club. On the rooftop of this imaginary nautical hub, executive chef Marco Ortolani serves up the perfect fusion of Peruvian and Japanese cuisines at La Muña. On the ground floor, in the slightly more laid-back Eden Kitchen & Bar, the Ducasse protégé serves up a menu of Italian-inspired dishes in elegantly muted interiors with natural leather sofas and tables, large bay windows and multicoloured stained-glass windows created by artist Ara Starck. A perfectly suited grand finale to our glorious gourmet tour of Switzerland.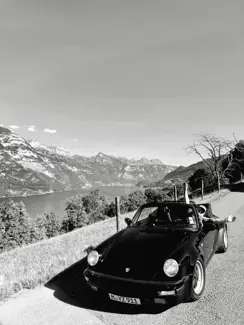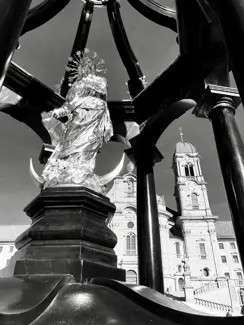 WordsS Reinhard Modritz
Photos Michael Hannwacker