Alpine gold
Several hundred tonnes of saffron are harvested worldwide every year. A staggering 90% of the world's most expensive spice is grown in Iran and exported from there all over the globe. However, this delicate spice also thrives in the mountains of Graubünden and is increasingly cultivated by regional farmers – a niche product with great potential and increasing in popularity.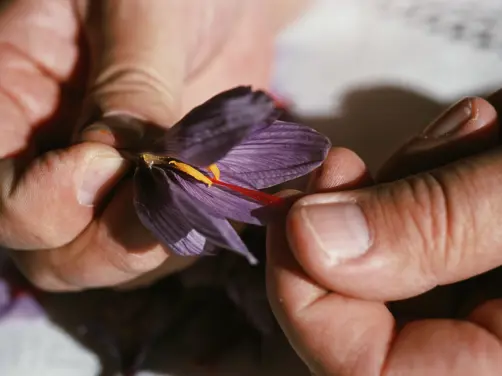 For a long time, saffron was considered more expensive than gold. A kilogram can cost up to 30,000 Swiss francs, making it a luxury good. However, for a dish like a saffron risotto, you only need 50 to 100 milligrams of the red gold.
Saffron is a species of crocus (scientific name: Crocus sativus) that blooms purple in autumn. It takes between 150,000 and 200,000 flowers to produce one kilogram of saffron. The thin threads we use as a spice grow in the plant's blossom and must be harvested by hand.
Saffron is also considered a natural remedy, having various health-promoting attributes. It has anti-inflammatory, diuretic, and diaphoretic properties and is even considered an aphrodisiac. But be careful; depending on the dosage, it can be poisonous: only 20 grams of saffron are enough to kill a person!
The fact that saffron grows well in this region, also known for its excellent wines, is no coincidence. Much like wine, saffron favours this region's slightly more Mediterranean climate. Beat and Salome from Et al grow saffron along with farmer Jürg Adank in the Bündner Herr-schaft. The sun-drenched products are sold as spice, gin, honey or tagliatelle via their online shop at etal.boutique.
Much more than saffron grows in the mountains of Graubünden. The rugged region can certainly score as a producer of many other high-quality and innovative products. Visionary farmers work hand in hand with local universities creating value for the region and its produce. Marketed under the label graubündenVIVA, their products are available online, directly from the producers, and at selected sales points. graubuendenviva.ch