Delight - Chocolate Lava Cake in a Jar Recipe
Before arriving in Zurich's The Dolder Grand, the 38-year-old star pastry chef had worked in Munich's Atelier.
Christian Hümbs turns everything from chocolate and butter to fish, meat, and vegetables into sweet delights.
The Swiss weekly Gastrojournal considers him a trendsetter of modern patisserie.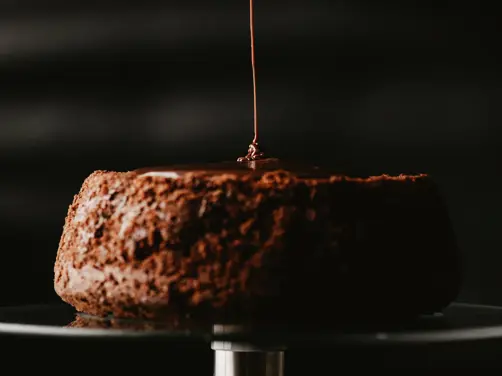 For the cake
275 g couverture chocolate (70%)

300 g butter

5 eggs (size M)

200 g sugar

150 g flour (type 550)
For the liquid
45 g butter 200 g

couverture chocolate (85%)

125 g cream

35 g glucose syrup
In addition
20 oven-safe jars (Ø: 6 cm, height: 10 cm)semicircle silicone mould tray(20 moulds of 3 – 4 cm Ø; or ice cube tray)
How to proceed
Cut butter in small dice and mince the couverture chocolate for the liquid core.
Mix in a bowl. Mix cream and glucose syrup in a pan and bring to a boil. Stir in couverture chocolate and butter mixture slowly using a whisk and work into a smooth texture. Fill chocolate paste into the moulds of the silicone tray and freeze. Mince the couverture chocolate and dice butter for the cake. Mix and melt in a bain-marie.
Lightly whisk up the eggs and sugar in a bowl with a hand mixer. Gradually stir in couverture chocolate and butter mixture. Gently fold in flour using a pastry scraper. Preheat the oven to 190°C. Fill pastry into the jars (ideally with the help of a piping bag with a big round tip). Add a frozen core to each of the jars and make sure they are fully covered by the pastry. Place the jars on a baking tray and bake the cakes on the middle rack of the oven for 7 to 10 minutes (depending on the size of the jars). Remove from the oven and serve warm.
'In principle, there are three kinds of chocolate: semisweet, milk, and white chocolate. The quality lies in the manufacturing process. ­Premium quality is conched. Put simply, long conching times will give chocolate a melt-in-the-mouth quality. The higher the rolling speed and the temperatures during the process, the better the quality.´
´When buying chocolate powder, look for highly de-oiled products. I like them best.´
'Dark chocolate consists entirely of cocoa and cocoa butter. White ­chocolate contains only some of the fruit's components and mainly consists of powdered milk, sugar, and cocoa butter.´
© [ADDICTIVE CREATIVES] / Stocksy United