Summer fling
Ever wondered which tomato should be cut into pineapple-shaped chunks for maximum enjoyment? The pineapple tomato, of course. Oh, were you not aware that each tomato variety should be cut in a very specific way?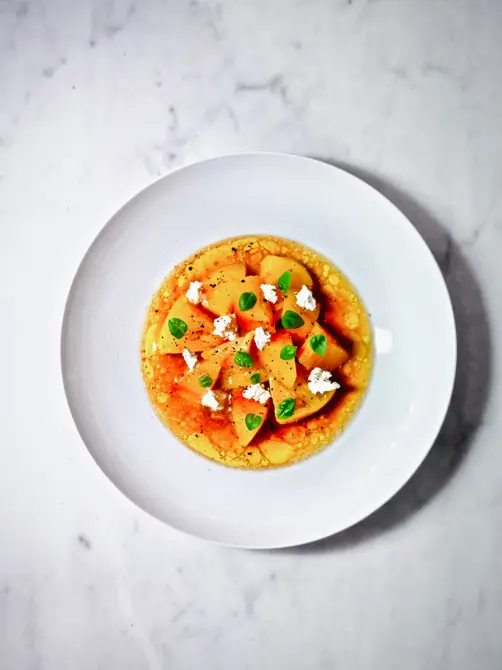 An opulent oxheart tomato, for example, reveals its juicy seed locules best when sliced crosswise into thick slices and laid out on a large plate. Salt and the best olive oil are enough for seasoning. Vinegar would be too much. However, sprinkling a few spoonsful of hand-ground basil pesto on top is a congenial option.
Piennolo tomatoes from the foot of Mount Vesuvius, on the other hand, are not sliced at all, but tied into umbels and traditionally air-dried at least until 24 December. Then they are sautéed with vongole veraci and turned into the most aromatic spaghetti in the world.
But back to the pineapple tomato. By far the biggest summer fling. Straight from an organic farm. Each so plump and ripe that they already burst open on the way home. None is fruitier, sweeter, juicier, milder and tastier.
For the perfect treat, place these flavourful beauties in a bowl and pour boiling water over them. This for two reasons: firstly, they taste even more like the sun when tempered. Secondly, the skin can be peeled off easier. The fragile, slippery texture of the peeled pineapple tomato is uniquely heavenly. Important: when cutting into large, pineapple-edged pieces, catch the juice! I eat this tomato salad with a spoon – seriously. Not a drop of this delicious fruit zest should be lost. Salt well, add some pepper and mix the tomato broth with your very best olive oil and the tiniest bit of high-quality red wine vinegar (no balsamic). Garnish with small basil leaves and flakes of fresh Robiola and buon appetito!
Words & Photo
Claudio Del Principe