All About Grappa
At the Vinitaly international wine and spirits exhibition in 1992, Reto Vergani from Zurich decided to make a bold move and bulk buy grappa. His father was shocked when he saw the order form. And then he saw that the excise tax was ten times higher than the price of the product!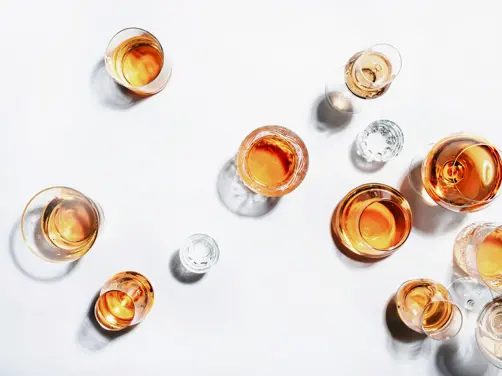 But together they believed that the delicious distilled drink from Italy had huge potential. And they went on to run Switzerland's first grapperia with huge success. 'I can't think of any other distilled drinks that are quite as versatile. As a simple digestif or a premium product, grappa has it all,' explains current CEO Gianni Vergani. 'It's not about finding the right occasion or the right time. It's all about the right moment!'
Veneto is known as the home of grappa. And yet the first written record of the drink can be traced back to Piedmont in the 16th century. For a drink to be called grappa, it has to have been made by distilling pomace from Italy or Ticino.
Grappa Bianca can be enjoyed at a lower temperature of 15 degrees and should be served in a glass that's on the narrower side. You can find special grappa glasses with long stems and an hourglass shape. If you're looking to enjoy a grappa that has been matured in a wooden barrel, though, your glass should be bigger. A classic cognac glass should do the trick. And the temperature can be more like 20 degrees.
Distillation equipment comes in different forms, which all have features that contribute to that unmistakeable grappa flavour. The maturing techniques and heating methods vary too. The distiller has plenty of flexibility in that respect provided that they comply with the quality standards and appellation rules.
Grappa is a very versatile drink that tastes different depending on the pomace, distillation process and maturing technique. Since grappa originates from Italy, that's where it's mostly consumed. But it's a popular tipple in Switzerland too – who doesn't want holiday vibes and a taste of la dolce vita after all? Just after the summer holiday season, there's always a rush on Maschio 903 because it's served in every Italian bar!
Once grappa has been bottled up, it won't change anymore. Just make sure that it is sealed up properly to keep the fruit flies at bay. Otherwise, they drown in the liquid and give it an acidic taste. When you're in the market for some grappa, it's best to seek advice from a professional, ideally in a specialist shop. Take your time to get to grips with the drink until you can feel confident that you're ready to make the right choices.
After grapes have been pressed to make wine, the pomace (skins, pulp, seeds and stems) is distilled rather than being wasted. It is heated in an alembic. The rising steam cools and condenses to give the distillate, which is then often stored in a barrel for up to and even over ten years.
Grappa is hugely popular in Switzerland. That may have something to do with the fact that the quality has improved consistently in recent decades and is currently at a premium level.
Grappa is best enjoyed neat. The alternative would be to add the alcoholic beverage to a shot of espresso to create a caffè corretto. It's rare to taste grappa in a cocktail or see it being used in the kitchen. But it makes for a great gift for your father-in-law, godparents and friends. Vergani now sells products from famous distilleries like Berta, Poli and Villa de Varda, hidden gems like Andrea da Ponte, and no end of up-and-coming distilleries. After Switzerland, Japan is the biggest importer of Berta grappa.
Vergani + Co AG
+41 44 451 25 00 - vergani.ch