Asia meets the alps
Arriving at the destination. Here is the famous Asian Alpine style: the façade of the Chedi, made of wood and glass, is decidedly modern but cosy. The atmosphere, upon entering, is intimate and enveloping despite the five-metre ceilings and huge spaces.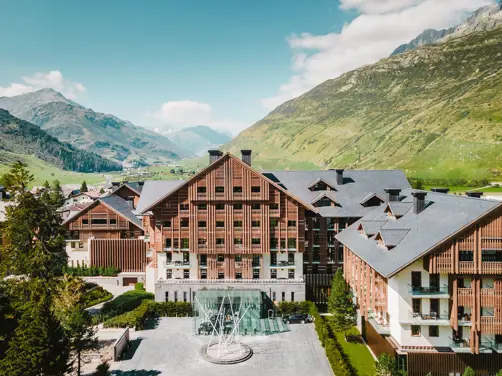 Buy Now or Cry Later, says a neon sign in the store next to the reception desk, and I crack a smile. Fire crackles in the fireplaces, also protected by glass. An endless array of small crystal cubes descends from the ceiling amid white orchids. The glass behind the reception desk reveals the blue of the Olympic-size pool surrounded by snow – the iconic spa. I resolve to return soon to photograph some details, because I almost don't know where to look anymore. There are so many details I want to copy or fix in my memory. After checking in – accompanied, of course, by tea and small warm towels – I enter my room.
I personally love it when you don't see any of the staff, but they magically appear when you need them. That's how it is at the Chedi: no one bothers, but if you ask for something you realise they know exactly who you are and where you are staying. The chefs who work and produce their craft in the beautiful open kitchens are never bothered by guests and offer tastings and smiles. It is true that the hotel is large and so many faces change when the staff changes shifts, but everyone is knowl-edgeable, helpful and in good spirits. A pleasant mix of ages, types and ethnicities makes for a light and relaxed atmosphere.
Who to recommend it to. To anyone on a high budget, of course, and looking for luxury, excellence and something really special for a special occasion. 'At dawn I will win' says the famous song Vincerò you might have heard from Pavarotti. Who knows, after this weekend of training and relaxation, I might be able to win too, in my own small way, by finishing the marathon in Antarctica. I think it's great to pursue one's dreams with passion. Having the privilege of doing it, for two days, at the Chedi, recharging yourself completely, is a luxury that makes one grateful, a suave moment. I will win!
Where it is located
Andermatt is located a little more than an hour's drive from Zurich, in the Orsera Valley, at an altitude of 1,440 metres. The area is first of all known as a ski resort, with scenic and challenging descents – famous are its black ones – on the Gemsstock, a mountain facing north and there-fore always well covered with snow and also suitable for off-piste skiers. But personally I knew it because I had been there several times in the summer to visit the wonderful golf course just minutes away from the Chedi, or to take nice runs and walks among gorges, waterfalls and clear Alpine lakes. Being so close to Zurich, where I live, I had always gone there from morning to night, and this is probably one of the positive effects of the Chedi: it made the area more attractive and full of amenities, and it gave a touch of glamour to what used to be a small, traditional Swiss village.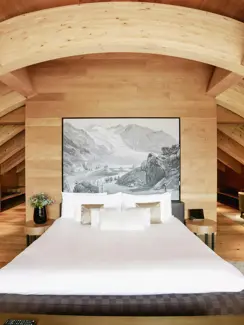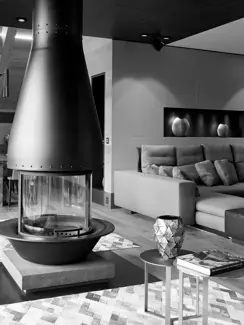 Dramatic beauty
If Turandot were composed today, Giacomo Puccini would probably have her gazing up at the stars from her (warm) room at The Chedi Andermatt, and Prince Calaf would be singing her Nessun Dorma! wrapped in the iconic, fluffy beige bathrobe of his spa guests. Yes, because not only is the spectacular design of this hotel worthy of a beautiful Princess of China in fairy tale times, but it is also a highly original blend of traditional Alpine elegance and surprisingly minimalist Oriental grace. An unexpected mix that can be found in the lines, colours, food, and extreme attention to wellbeing typical of the East. In short, Europe meets Asia in one of the world's most famous hotels. I visited it one weekend to see if it really lived up to expectations, and to treat myself to the luxury of snow training in a great location, as I am preparing for a very special marathon for me, in Antarctica.
Rooms
Every room here has a view, and is practically a suite. I look at the huge grey stone shower and, without glasses, I can barely see the ceiling – because it is too high! The wooden panels are decorated with elegant recessed lights, and a mini-table is placed in front of the bed, oriental-style. A fireplace and terrace with a view complete the elegant feeling.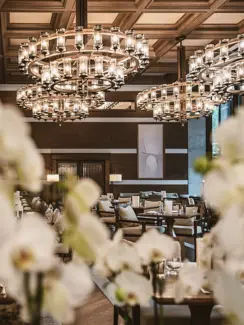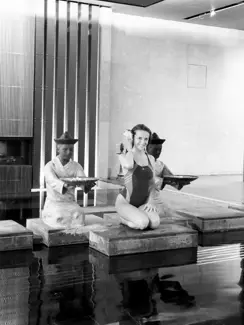 Dinner
It's time for dinner, and I choose, from the various culinary options, the main restaurant. I confess: I do it because I like it aesthetically. The wine and cheese tower, in the centre, cool and very tall, is a feast of tastings decorated with fruits, breads, nuts, jams, and mustards. The walls, made of glass, hold bottles of wine. All around, the four huge open kitchens offer a spectacle within a spectacle – of course I find some Italian chefs and start laughing and chatting. The large room filled with wooden chandeliers and crystal, and huge vases of orchids repeated as far as the eye can see complete the restaurant. I choose the Asian menu as does my husband, almost without reading what it is. It is a selection of Chedi classics and iconic dishes, I am told. Indeed, from the very first hors d'oeuvre, the experience is sensory. Herbs, colours, scents, different temperatures and textures, a generous amount of ingredients and portions make us get to the dessert without fully appreciating it. Here, perhaps this is the only flaw in the menu: a little too much!
Spa
The next morning at 7 am I decide to go for a swim in the Chedi's iconic swimming pool. Nessun dorma! sang the prince in Turandot, but I can guarantee that at 7 o'clock, many people do sleep, because it's very quiet. Two more pools offer the possibility of thermal training, which will be very useful for running in Antarctica.