From Gstaad to Zermatt
What could be better these days than immersing yourself in the snowy countryside, stopping off at the best chefs, exploring the mountains on skis and toasting to the sunny side of life – all on this road trip.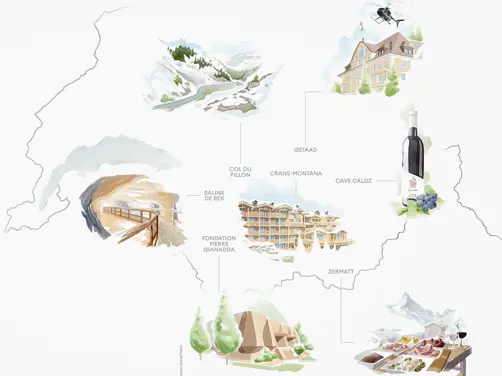 We put on our warm jackets and sunglasses and set off to discover the most beautiful corners of Gstaad, Crans-Montana and Zermatt. We accompanied Daniel Koetser, the owner of Le Grand Bellevue, on a sightseeing flight high above the Alpine peaks of the Bernese Oberland and explored the white expanses of the Zermatt mountains with the former skier Fränzi Aufdenblatten. In between, we enjoyed high-quality restaurants such as LeMontBlanc in Crans-Montana, sampled outstanding Valais wines with Sandrine Caloz and visited the legendary Vrony at her restaurant Chez Vrony in Zermatt.
Gstaad Palace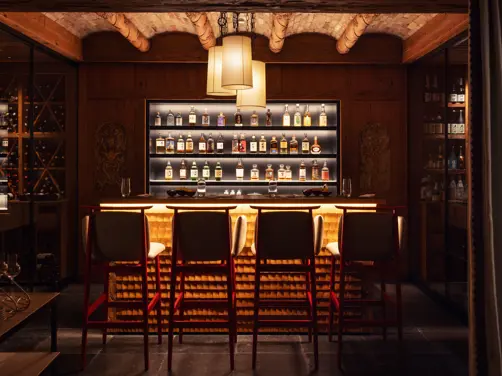 Lobby Bar
The Lobby Bar at the Gstaad Palace is the perfect place to meet for coffee and cake in the winter. Some even refer to it as Gstaad's living room. Later in the afternoon, Mario Guzzetti conjures up wonderful cocktails, and anyone who starts to feel peckish and prefers a simple meal should order a portion of spaghetti alle vongole, once the favourite dish of Ernst Andrea Scherz, who ran the hotel from 1969 to 2001.
La Fromagerie
The place where Andrea Buschini, the maître d'hôtel, now serves guests a Nespresso after having enjoyed their fondue or raclette was used by the Swiss National bank to store gold during World War Two. Evidence remains to this day in the form of the red vault door through which guests enter the restaurant.
The Alpina Gstaad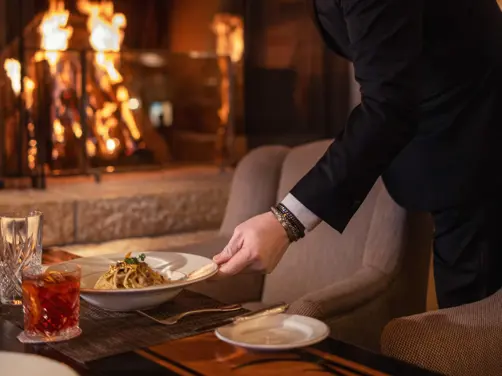 Japanese Whisky Bar
Among the best in the world, Japanese whiskies are extremely coveted. The Alpina Gstaad has an excellent selection of high-quality Japanese whiskies, which it goes to great lengths to buy directly in Japan.
Megu Restaurant
Master sushi chef Tsutomu Kugota from Kobe takes guests on a culinary journey through Japan. At the heart of the Bernese Alps, he set up one of the leading Japanese restaurants in Switzerland. The omakase tasting menu and the chateaubriand of Wagyu beef are true experiences.
Le Grand Bellevue Gstaad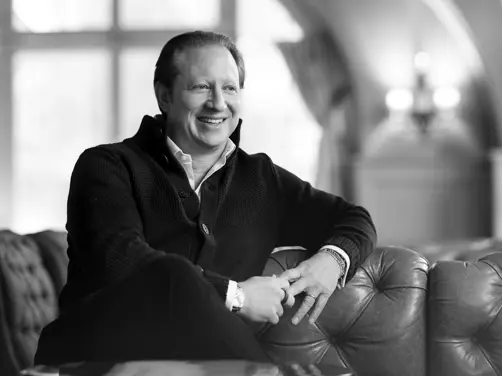 A man full of passion
Daniel Koetser's eyes are like an open book. Anyone who meets him quickly notices that here is a man who is full of passion. He pursues this passion day in, day out, be that in his work as the owner of Le Grand Bellevue in Gstaad or in his leisure time. We met him at his hotel and accompanied him on an excursion high up into the mountain peaks of Gstaad.
"When we took over the hotel over ten years ago, it already offered the best location and incredible facilities – all the bones were there. And then we started to inject it with a hell of a lot of soul."
Entrepreneur, developer and owner of the Grand Bellevue Gstaad. When Daniel Koetser acquired the hotel in 2012, he fully renovated and repositioned the property.
The blades are whirring, the helicopter is ready to take off. Daniel Koetser is as excited as a child, his eyes sparkling. He loves the area and knows it like the back of his hand. The chance to enjoy a bird's eye view of Gstaad and fly up to the towering mountain peaks is a great privilege for him. He can hardly wait to set off. 'Let's go!' he calls out, and within seconds the world on the ground starts to shrink and the mountains begin to reveal themselves.
If you ask Daniel Koetser about his philosophy, some of the answers are pretty unconventional. 'With our hotel,' he says, 'my wife and I wanted to create something distinctive, not something that everybody has to like.' To do this, he and his team had to take their own path. 'When others turn right or left, we don't follow them. What other hotels do is of no significance to us.' This applies to everything, from the furnishings to the service to the pricing. The objective isn't simply to be different for the sake of it, but to be true to themselves and their ideas. 'We don't want to be a hip hotel – we want to be one with lots of charisma.' It's important to him that guests feel at home and are able to relax. This is the feat that the Bellevue appears to achieve with ease: to create a relaxed atmosphere while simultaneously offering maximum luxury.
"I love to have fun. I like to remind people that it is a privilege to be alive. So keep your eyes open and embrace it."
The job of a hotel owner is to master a wide range of disciplines to perfection while always maintaining a good balance. Lasting success is only possible with consistent hard work and a will to improve every day. At the same time, however, hotel owners must also deliver a product that is fun. Guests want to be aware of their host and perhaps clink glasses, share a laugh or simply have a conversation with them from time to time. Daniel Koetser achieves this balancing act to perfection – probably because it isn't a balancing act at all for him. It is in his nature to follow his passion uncompromisingly while simultaneously loving life and living it to the full.
The blades are whirring, the helicopter is ready to take off. Daniel Koetser is as excited as a child, his eyes sparkling. He loves the area and knows it like the back of his hand. The chance to enjoy a bird's eye view of Gstaad and fly up to the towering mountain peaks is a great privilege for him. He can hardly
wait to set off. 'Let's go!' he calls out, and within seconds the world on the ground starts to shrink and the mountains begin to reveal themselves.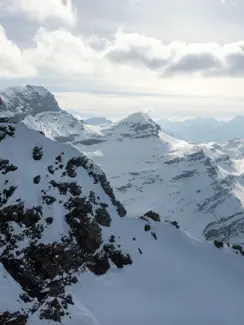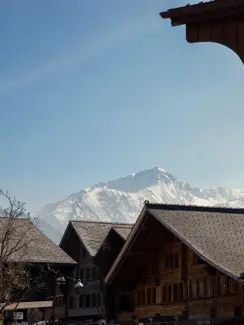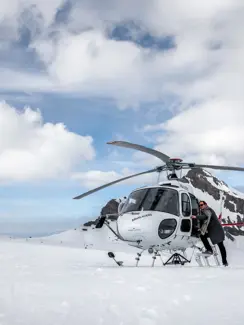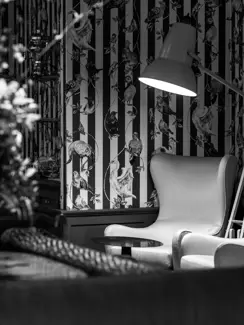 "Gstaad has it all: incomparably beautiful landscapes, authenticity and glamour. And on top of that the most stunning hotels in the world."
Col du Pillon
Few countries offer better road trips than Switzerland. Rather than hours and hours of monotonous landscapes, in Switzerland the countryside changes constantly. One great example is when you leave Gstaad and drive into Valais via the Col du Pillon.
Fondation Pierre Gianadda museum
The private cultural foundation in Martigny regularly holds top-class exhibitions. In addition, the sculpture park in the garden is an ideal place to take a stroll while admiring works by such renowned artists as Niki de Saint Phalle, Hans Erni, Joan Miró and Jean Dubuffet.
We relied on an all-electric Audi with four-wheel drive for the road trip – it even mastered deeply snow-covered roads with great elegance.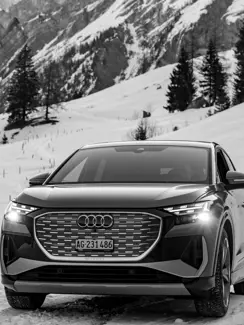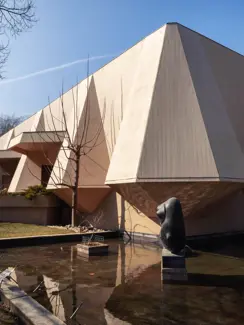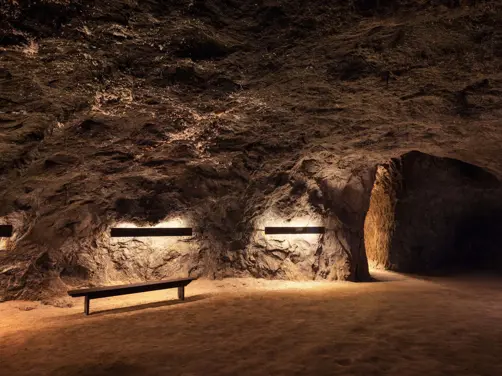 Saline de Bex, Bex
Switzerland doesn't just have lots of yellow gold stashed away in its bank vaults – its mountains are also rich in white gold. In the salt mines of Bex, where 90 tonnes of this white gold are mined every day, there is enough salt to last at least 200 years. On a tour of the mines, a train takes you down 1,600 metres into the mountain. After that, you get to explore the narrow passages and enormous halls on foot. The network is enormous, featuring a total of 50 kilometres of passages, some of which were once chiselled out of the mountain by hand. Following the tour, participants can buy high-quality Fleur des Alpes salt in the mine – a product that is sure to enhance any dish. Tours of the salt mine must be booked in advance online.
– salz.ch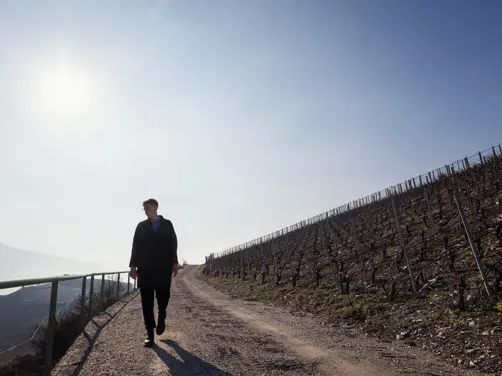 Cave Caloz, Miège
There is one thing road-trippers to this part of the world should not miss out on: a chance to taste the fantastic wines which are produced from the grapes that grow on the sun-kissed Valais slopes. One particularly exciting wine maker has her vineyards around the village Miège, not far from Crans-Montana. Sandrine Caloz produces organic wines of the very finest quality here. Having taken over the business from her father ten years ago, the oenologist has recently been creating a stir with her distinctive and characterful wines, winning several awards in the process.
Chez Vrony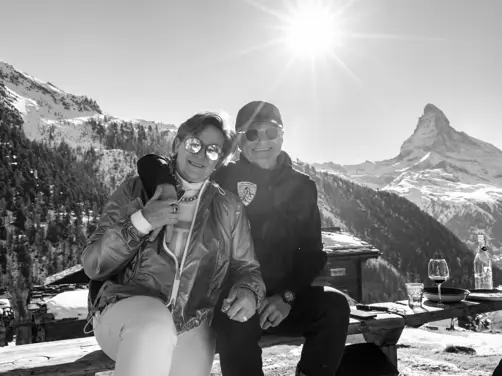 If you are looking to take a break from skiing in order to visit somewhere with plenty of atmosphere in the middle of the rugged mountain landscape – and enjoy some top-quality fine dining in the process – then be sure to check out the legendary Chez Vrony in Findeln. Together with her husband Max and their team, Vrony has created an unparalleled oasis for people who love to indulge in good food – either inside in the rustic parlour or outside on the lounge terrace to the sound of chill-out beats.
Mont Cervin Palace, Zermatt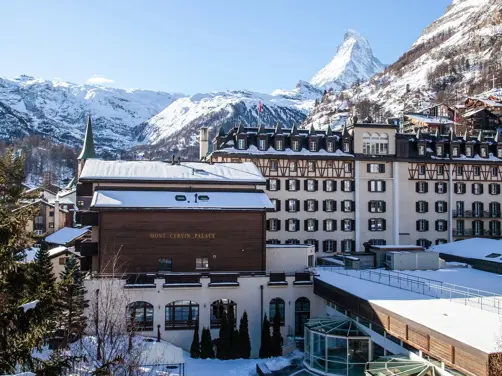 This icon of a hotel is situated at the heart of Zermatt.
The fairytale-like building has been a fixture in the village for over 170 years.
A highlight here– especially after a day outside in the snow – is the spa with its saunas, steam baths, jacuzzis and swimming pools.
Grand Hotel Zermatterhof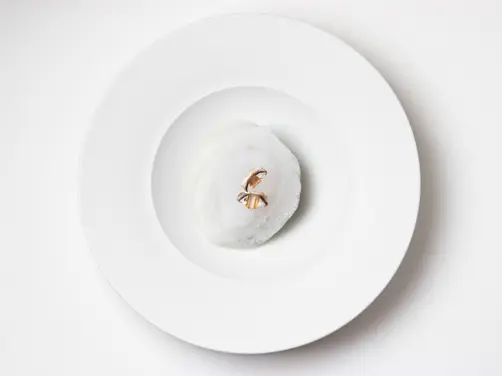 Situated directly on Bahnhofstrasse, the Zermatterhof dominates the townscape of Zermatt. The sun terrace in front of the hotel is the perfect place to have a drink and enjoy the wonderful views of the Matterhorn, and the hotel's various restaurants offer an exciting range of high-quality cuisine – including Alpine gourmet dining at Prato Borni.
Anyone wishing to sit on Zermatt's most beautiful terrace should treat themselves to a drink at LUSI, the brasserie at Zermatterhof.
Here, you are well and truly in the thick of things on Bahnhofstrasse. And as the day turns to evening, you can move inside and take a seat at a table in one of Zermatt's most spectacular halls, where you can choose between high-quality French cuisine and a range of classic international dishes.
"It's true – we Zermatt residents are a little peculiar. It takes a while to get to know us and make friends with us. But we have big hearts."
Refreshingly down-to-earth, despite her success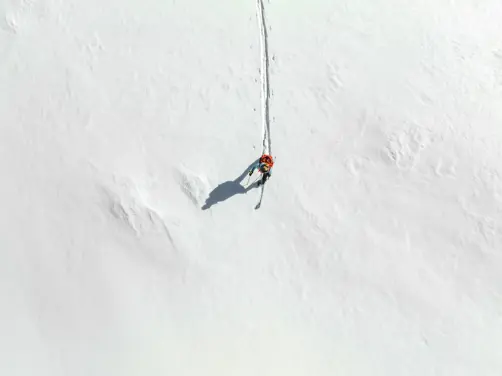 Now 42 years old, skier Fränzi Aufdenblatten already made international podiums from a very young age. As a junior, she won multiple gold medals in the World Championships. Later, she regularly made the top ten in the World Cup. We accompanied her on a ski mountaineering trip in Zermatt. In the process, we encountered someone who has always remained down-to-earth despite all her victories and fame. We put the skins on our touring skis and set off. Aufdenblatten sets the pace, but she goes easy on us, allowing us to enjoy the beautiful, snow-covered landscape. Soon we are far off the beaten track, on a route that takes us through a forest and up to the top of a knoll. As we look down on Zermatt, the former skier begins to sing the village's praises. It means so much to her, she says: 'I've been on the move my whole life, so Zermatt is incredibly important to me – it's my home. When I think of the village, I am overcome by a warm feeling.' She is also proud of the locals: 'They are hard-working people who had good business acumen from the very start.' Transforming a small, simple mountain village, as Zermatt once was, located at the end of a remote mountain valley, into such a successful tourist destination is definitely something to be proud of. Zermatt's success isn't only related to the presence of the Matterhorn, she says.
As is probably the case with most professional sportspeople, a common theme throughout Fränzi Aufdenblatten's life has been ambition. 'For better or for worse,' she says, laughing. 'I like to win even to this day. Winning is an intoxicating feeling. If you've invested a lot of time and effort, you are allowed to enjoy your victories.' However, she is also familiar with the other side of the coin – defeat. During her professional career as a skier, she had to learn how to cope with losing. 'Sport is a great teacher in this respect.' To this day, Aufdenblatten is glad to have learned these lessons as they help her a lot in her work. 'They have made me more robust and helped me to cope with the times when things aren't going so well.' Whereas her life as a professional sportswoman was a constant challenge, both physical and mental, today she also likes to relax and enjoy herself. 'I love going to a posh hotel,' she says. Her understanding of the term luxury is flexible, however. Good, simple food at a mountain lodge or on a ski mountaineering trip is also a kind of luxury for her. Fränzi Aufdenblatten has remained an extremely approachable person – a friendly, down-to-earth woman from Zermatt, despite all her success. Information about ski mountaineering in the Zermatt region: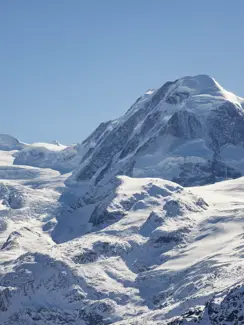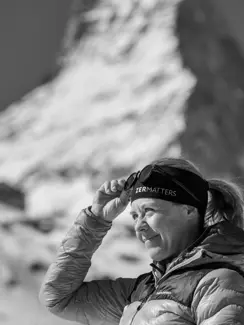 Words Martin Hoch
Photos Nico Schaerer