In Chasselas Veritas
Chasselas is a light wine with a low alcohol content, making it the perfect apéritif for a warm summer's day. 'But it wouldn't make sense to restrict this wine to a certain time of year. After all, more complex bottles can be enjoyed and savoured at any time of year no matter what the occasion,' explains Peter Keller, a wine expert from Zurich.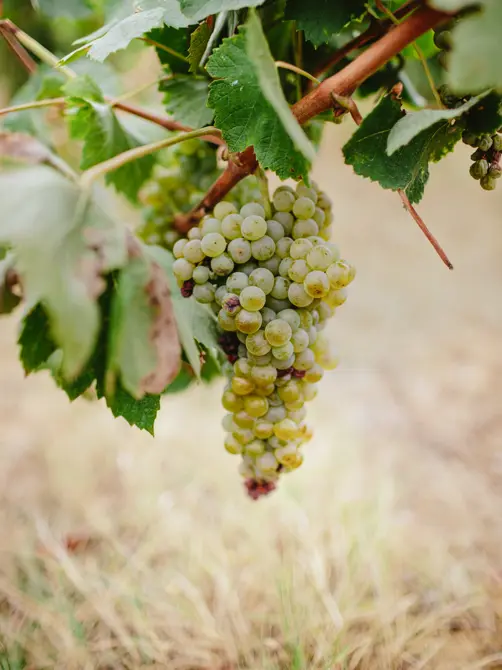 Chasselas is the white grape variety cultivated most in Switzerland. In fact, in the French-speaking part of the country, this grape is part of the cultural heritage. Wine writer and academic Peter Keller tells us everything we need to know about this versatile yet often underappreciated wine.
Chasselas is ideally served at between 11 and 13 degrees. Zippy young wines taste best when chilled, whilst more mature bottles can be enjoyed at a slightly warmer temperature of around 14 or 15 degrees. The crus from Western Switzerland should be poured into a medium-sized glass with a small bowl designed for white wine.
DNA profiling has revealed that this grape variety comes from the Lake Geneva region and probably the canton of Vaud to be more precise. Mention of Chasselas can be traced all the way back to the 14th century and it's now an important part of the local culture in Vaud. The climate conditions in the cantons of Geneva and Valais and in the area around Lake Neuchâtel, Lake Biel and Lake Murten are also perfectly suited for this grape variety.
There is no other white wine with such close ties to Western Switzerland. It's so much more than just a drink – it's an expression of culture and a way of life. Outside of the region, the wine is popular amongst connoisseurs in the German-speaking part of Switzerland. As is the case with all Swiss wines, though, Chasselas has not really made a name for itself beyond the national borders. Only around 1% of all wine produced in Switzerland is exported.
Chasselas is an understated grape variety with subtle flavours. With its fairly neutral aroma and taste, the wine exhibits terroir, meaning it reflects the region in which it was grown and made to perfection. The grapes exhibit elegance, finesse and digestibility when pressed. Prime examples can be matured over the space of years or even decades as part of a special process.
There is no end of grapevine clones that are the result of mutations over so many years of cultivating this grape variety in Western Switzerland. These biotypes may have different skin colours, say, or their harvests may be more or less successful. The Chasselas World Conservatory has been around for years now with a view to preserving this diversity. Vineyards that are home to various Chasselas clones can be found in Lavaux and La Côte.
Some winemakers rely on steel tanks for fermentation and ageing, whilst others stick to large wooden containers. Special oak barrels called barriques are even used on rare occasion. The choice of receptacle depends on the type of wine to be bottled up.
Chasselas wines are nice and versatile. In Western Switzerland or Valais (where Chasselas is called Fendant), they are the top choice of pairing for a fondue or raclette. Perch fillets are another classic accompaniment, but other freshwater fish like trout, char and pike go nicely with an elegant and complex Chasselas. This well-structured wine goes beautifully with veal and poultry too.
Most Chasselas white wines present excellent value for money. Having said that, it's worth shelling out for a complex bottle with a heftier price tag from the most prestigious appellations in Vaud such as Dézaley and Saint-Saphorin in Lavaux and Féchy in La Côte. They can be matured to perfection for years provided that the bottles are stored in a cool, dark cellar where the temperature is kept constant.