Like a Fairy Tale - White Turf
In 1907, an exclusive international event took place on Lake St. Moritz for the first time. Now, carried out every year, White Turf is one of Switzerland's top events. Horses and jockeys from all corners of the globe compete on the frozen lake. It's a place to enjoy a stroll, clink glasses with friends and acquaintances, to see and be seen a small, elegant world filled with energy, passion and leisure.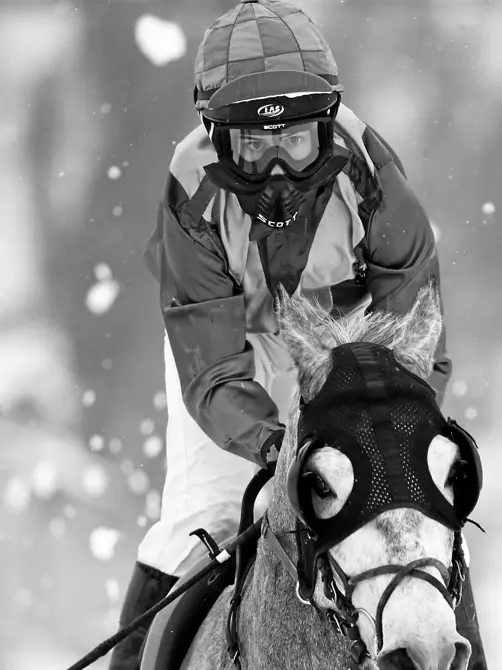 Everything has its own rhythm. There is a time for everything. Day turns to night. The earth circles the sun. Autumn turns into winter. High tide follows low tide. Similarly, the racing days at White Turf in St. Moritz enjoy their own rhyhm. It changes every half hour. At every full and every half hour, hundreds of visitors pour out of the VIP tents and relocate to the grandstands or the rails of the racecourse. Jockeys warm up with their horses. Bets are made. Tension rises. Shortly before the start you can hear a pin drop. The opening of the start boxes unleashes untamed energy. A murmur goes through the stands. At the rails, spectators cheer on the jockeys and their horses. Jubilation breaks out. The winner is named. Then, everyone returns to the tents. Laughter, chatter and clinking of champagne glasses abounds. And then, again, everyone pours out of the VIP tents and returns to the rails of the racecourse.
Everything has its own rhythm. There is a time for everything. Day turns to night. For guests at the Carlton Hotel St. Moritz, night becomes a fairy-tale experience. Each of the 60 suites faces south with a view of the lake. The evening sky over the opposite mountain range is turning violet and orange, and from the window you can observe last-minute preparations for White Turf on the frozen lake. Each suite is decorated in a different way, colourfully and in a wide range of fabrics. Chic and dreamy, entirely in agreement with the distinctive style of the designer, Carlo Rampazzi. His motto is: when on vacation, if you expect the same drab interior as at home, why not stay home in the first place? However, if you decide to take time out at a five-star hotel, you should be enchanted and feel the magic. Like in a fairy tale, time to feel like a king or queen.