Suite Talk - The Park Gstaad
Switzerland isn't exactly short of swanky mountain retreats with a suitably chic fit for every skier type. The ultra-luxe but tastefully understated Alpine gem of Gstaad has for long been the hideaway of choice for the more laid-back variety of well-heeled slope aficionados.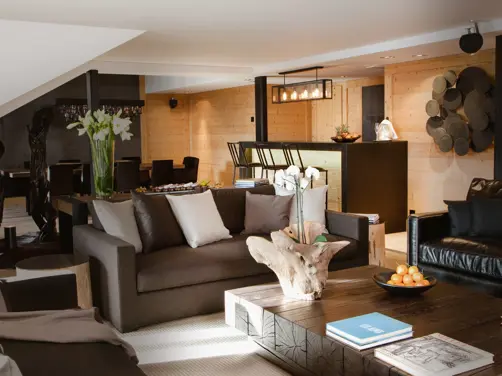 Claiming the title of oldest luxury lodging in the Saanenland, The Park Gstaad is anything but dusty. While the 110-year old Jugendstil lift continues to run as reliably as ever, the rooms and facilities reveal a more contemporary rendition of toned-down luxury. While in its heyday, The Park has played host to less low-key guests such as the Aga Khan, Princess Grace of Monaco and Audrey Hepburn, today's habitués indulge in a more sporty and casual type of sojourn, without having to compromise an inch of efficiency or any type of creature comforts.
Any of the 84 double rooms and 10 suites will keep guests in high spirits, very much in line with Gstaad's distinguished hospitality standards. The décor honours traditional Alpine interiors, revisited with contemporary accents in light fir wood, sober furnishings and warm fabrics. There is, however, one suite that beats the rest of the lot when it comes to superlatives. Aptly named «My Gstaad Chalet», it is one of the largest suites in the Swiss Alps, spanning across 400 square metres over two floors. A regal penthouse in its own right, it features four bedrooms, each with bold black granite bathrooms, a dining room, a lofty sitting room and a staff kitchen. On the second level, a fully-equipped private spa awaits for the all-important post-slope relaxation time: a private sauna, hammam, jacuzzi, full gym, private hair salon and massage room, all there to ensure guests can enjoy the utmost discretion during their holiday. The star of the show downstairs is a steam fireplace that can be seen from the master bedroom and the living room, creating a truly snug ambience in an almost hypnotic way. While the overall quality of materials and comfort is a given, the devil – as always - is in the detail.
Dimmable lights throughout, generous amenities, thoughtful niceties, and the touch-of-a-button service The Park's guests love and forever come back to. And if you somehow encounter the impossibility of feeling like leaving this modern Alpine chateau, many surprises await downstairs, not to mention, of course, the picturesque and awe-inspiring beauty of the natural surroundings of the Bernese Oberland panorama.
1. FOOD & FIRE
Experience the fiery temperament and gastronomic delights of Argentina at Chubut, where prime cuts of meat are cooked over a wood fire. The décor hints at a drawing-room setting of cattle ranches in Argentina, adding a distinct «gaucho» atmosphere. Inspired by the Chubut Region's cuisine in Patagonian Argentina, chef Agustin – a native – serves up honest flavours based on memories of his childhood, topped up with a fine selection of Argentinian reds.
2. BIKING SUMMER
A mountain biker's Shangri-la, Gstaad offers its visitors traffic-free mountain roads, double-digit climbs and thrilling high-speed descents. The Park Gstaad has positioned itself as the ideal home base for two-wheel thrill seekers. At the heart of its cycling service is the 'Bike-Lounge by Bianchi', a unique concept developed in collaboration with the prestigious Italian racing bike manufacturer.
3. SPA
The Park's SPA hosts space for pampering and well-being across an area of 1,000 square metres, including a large indoor saltwater pool, heated to a perfect 32 degrees Celsius. During summers, a second outdoor pool is surrounded by spectacular vistas of the Alps.
Words Stefan Hottinger-Behmer