Suite Talk - Yash Chopra Suite
As an exquisite tribute to late filmmaker Yash Chopra who brought the beauty of Interlaken to the silver screen, an eponymous suite transports guests to a world of opulence and glamour, reminiscent of the director's lavish film sets.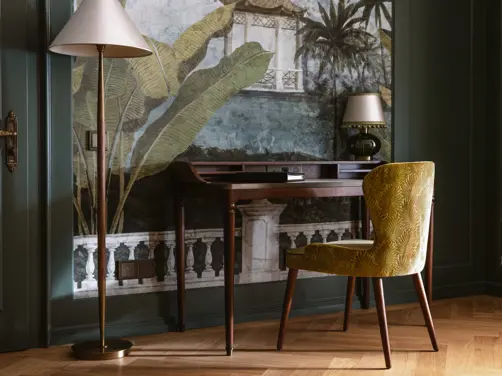 Nestled between the shimmering waters of Lake Thun and Lake Brienz, Interlaken has long been a coveted destination for travellers seeking the perfect blend of natural beauty, adventure, and luxury. With its snow-capped peaks, verdant meadows, and picturesque Swiss chalets, this charming town epitomises an idyllic Alpine getaway.
At its heart lies the historic Victoria-Jungfrau Grand Hotel & Spa with its Belle Époque façade and picture-perfect views of the Jungfrau summit. The legendary hotel is home to the Yash Chopra Suite, a testament to Bollywood's enduring love affair with this enchanting town immortalised in iconic films directed by Chopra. The 75-square-metre suite has been meticulously designed to pay homage to Chopra's illustrious career and his love for Switzerland. In its original iteration, an impressive collection of memorabilia adorned the walls, including original film posters, behind-the-scenes photographs, and even Chopra's own Swiss cowbell, awarded to him by the Swiss government for his role in promoting tourism. A more recent revamp introduced a more contemporary and harmonious blend of classic Swiss elegance and vibrant elements of the subcontinent, reflecting the cross-cultural connection forged by Chopra's films in a slightly more subdued way.
The living area, which is resplen-dent with rich wallpaper, plush sofas and elegant details, invites guests to relax and unwind in spirited surroundings. At the same time, the private balcony offers breathtaking views of the surrounding Alpine landscape, evoking scenes from Chopra's epic love stories. Those looking to retrace Chopra's footsteps can embark on a guided Bollywood tour, visiting iconic filming locations and learning about the history of Swiss-Indian cinematic ties.
The suite's exquisite design, the hotel's unparalleled hospitality, and the allure of Interlaken create an unforgettable experience that transcends the boundaries of cinema and reality. In the words of Yash Chopra himself, 'Films have the power to capture dreams,' and the Yash Chopra Suite hits the spot in bringing those dreams to life.


3 reasons to leave the suite:
1. DINING
Radius serves an inventive menu committed to locally-sourced produce from no further than a 50-kilometre radius. This unique approach highlights the freshness and quality of Swiss ingredients while supporting local farmers and reducing the restaurant's carbon footprint. Chef Stefan Beer skilfully combines these ingredients with innovative culinary techniques to create a symphony of flavours in a relaxed ambience, indicative of a more contemporary fine-dining experience.
2. PAMPERING
Founding the Center for Prevention of Aging over 20 years ago, Professor Jacques Proust's ideals find their way onto the treatment menu of Nescens Spa. Featuring personalised treatments emphasising a holistic approach, the Nescens Spa ensures a bespoke and transformative journey in a tranquil sanctuary set against Interlaken's picturesque landscape. Dedicated spa suites make sure aficionados stay close to the grand hotel's award-winning amenities.
3. SIGHTSEEING
Unparalleled in its Alpine grandeur, the Jungfrauhoch is known as the Top of Europe. This iconic summit at 3,454 metres offers visitors awe-inspiring views of majestic snow-capped peaks, vast glaciers, and picturesque valleys. Embark on a thrilling train journey through the heart of the mountains to reach this remarkable vantage point, where unforgettable impressions and views await the intrepid traveller.
Words S. Hottinger-Behmer