The Luxe Life
«100 hectares of pure­ happiness» is Castello del Sole's tagline. And indeed, real happiness can be found on the 2500 square metre estate of this amazing hotel. Come join me for some truly ­beautifying downtime in one of the ­Ticino's most unique spas. And yes, there will be wine.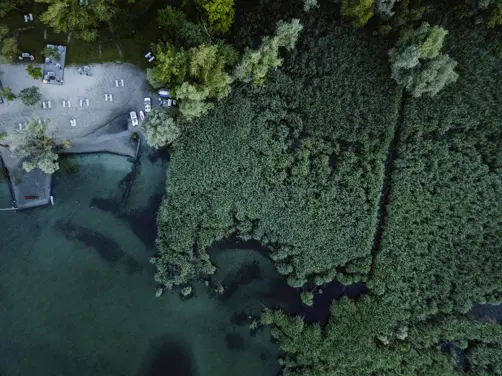 "Immersing yourself in excellence."
To be honest, it is incredibly easy to fall in love with the Castello del Sole. Or rather, it would be hard not to. The hotel is located right in the middle of one of Switzerland's most photogenic and most calm-inducing natural settings, right on the northern shores of the Lago Maggiore. Here, a stone's throw from Ascona and smack dab on the Maggia river delta, the castello has served as a hiding place for nearly 500 years. Over the centuries, the stronghold built by Francesco Orelli in 1532 has evolved into an architectural gem, at times serving as the spiritual home of the Protestant religion, a simple osteria, and now – lucky us – as an exclusive hotel property that manages to redefine contemporary luxury as a living, breathing example of how simple hospitality can truly be.
As tempting as all the culinary delights the Castello has to offer – and as terribly guilty one might feel if it was, say, a beautiful late spring day filled with sunshine and determined-looking hikers with expensive, well-used gear – I am here for one reason: to immerse myself (quite literally) in the softly gurgling waters of the Castello spa.
The «Castello SPA & Beauty» has not been banished to the least-frequented parts of the estate, as often is the case in hotels. Quite the opposite: A luxurious 2500 m2 of prime real estate has been transformed into pure luxury for body and mind. Guests can expect all the bells and whistles that make a modern hotel spa, without any of the distractions that can go with them. The overall mood is one of calm, spaciousness, and feeling welcome without being smothered.
A well-equipped gym, an indoor/outdoor swimming pool, a separate exercise pool, jacuzzi, steam bath, Kneipp trail, and a high-tech Hydropool hot tub are just a few of the wellness offerings that are laid out beautifully and with care not to disrupt the clean, calming lines of the spa's layout.
If you are feeling extra-indulgent, you can relax in the «Onsernone» spa suite for two or more hours of «matchless luxury» on 70 m2. As beautiful as the private spa is, the private view of the park can be enjoyed from nearly every corner of this one-of-a-kind wellness destination. And indeed, the outdoor gardens with their artfully scattered lounge chairs, hammocks, and quiet corners of privacy are one of the biggest attractions of this particular spa … and a wonderful way to turn a spa break into a summery, relaxing experience. 
"Taking farm-grown
to a beautiful new level."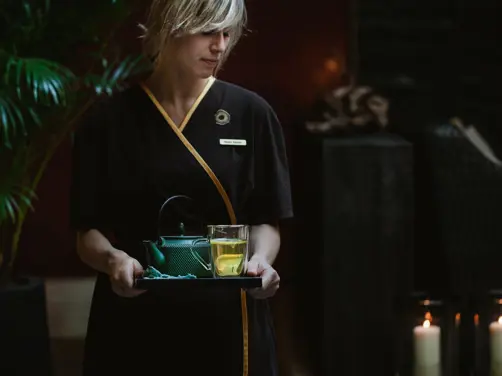 For spa manager Jutta Hosser, who knows exactly what discerning wellness friends need and expect, the unique blend of spaciousness and feeling protected is what makes the Castello spa so unique. «It's quite amazing how you can spend time in every corner of our spa and always feel like you're in a cocoon – while enjoying the beautiful views of our estate.» I am not about to disagree, but as my signature treatment is about to start, I decide to skip the questions about the exact type of tree I am currently gazing at and get ready for the Castello's signature beauty treatment.
It is not often that you get to enjoy beauty treatments with own-brand products that are made with ingredients from a hotel's own vineyards, so I am understandably excited to discover the Castello's VinoAqua Therapy® and own skincare range Vineasole Cosmetica®. The former is based on ancient beauty knowledge: The Romans had already discovered the skin-smoothing and firming properties of grapes and grapevines. Here at the Castello Spa, grape pomace – one of the by-products of the hotel's own winemaking facilities – is used as the heart of both their body treatments and their own products. After a gently invigorating body scrub with finely ground grape seeds and oil, a relaxing bath with either Chardonnay or Merlot dials up the relax factor by quite a few notches.
And while Jutta lets me know that they will be adding a signature full-body massage by the end of this year, I am already gearing up to the Castello's signature facial – the Vineasole beauty treatment. For 90 minutes, I am taken on a deeply relaxing journey: cleansing, a gentle scrub, some painless extractions, an incredibly well-performed facial massage, and to top it all off – while the nourishing face mask is working its magic – a lovely hand, arm, foot, and leg massage. The individual «VineaSole» skincare products can be bought at the spa.
It is not hard to believe Jutta Hosser when she insists that she has never found a more beautiful spot in all of the Ticino – and that she feels truly blessed to be able to work in such gorgeous surroundings. The fact that she and her team of well-trained, exceptionally warm and friendly staff strive to create the kind of quiet luxury they themselves want to enjoy, makes this spa a true gem. And the Castello proves, once again, that people and the mood they set make the experience. The only conclusion I can come to, post-treatment and happily dozing in a comfortable lounge chair, is that I will have to come back soon to confirm that this was not just all a well-scented, beautiful dream.