Calling all connoisseurs lakeside
During the Belle Époque, English aristocrats discovered the 'Swiss Riviera' between Montreux and Geneva as a tourist spot famed for its promenades lined with cypress and palm trees against the backdrop of the Alps. And now it's a hotspot for connoisseurs thanks to its traditional grand hotels, world-class restaurants and idyllic Lavaux Vineyard Terraces.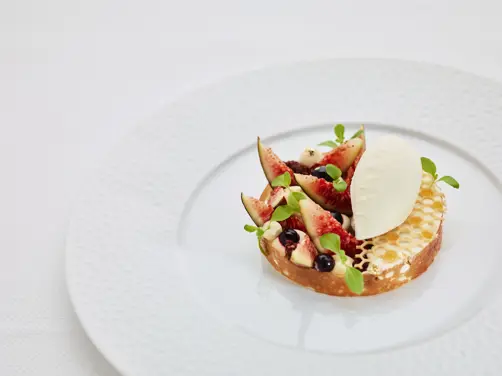 Stéphane Décotterd describes his cooking as thoroughly local. 'And never still – much like the water of Lake Geneva which never fails to inspire me.' To prove his point, he serves up an escabèche made with perch from the lake itself with a green parsley root and ground-ivy sauce. Much like his food, this chef is not known for just staying still either. In fact, no other chef has been making waves like he has been between Montreux and Geneva recently. In 2018, he caused quite a stir when he announced he was banning lobster and turbot from his menu, having decided to stick strictly to local produce. And he was at it again in the summer of 2021, when he moved his entire team from the Pont de Brent restaurant to Glion after many years. There, he is cooking up a storm at Maison Décotterd in the listed École Hôtelière building high above Montreux.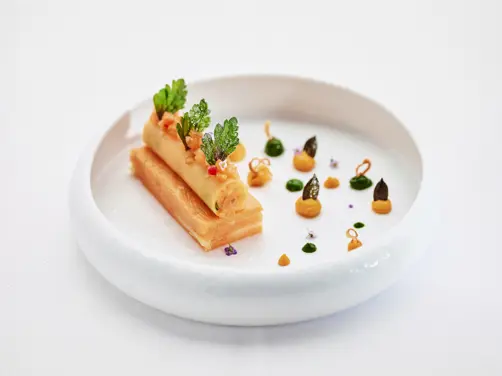 Grand Hôtel Du Lac
The rich cuisine of the Swiss Riviera inspires Décotterd's colleagues by the lake too. 'We are very lucky to be cooking in this incredible area,' says Thomas Neeser, Head Chef at the Grand Hôtel du Lac on the shore of Lake Geneva in Vevey. The water calls out to the German-born chef who has called Romandy his home for 11 years: 'There's no better way to start the day than to travel out with the local fishermen in the early hours.' And he returns with freshly caught whitefish, rainbow trout and crayfish. 'Exceptional ingredients are at the heart of fine cuisine,' as he learnt at the legendary Auberge de l'Ill in Alsace. Now he serves plump crabs from Lake Geneva with crunchy peas from the farmers' market and fresh mint at the gourmet restaurant Les Saisons. The finishing touch to this dish is a mayonnaise with an intense crustacean flavour that Neeser prepares using the heads of the crabs.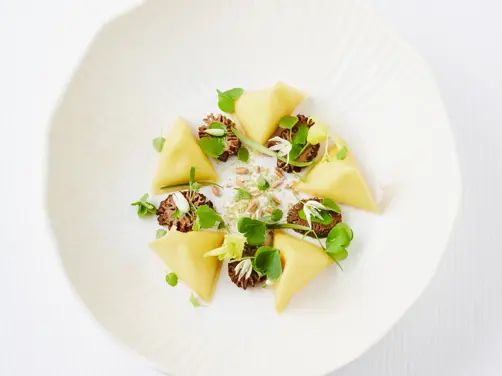 Beau-Rivage Palace
Part of the region's charm has always been its wine, which fearless winegrowers source from nature on the steep, sun-soaked vines of the Lavaux Vineyard Terraces, a UNESCO World Heritage Site. 'We have around 3000 wines on the menu, including a number of mature Chasselas varieties,' says the Head Sommelière at the Anne- Sophie Pic, the flagship restaurant at the Beau-Rivage Palace in Lau-sanne. The petite head chef from Valence – the only female chef with three Michelin stars in her native France – is passionate about the fruits of nature in the area surrounding Lausanne too. She arranges old tomato varieties from Morges attractively in a circle on the plate. An entrecôte of Vaud Limousin beef is smoked briefly before being cooked and served with grilled mini aubergines, roasted Japanese buckwheat and shiso juice in a fun and flavoursome dish.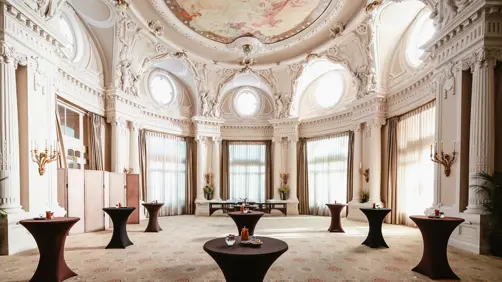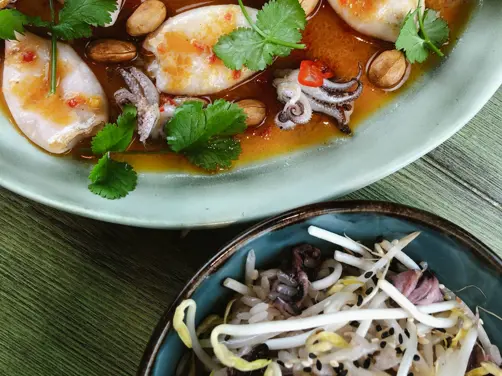 Yakumanka
This formidable chef is in good company in Lausanne. In the Crissier suburb, fellow triple star chef Franck Giovannini cooks in the kitchen of the legendary Restaurant de l'Hôtel de Ville. As one of only four chefs to have been named 'Chef of the Century' by Gault&Millau, Frédy Girardet originally earned this establishment its reputation. The pressed duck, sliced at the table, is prepared by the Swiss kitchen team like clockwork – still following the original recipe. It is served in two courses. First the breast is covered in a cherry and red wine vinegar sauce and served with yellow carrots and beans. Next comes the leg with mashed potato. If you want to taste this divine food, though, you'll need to book months in advance because it's not easy to get a table here.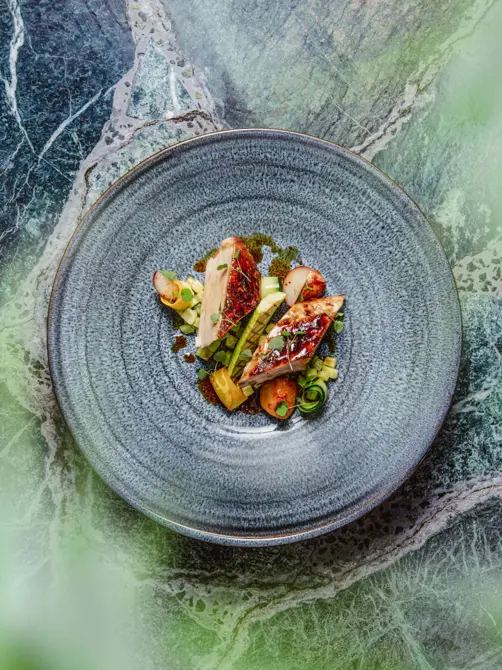 Beau-Rivage Geneva
If you head away from Lausanne towards Geneva, you'll arrive in a whole different culinary world in less than an hour. The restaurant Izumi at the Four Seasons serves up delicious sushi, sashimi and tempura. The L'Atelier de Joël Robuchon at The Woodward is not to be missed and Peru's superstar chef Gastón Acurio adds exciting South American flavours to the dishes on the menu at Yakumanka at the Mandarin Oriental. This restaurant is known for being laid-back, with tiled walls to make it look like a basic cevecheria. At the counter, you can admire whole fish on ice, including turbot, John Dory and rascasse. May we recommend the traditional ceviche or tiradito, such as the one with blue prawns, leche de tigre and Huacatay oil from the Amazonas. The best restaurant in town, however, specialises in traditional French cuisine with a modern twist. Le Chat-Botté is inside the Hotel Beau-Rivage, where Empress Sisi once stayed behind the neo-classical facade on the promenade. Head Chef Dominique Gauthier may have been born in France but he made himself at home in Romandy a long time ago. 'My top sources of inspiration are nature around the lake and my vegetable grower's garden.' During the summer months, he collects up colourful tomatoes, fresh courgette flowers and handfuls of herbs. For his marinated salmon, he whips up an intense sorrel sauce. Meanwhile, he serves his lamb with artichokes from a mountain pasture high above Lake Morat and his perfectly cooked venison medallion comes with a yellow carrot millefeuille. He makes no compromises when it comes to fish, which he always sources from Brittany and Normandy. He knows the fishermen personally: 'Sole is freshly caught by hand every day – bien sûr!'