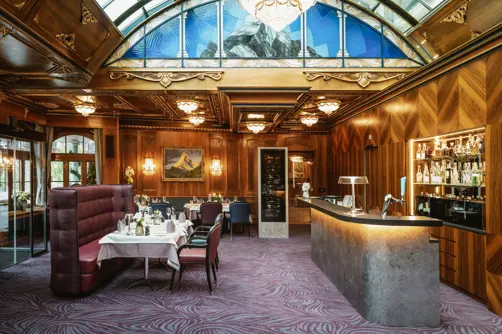 1 - Brasserie Lusi
If it weren't for the buildings out in the historical centre of Zermatt, the steep slopes of the Valais Alps and the laid-back staff serving you with a smile, you could almost think you were sitting at a table in one of the famous Parisian brasseries. As we were admiring the spectacular glass ceiling and the sparkling chandeliers, a glass of Champagne appeared in front of us. The first course wasn't far behind. An onion soup topped with crispy cheese. As French as the decor. A subtle acidity. Not too sweet and not too rich. Good job as we had ordered tête de veau to come before our next course. It came with a wonderful lukewarm vinaigrette with chives. Despite being beautifully light, it did have some substance to it. We would have loved to have tried the tripe with a tomato-based sauce, chorizo and smoked sturgeon too. It's a shame we only have one stomach really! And so we moved straight onto a traditional Swiss dish – perch fillets in a light batter served with baby new potatoes and tartar sauce. We've already got our eye on the hand-cut steak tartare cooked in grass-fed butter for next time. The people on the table next to us seemed to really enjoy theirs. After indulging in a scoop of vanilla ice-cream coated in a tasty crumble and served with cherry compote, we were well and truly stuffed. There's nothing better than a delicious meal lovingly prepared with care and attention without being overcomplicated. The biggest surprise on the wine menu is a Valais Sangiovese from Fernand Cina with a typical sour cherry flavour profile.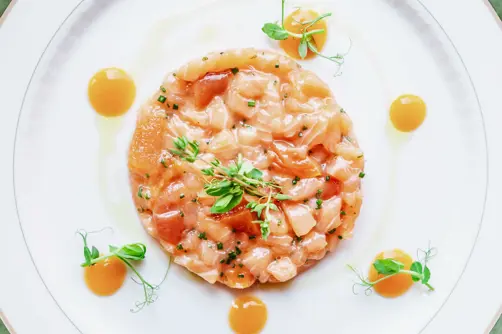 2 - Ristorante al bosco
The Riffelalp Resort is 2222 metres above sea level. All that mountain air is enough to make your tummy rumble, so we found ourselves ordering the four-course Alpine menu at Ristorante Al Bosco as we gazed out appreciatively at the Matterhorn. The starter of lightly smoked trout, thyme-flavoured cheese and raspberries was lovely and light. The fresh berries and coulis complemented the delicate slices of fish perfectly. Our next mouthful packed more of a punch with its flavours. A creamy Alpine herb cappuccino with a rye bread crumble and bottoni, tiny ravioli with a beetroot filling. Our main course was a love letter to the Swiss pine, which is known as the "Queen of the Alps". Pine needles added a delicious flavour to the jus accompanying the veal steak served with a tender veal cheek braised in locally brewed beer, mashed potato and carrots. We finished up with a house special – a limoncello baba with a vanilla cream, fresh fruit and lemon granita. The rum traditionally used to soak these fluffy little cakes is replaced by limoncello in this twist on a classic. And it was so much more elegant and fresh. Although it's a good 250 kilometres away from the city, the Riffelalp Resort 2222 m is known far and wide for its take on traditional "Zurich-style" veal with a white wine and mushroom sauce served with golden brown potato rösti. Fans of fish and seafood will be spoilt for choice here thanks to the menu of light dishes with a focus on fresh produce. How about Canadian lobster with peach carpaccio, almonds and nettles? Or maybe turbot and octopus with green beans, tomato confit and potato foam?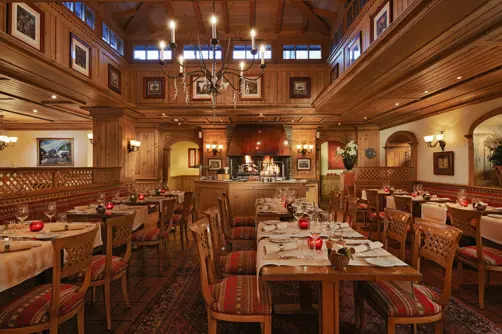 3 - Grill Le Cervin
There is no question that the charcoal grill takes centre stage at Grill Le Cervin at Hotel Mont Cervin Palace. Racks of lamb, veal cutlets, ribeye steaks and Alpstein chicken sizzle away here until they are cooked to perfection. Diners in the cosy restaurant stare longingly at the meat against the backdrop of the wooden interior. There is a different special every day. When we visited, it was a Heritage Angus ribeye from Canada. Beautifully marbled and packed with flavour. The chef cut two tender slices, drizzled over a mushroom sauce and added potato gratin and root vegetables on the side. A generous portion and a meal guaranteed to make you smile. The starters have a traditional twist too. We decided to try the deliciously rich and frothy lobster bisque with a hint of tonka bean. The friendly waiter poured it straight out of the polished silver jug at our table and into our soup bowls with North Sea shrimp and a garnish of caviar. It's little finishing touches like this that keep the grand hotel experience alive. Good old Valais apricots had to make an appearance on the menu too, of course. We savoured them as part of our ravioli dish along with chanterelle mushrooms, black pepper from the Valle Maggia and chervil. And again in our elaborate dessert of pavlova with peach and passion fruit that starred the apricots in stewed form and as a delightful sorbet infused with thyme. The selection of wines from the Valais region here is nothing short of impressive. With Fendant from Marie-Thérèse Chappaz, Riesling from Gérald Besse and Cornalin from Denis Mercier alongside the usual big global names, your wine glass should never run dry here.