Gourmet Tour Deluxe - Zurich rocks!
With its riveting mix of trendy venues and innovative world-class restaurants, Switzerland's gastronomic capital has firmly established itself on the map of culinary destinations for well-travelled gourmets and lovers of sundry cuisine.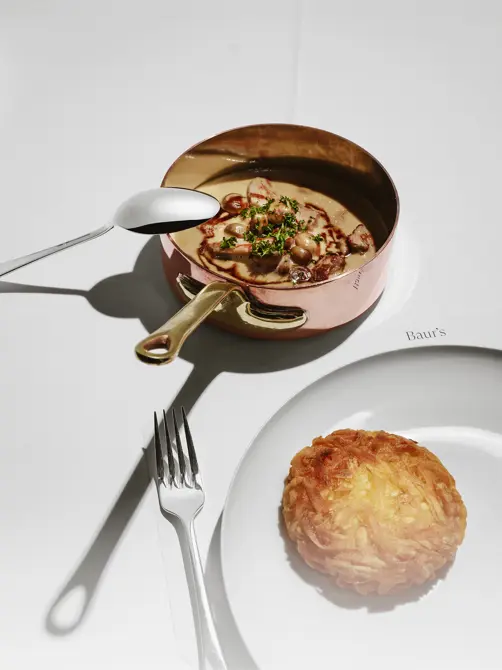 Zurich's current gastronomic renaissance is evident everywhere – from the chic environs of its central artery, the Bahnhofstrasse, to the formerly disreputable districts 4 and 5, all the way to the city's quaint old town. A veritable front row seat to unparalleled Lake Zurich views is La Muña atop La Réserve Eden au Lac. None other than French design icon Philippe Starck has given this formerly traditional hotel a makeover of epic proportions, catapulting it to the 21st century with wit and esprit. The spectacular roof terrace with views of the lake and mountains has become a popular meeting place for those in the know. Serving Peruvian-Japanese fare in trendy Nikkei style, the freshness and outstanding quality of the produce is impressive across the board. Highlights include the exceptionally marbled and ultra-flavoured O'Toro tuna belly sashimi and the grilled langoustine in a tomato-based salmorejo sauce. Chef Marco Ortolani scores high with his celebrated gyozas filled with chicken and truffle or creamy, spicy salmon tartare with heaty jalapeño and the crunch of fried rice.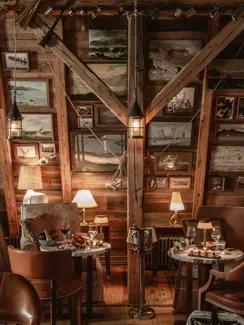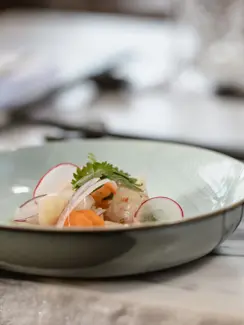 Widder Hotel
Behind the charmed façades of restored old townhouses on Rennweg, one of Zurich's hottest chefs cooks up a storm at the Widder Hotel's gourmet restaurant consisting of two atmospheric and historic spaces in which old-town charm mixes perfectly with modern-day design. Stefan Heilemann's cuisine is characterised by a contemporary blend of classic cuisine with the skilful addition of Asian accents. A perfect example is the belly of Balfegó tuna creamed with cauliflower and couscous surrounded by fragrant Thai salsa with mint and coriander. Heilemann's sauces have addictive potential, especially the sherry escabeche he serves with the seafood trinity of monkfish, pulpo and rare bear crab. 'Zurich is a city with a very varied culinary culture,' is how the native German describes his adopted home. A city that offers committed chefs many opportunities.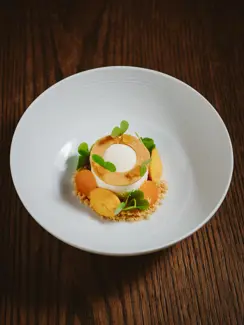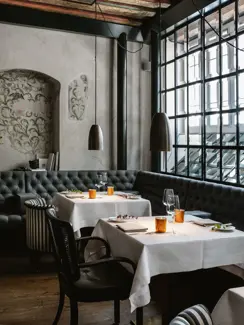 True to his statement, just a few steps down Zurich's Bahnhofstrasse, Chef Laurent Eperon serves his visually enticing and sophisticatedly aromatic creations in the elegant Pavillon. Designed in pleasant shades of violet and green, it evokes an almost festive atmosphere with opulent flower arrangements and floor-to-ceiling windows. Many a gourmet diner will have marvelled at the splendid grilled langoustine marinated with harissa and served with an elderflower vinaigrette and a hint of parsley oil. As a side, Eperon serves an exciting Indian-inspired panipuri filled with sautéed langoustine, green papaya and hints of celery. Another classic is chef Eperon's dish of tender Swiss sweetbreads, crisply fried and adorned with brioche and a sauce gribiche, presented on a bed of chanterelles and seasoned with a vin jaune. All, of course, accompanied by one of the city's finest wine lists recommended by none other than award winning sommelier Marc Almert.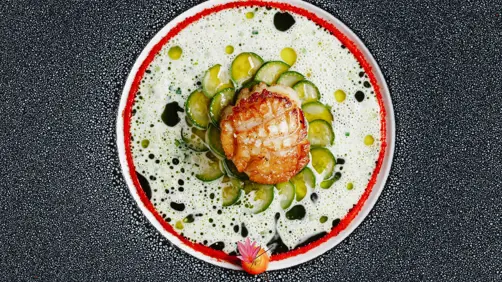 The Dolder Grand
And finally, our culinary stroll leads us high above the city to the Dolder Grand, the modern incarnation of this formerly traditional hotel redesigned by Sir Norman Foster. Here, Heiko Nieder's cooking in the purely called The Restaurant is simply world-class. The characteristic of the Hamburg-born chef is not only his surprising combinations of aromas that merge with pure flavours on the plate, but also a delicate interplay of nuanced acidities. He is not shy to play with elements not often seen in fine dining establishments, such as coleslaw juice used to lift steamed hake with bacon and green pepperoni with a multi-layered spiciness up to perfection. Seemingly folksy spare ribs are served at this noblest of restaurants – not in mundane BBQ-style, of course – but elaborately pickled, steamed, deep-fried and glazed; this is how this sublimation of Iberico pork, topped with crunchy lettuce, flavoured with wasabi and sesame, accompanied by an incredibly dense miso egg yolk sauce is brought to the table. For all intents and purposes, a true feast for all senses!