Oona Caviar
Caviar: considered the ultimate delicacy, a myth even.
But massive overfishing has driven sturgeon to the brink of extinction. As a result, numerous businesses producing the black gold in aquacultures have sprung up around the globe. Some of them provide products that can compare to wild caviar in terms of quality.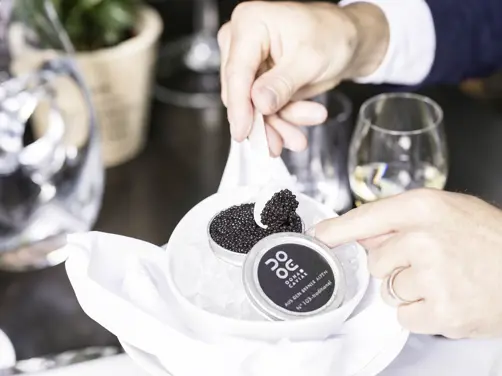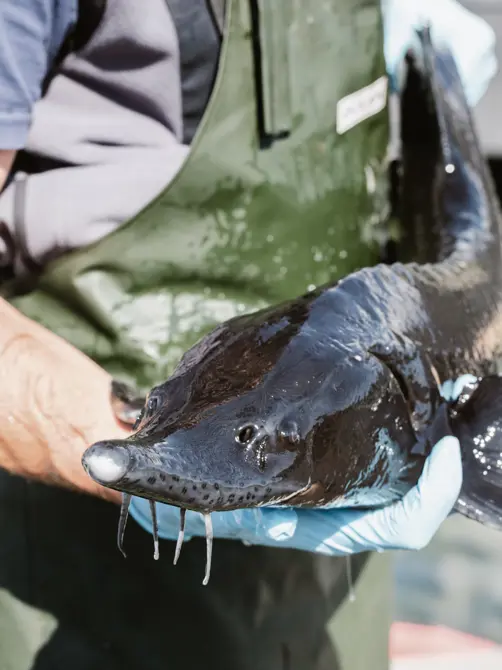 Oona – a sustainable fish farming pioneer in the Alpine region and one of the most prestigious caviar manufactories in the world – is based in the Swiss canton of Bern. About 80,000 Siberian and Russian sturgeon roam in large pools filled with crystal clear mountain spring water. The pools are an element of the Tropenhaus Frutigen interactive exhibition park. Roughly 1.3 tons of the rare delicacy are harvested each year. This may seem a tiny quantity in comparison to international competitors, but as far as quality is concerned,
Oona's – entirely manually processed – products are among the best in the industry. Sales Director Heinrich-Marc Stehli, explains: «Our ambition is to provide absolutely fresh products. We focus on humane treatment of our sturgeon and strive to sell honest, authentic caviar that is free of additives and preservatives. It is the only way to be able to harvest top quality caviar with delicate skin, tender texture, and a subtle glaze.» The brand stands for Swissness, enjoyment, authenticity and sustainability. After the all, Oona – the term is derived from Celtic – means «the one and only» or «the true». The Swiss producer does indeed refrain from using Borax to stabilise the roe and other additives to intensify colours and flavours. Therefore, fresh Oona caviar can be stored for approx. nine weeks.
Other than a touch of salt – 4% at a maximum, depending on the kind of caviar – no ­ingredients are added. And it takes no more than 15 minutes from harvesting, gently cleaning, and salting the roe to filling the caviar into the typical tins. Today, Oona produces five quality levels. The one most in demand is the N°103 - traditionnel selection, boasting a wonderfully nutty, mossy flavour. The N°102 - jeune variety is ideal for beginners, contains only a minimum of salt, and is shipped on the day of harvesting. Limité N°101 - limité, a top variety and true rarity, makes up only 2% of the overall production and impresses with particularly large pearls and a perfect maturity level. Oona also added
"The black gold
of the Bernese Alps"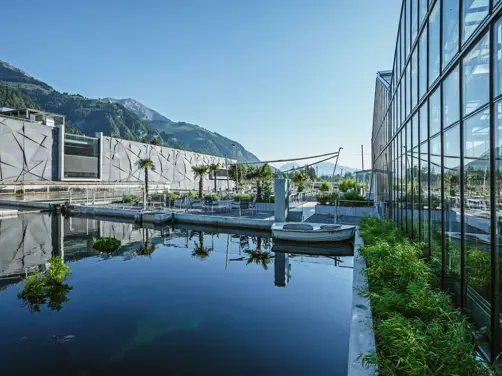 Osietra Kaviar, caviar from Russian sturgeon, to its product range two years ago and distributes it as part of the Carat label. Osietra Carat caviar colours range from silver-grey to olive-golden, and it features intensely nutty, slightly earthy flavours – a strong caviar for true connoisseurs. Finally, there is Millésime, the only pasteurised, and therefore more durable, Oona caviar specialty. Oona has also set new standards in the industry as far as product presentation is concerned. In cooperation with Glasi Hergiswil, they developed an almost sculptural form of packaging. Each jar is a handmade unique specimen – ice cubes embracing monumental caviar pearls.
The cubes provide the roe with perfect protection for shipment and help maintain ideal temperatures by means of an integrated cooling system that uses elements of space technology. It is hardly surprising that the packaging won the prestigious Red Dot Design Award. Of course, Oona does not only process the valuable sturgeon roe. The fish's delicious, firm meat is sold to restaurants and shops, and its robust skin, for example, serves as raw material for Swiss designer Sabina Brägger's exclusive, practical, and everlasting accessories. All organic waste is transported to a biogas plant. At Oona's, sustainability is far more than talk.
As an exclusive partner of Swiss Deluxe Hotels, Oona caviar can be found on the menus of Switzerland's finest hotel restaurants, including the iconic Bellevue Palace Bern. Located right next to the Federal Palace, it is the official residence for the Swiss Confederation's guests of state. Bellevue executive chef Gregor Zimmermann is an avid Oona fan and serves Oona caviar generously and preferably in a no-nonsense version. The menu of his VUE restaurant currently includes a fluffy omelette blanche that comes with 20 g of Nº103 traditionnel. Sometimes, Zimmermann decides to surprise guests with unconventional creations, however: caviar, combined with a paper-thin chocolate leaf, for instance, an extravagant, sweet and salty luxury snack. The experienced culinary magician, who is the official chef of the Swiss Confederation and thus a member of the illustrious Chefs de Chefs club, visited the Frutigen caviar manufactory recently. «Watching caviar being harvested was an unforgettable experience,» Zimmermann recalls. All fans can enjoy Oona caviar «on site». The Frutigen Tropenhaus features a GaultMillau award-winning restaurant that focuses on – caviar. Of course.
More information oona-caviar.ch