Palatable Pleasures
With prime views of the Rhine, Peter Knogl serves outstanding produce and subtly balanced flavours at the Cheval Blanc, one of the best kitchens in Switzerland. Add the atmospheric brasserie and engaging bar culture, and Basel's Les Trois Rois confidently steps forward as a gourmet destination.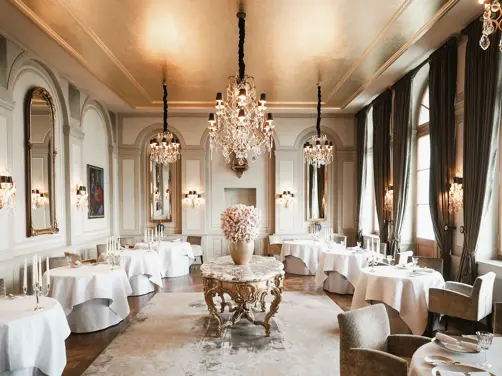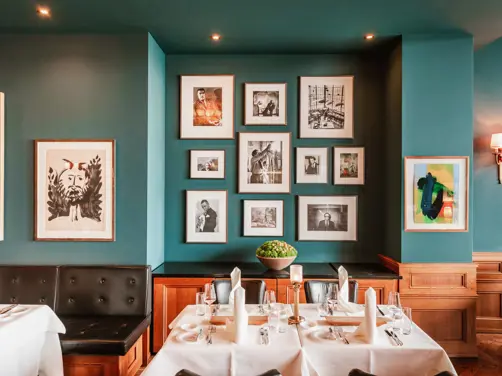 've been on the job for over 30 years now and haven't missed a day of work,' says Peter Knogl with a modest dose of pride. Un-like many of his contemporaries, he is a hands-on chef and actively cooks in every service. Two windows allow guests to peek into Knogl's kitchen, awarded three Michelin stars and 19 Gault&Millau points, as he cracks lobsters, fillets red mullets and prepares his legendary sauces. The native Bavarian is known in the business as the king of all sauces, and anyone lucky enough to have tried his Madeira sauce with sole understands why. It's a true work of gastronomic art made of poultry stock, Madeira, butter and cream, dashed with plenty of truffle jus. 'Nothing comes from nothing,' says the 54-year-old with a playful wink. 'And, more importantly,' he adds, 'the sauce must never cook for too long, otherwise it will lose its elegance.'
Guests at the Cheval Blanc experience Knogl's art of sauce-making in a setting that turns a restaurant visit into a fully immersive experience. Everything is just right here. From the utterly elegant room that takes you away from everyday life immediately upon entering it, to the thoughtful service under the auspices of Maître Giuseppe Giliberti, who strikes a winning balance of always being good-humoured and extremely cordial. The phenomenal wine list with around 1'000 labels is looked after by Christoph Kokemoor, who seems to have every single aroma profile at the tip of his tongue. And finally, the charming vistas of the Rhine! Excellent produce and ingredients, the very best craftsmanship and a subtly modern take on French-based cuisine, plus the odd Asian influence are the cornerstones of a culinary offering that has secured Knogl a steady string of devotees in Basel. Around 50% of guests come from the city and the surrounding area and like to visit regularly.
They look forward to Knogl's menu, which sets the tone with finely nuanced amuse-bouches – from marinated rock crab with vadouvan to jalapeño froth on red prawns. The menu starts with a soft terrine of duck foie gras with cassis jelly and fig confit. Knogl's Beurre Blanc with bergamot for his lobster underlines how precisely the chef sets his culinary accents: the subtly balanced sauce, cooked based on a stock prepared from only the best fish, owes its finespun citrus notes to the grating of bergamot. Of course, the lobster, of excellent Breton quality, was pulled to a perfect bite at 70 degrees, somewhere between raw and cooked, to that elusive point where it is closest to its ideal structure. Other highlights include hand-fished sole with Périgord truffle and roast beef of Kagoshima wagyu with okra and aubergine.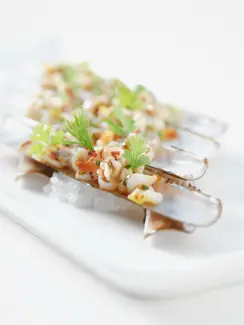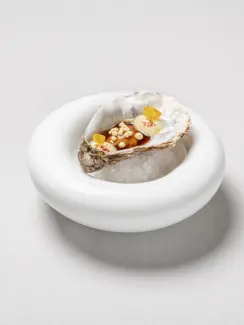 Last but not least, the Cheval Blanc remains one of the increasingly rare restaurants that still prominently feature a large selection of cheeses on its menu. There are almost 30. specialities, from goat's and sheep's milk cheeses to Brillat-Savarin and Camembert to Emmental aged for 25 months and a classic Roquefort.
For Philippe Clarinval, the culinary-savvy general manager of Les Trois Rois, the cheese trolley is a piece of table culture in action. 'The Cheval Blanc is an institution. But it should not be singled out at our hotel; all the other outlets must be just as good in their own way.' This also applies to the bar, offering one of the most comprehensive drinks menus in the country in addition to the so-called Cocktail Experience, a sequence of five concoctions developed by chef de bar Thomas Huhn together with the kitchen to accompany dishes. For example, an apple-ginger drink with organic ginger and citrus notes that is paired with a pumpkin soup. 'Such details make up the overall experience at Les Trois Rois, which is greater than the sum of its parts,' says Clarinval as he progressively establishes the historic property on the banks of the Rhine as a gourmet destination.
The Brasserie, with its petrol coloured walls featuring original art pieces, historic tiled floor, crisp white linen tablecloths and the winter garden facing the Rhine, is a popular spot with locals. Despite being housed in such a distinguished landmark building, Clarinval asserts: 'We remain true to the identity of a brasserie. Here, it's not about haute cuisine, but about good products and traditional craftsmanship.' With 32-year-old Thomas Schaefer here, too, the right man is at the helm. Originally from nearby Alsace, you'll find him cycling to work along the Rhine on balmy sunny days. He carefully spruces up classics of Baden-Alsatian cuisine, for example, when serving a cabbage variation with savoy cabbage, Brussels sprouts and red cabbage with pike-perch in champagne sauce accentuating the dish with sauerkraut coulis. And, of course, homemade foie gras de canard with pineapple chutney and Balik salmon with beetroot coulis could not be amiss. The secret of the intense flavours Schaefer has caramelised them. Details like these make all the difference ensuring that guests feel at ease, often ordering a second coffee or a digestif at lunchtime during workdays. For Clarinval, this is what it's all about: 'We want to give our guests a feeling of bliss.'