The eureka effect
Late in the evening when the last guests have left, Priska Thuring likes to sit on the terrace of her restaurant Stara Skola (meaning Old School) under an old mulberry tree looking across the sea over green forests and vineyards.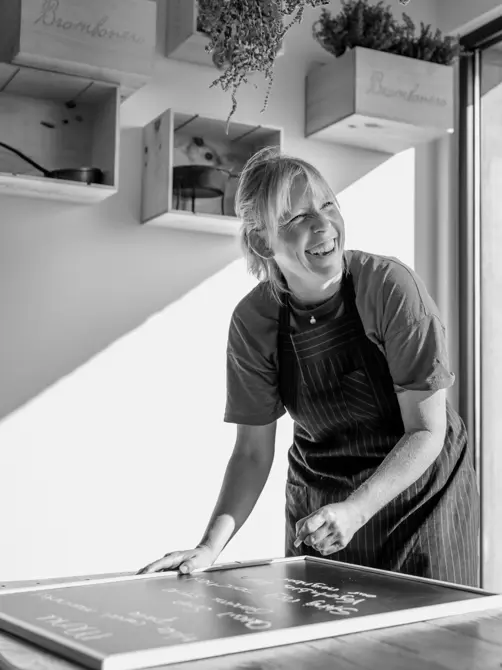 She remembers how it all began with a bottle of wine: a Brombonero, a ruby-red Refosco from a neighbouring organic winery. The very first sip electrified her: 'A true aha-moment.' She caught a whiff of ripe plums and figs, and tasted dark chocolate and a hint of tobacco. But above all, the wine spoke of the place where it was grown, the northwesternmost tip of Istria, near the Slovenian border. 'I felt I could taste everything it took to make this great wine right then and there. The sun, the terroir, the raindrops – and above all, a lot of time. It was suddenly clear to me that the way this wine tasted was how I wanted to cook in the future.' That same evening, she wrote a letter to the owners of the winery asking if they'd be interested in opening a restaurant together.
Nestled in a former school building, only a stone's throw away from the Clai winery, a dream came true for the 40-year-old. 'I'm committed to honest, unadulterated cuisine that is close to nature. No frills on the plate, only good produce from this blessed region.' Her vision translates into delicately spiced paté of hake served with homemade bread, or poached ray wing wrapped in courgette blossom. To celebrate the restaurant's opening, she and her chefs roasted a whole pig and served oven-fresh pork pie with fresh vegetables from their own garden as the main course.
'Here in Istria, I have the feeling that I have truly arrived,' she says. It was a path that took the Swiss national around the globe before setting roots here. Born in the canton of Zurich, she grew up abroad on a farm in Canada. At the age of 18, she returned home and trained as a cook at the renowned Dolder Grand Hotel in Zurich. For love, she moved to Croatia as a young woman, where she made a name for herself at the Hotel Lone in Rovinj. For years she travelled the world as a private chef onboard luxury yachts, before finally settling on dry land. Not far from her restaurant, she has bought a house and planted a vegetable garden. 'Here I can live with nature,' she says. 'Finally, a place that feels like home.'
Words Patricia Bröhm
Photo Günter Standl