A Belle Epoque palace where 19th Century-grace blends with international contemporary flair overlooking Lake Lugano.
Contact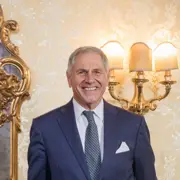 Giuseppe Rossi
Managing Director
What I love most about the Splendide is the magical timeless atmosphere that guests feel as soon as they enter, suspended between the many "yesterdays" experienced here and all the new memories still to be created.
Giuseppe Rossi
Moomenti Partner
As an unrivalled service provider of unique and exclusive experiences, Moomenti offers transparent, flexible and convenient ways to access high-quality hotel services – without the commitment of booking an overnight stay.
Download Moomenti App