A Splendide Living Room
It's hard to believe that you're still in Switzerland, just a two-hour train ride from Zurich, once you arrive at the sun-drenched terrace of this beautiful location. With an average of 2000 hours of sunshine per year, this idyllic spot has its unique pace of life that encourages visitors to slow down the minute they arrive.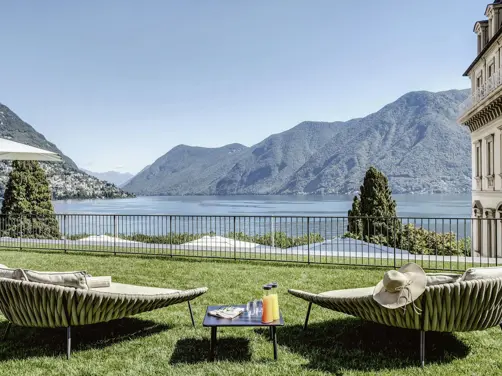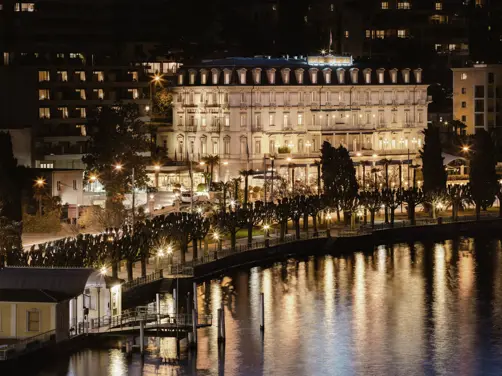 I just had to take a picture of the white pillars and the spectacular view of the lake. So I handed my car key to the valet and took a few photos right away. A line of cars formed behind me, and everybody politely waited until I was done. But I quickly realised this place was not only about la dolce vita. Lugano is Switzerland's third most important financial centre and a booming cultural hub. If you want to network, work, have a vacation, or simply enjoy life, the Splendide is a good destination.
Service
— 10 out of 10
If you research online, the Splendide has the highest rating in pretty much all charts about Lugano hotels, so I had high expectations. I was not disappointed: Service is fit for a royal, and this might be the reason why royal families do in fact visit regularly. The staff represent the Italian flair one cannot resist, but ensure Swiss efficiency and precision. It does not hurt that they look good, but of course  everybody looks good, when they are so charming and friendly. I could not believe the hotel has 93 rooms; the atmosphere was one of a family residence.
The Spa
— 9.5
Just inaugurated and incredibly photogenic, the spa is a gem. Big chandeliers over the sleek infinity pool mirror themselves in the calm waters. Small waterfalls in front of every treatment room provide relaxing background sounds to your massage. Cleverly illuminated vertical vegetation and waters grace the gym with a beautiful view. The gym could be bigger. However, I have never felt as motivated to train as here – I guess because of its natural light and beautiful interiors. Finally, try the signature treatment by Margarethe: 75 minutes of bliss, including scrub and massage. It takes care of every muscle of your body, including your face and even earlobes.
The Open Wine Cellar
— 9.5
Cwines come from Ticino, and are a real discovery for many people. A map on the wall shows where exactly they are from and introduce their producers, many of them women,
by the way. There are successful blind tasting events for corporate and private guests on a regular basis. People laugh, learn, and see wine from a different perspective. The Wine and Dine Masterclass is a bestseller.
The sun is shining on the south side of the Alps, a line of palm trees welcomes you to the Salotto di Lugano (Lugano's living room)
– the Splendide Royal Hotel, so nicknamed because it has always been the most elegant and most representative palazzo in the city.
The View
— 10
The lake and the mountains are visible from almost everywhere in the hotel: I enjoyed a great view from the little balcony in my room, from the common areas, from the breakfast tables, from the spa … The sun over blue waters, blue sky, and palm trees make you feel like you are part of a postcard. That is probably why Ticino is often called the tropics of Switzerland, Swiss Hawaii, or the Maldives of Milano. I dare you not to photograph some of these scenarios – by the way some pictures of this article were taken in the middle of February: there is no low season at the Splendide.
The Food
— 9.8
Tradition and innovation are effortlessly combined at this hotel, also from a gourmet point of view. Food is mainly Italian, but also from the Ticino area. In particular, the new, romantic, eight table restaurant, inspired by the southern regions of Switzerland and Italy (I Due Sud – the two souths) is one of the great reasons to visit the hotel. Star chef Domenico Ruberto says: When I am in the kitchen and I cook, I feel I can express all my emotions without any boundaries. A new, separate kitchen has been built especially for his team and creations.
The Decor
— 9
Even though its decor is so imposing, the Splendide looks very fresh. That is because the hotel is more or less constantly under renovation: a team of local artisans is always working at fixing, improving, painting, and renewing whatever might need it. When I entered the hotel lounge, I expected to find a fading detail or something ageing – it is something I almost invariably notice in places with a certain history. I challenge you to find such a fault at the Splendide. The hotel looks like it opened yesterday.
The Loyalty
— 10
Giuseppe Rossi is the fifth General Manager in over 130 years of history. I think that says a lot.
The Uniqueness
— 10
At the Splendide, you will never feel like you being in a big international hotel of a globalised world – you will feel like being in Ticino. Moreover, the place is adapting to your unique needs. One member of the staff told me that even the same person may have varying needs, depending on whether he or she is on holiday or there on business. Service is discreet, but definitely tailor-made.
The Time in
— 9
In case of bad weather – not so often, to be honest – one is very happy to be stuck at the hotel. The spa area is funky enough to be discovered and used extensively, the wine cellar can be surprisingly entertaining,  classic afternoon tea is a splendid option, and … if you do not feel like walking your dog on a wet day, there is even a dog sitter.
The Environment
— 9
The eco spirit is authentic. Not only is there a programme of sustainability that increasingly cuts costs, but with the saved money, a farm for six families has also been  built in Kenya (in Langobaya, near Malindi).
What I am taking home — The lucky ­conditions of a blessed territory and the impressive tradition of a place that was always a favourite of the rich, to day are not enough anymore. The modern traveller is spoiled for choice, and standards have become extremely high. At the Splendide, the difference is made by people. The hotel is privately owned (by the Naldi family), and the staff is working with passion and vision. A team that made me feel at home, and will probably make you feel at home, too