Oskar goes to Basel
Tartare in the bowl, non-alcoholic dog vodka, and Basler Leckerli treats galore: at the Grand Hotel Les Trois Rois, our columnist's black Labrador enjoys five-star service fit for a king.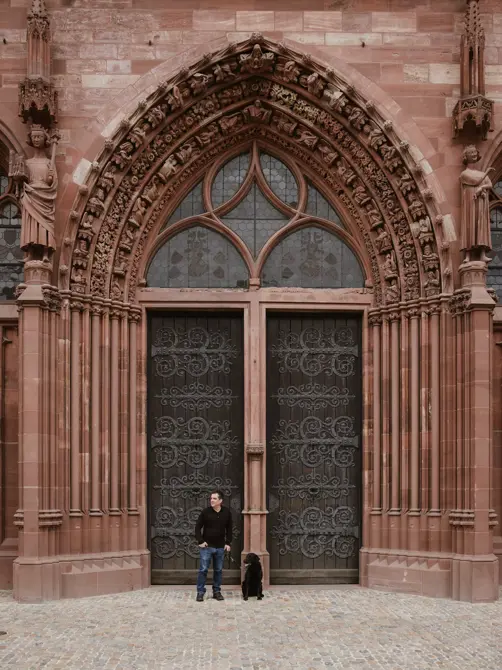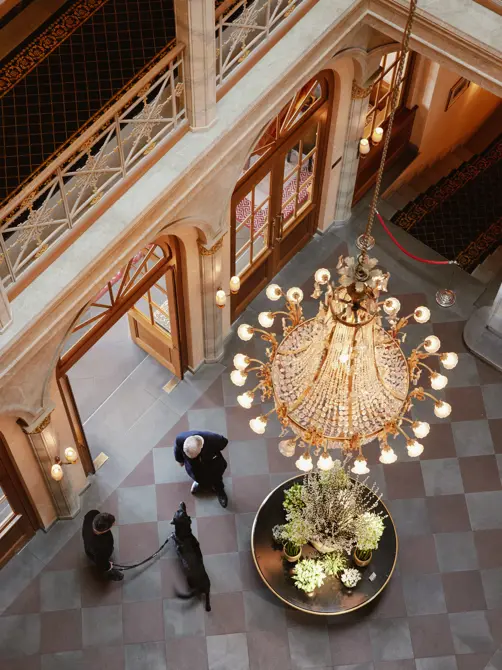 Basilisks are fascinating specimens in the realm of creatures. These reptiles come across as small dragons but do not feed on armoured knights, preferring insects, snails, frogs, fish, flowers, and fruits instead. They can walk on water, which is why they are also known as Jesus Christ lizards. In Basel, the basilisk is encountered at every turn: as a bridge guardian, sculpture on church façades, coat of arms holder, fountain figure, and flag emblem.
Unlike the real basilisk, which lives in the tropical rainforests of Latin America, the Swiss basilisk is a legendary figure. The mythical creature looks like a cross between a chicken and a snake. According to legend, the basilisk is more dangerous than a fire-breathing dragon. Its breath was poisonous, it is said, and whoever fell beneath its gaze would become petrified on the spot. Perhaps all the creature needed was to have its teeth cleaned and a pair of glasses. But despite its unpleasant appearance, the basilisk has become the namesake and mascot of the city of Basel.
Oskar also has bad breath, but it is not poisonous. Fortunately, nor is his gaze deadly, melting human hearts rather than petrifying them. The black Labrador has neither wings nor a snake's head, but his velvety fur and typical doggy look entice passers-by in Basel's old town to give a typically Swiss, long drawn-out 'Jöööööh!' Some bend down beside him and ask to pet him. It is allowed. His first encounter with a basilisk is peaceful: he sniffs at the picturesque basilisk fountain on the banks of the Rhine and drinks from the small water basin placed at ground level, especially for dogs.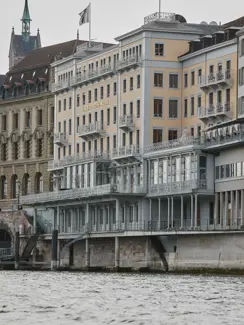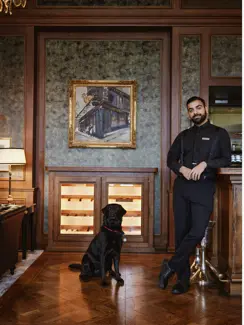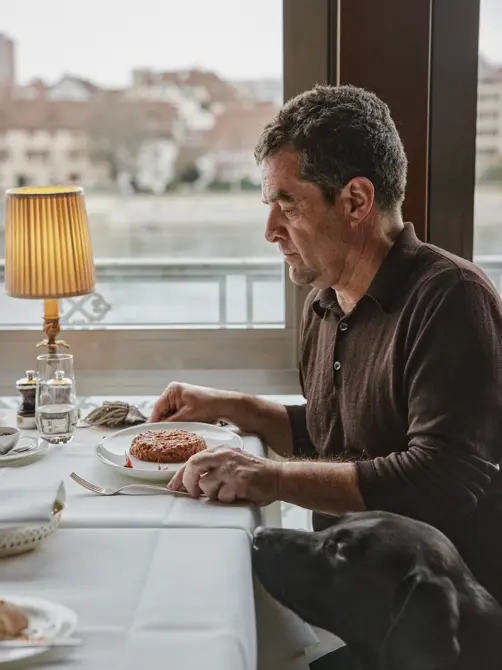 Promenades along the riverbank, plenty of trees, quiet cobbled streets, half-timbered houses, and water-spouting dragons: Oskar gets to know the city on the Rhine from its most photogenic side. Especially since he is permitted to join his master, lodging at the number one address in town, the Grand Hotel Les Trois Rois, ideally situated by the Middle Rhine Bridge. From Oskar's point of view, the reception could hardly be more pleasant: at check-in, the welcoming receptionist hands him a wooden box chockful of assorted Basler Leckerli ready to delight the four-legged guest: Vegetable Cookies, Carrot Drops, Game Goodiez, Lamb & Rice, Beef Treats, and Mini Knuckles. Oskar can't choose and resigns himself to a sample of each, just in case.
Oskar weighs 35 kilos and doesn't exactly fit into a handbag like his distant Chihuahua cousins. He's a big guy, but not a big shot like so many of the guests who have resided at Les Trois Rois: Napoleon, Queen Elizabeth II, Pablo Picasso, Thomas Mann, Richard Wagner, Duke Ellington, the Dalai Lama, the Rolling Stones, and many other prominent guests have enjoyed the hotel's exclusive hospitality. Theodor Herzl sojourned in a room on the first floor in 1897 when he laid the foundation for the creation of the State of Israel at the International Zionist Congress. The house breathes history and culture, with originals by Picasso, Chagall, and Beuys hanging on the walls. Many areas of the building complex are listed. Art Deco furniture, red and gold carpets, and striking paintings give the impression of being in an art museum. And you're really allowed to check in here with a big black dog?
You are. 'Please, come in!' exclaims the friendly doorman, holding the door open for his new guest. 'Welcome, Oskar!' greets Philippe Clarinval, general manager of the hotel. The owners of the hotel, entrepreneurs Ursula and Thomas Straumann, have a heart for pets and have a dog of their own, an Airedale terrier. Despite the valuable art and objects displayed throughout the property, dogs are welcome in the hotel, out of place only in the three Michelin-starred restaurant Cheval Blanc. The Straumanns also came up with the idea of keeping a box of dog treats at the reception. Oskar would award the highest possible score on Dog Trip Advisor for this alone if such a portal existed.
"His bowl is once again filled with his favourite dish: another tartare!"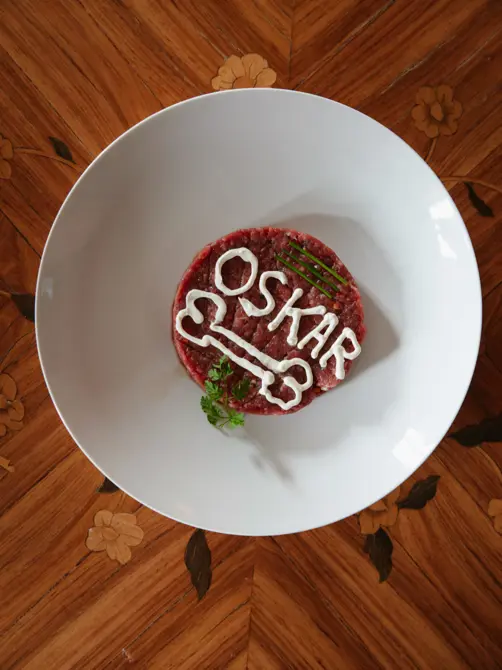 On the way to our room, we pass the statues of the three kings in the stairwell. Kaspar, Melchior, and Balthasar are holding caskets in their hands; according to biblical tradition, these contained gold, frankincense, and myrrh as gifts on the occasion of the birth of Jesus. Oskar sniffs curiously toward the crowned figures: could there be treats in these boxes too? After all, you can count on anything in this hotel, his gaze seems to say. And indeed, another pleasant surprise awaits him in our room on the third floor, convincing Oskar that Les Trois Rois undisputedly belongs to the top class of dog hotels.
Velvety shimmering wallpaper, historic furniture, and priceless vistas of the Middle Rhine Bridge: the river junior suite is a feast for the eyes! But Oskar only has sights for the bowl set out especially for him by the window. It contains fresh beef tartare, decorated with the words Oskar and is garnished with parsley. What a majestic welcome! 'Am I really allowed to eat that?' You are. The dog pounces on the raw meat and devours it within seconds, along with the greens. Then he bites heartily into the vodka bottle lying next to the bowl. It's only a squeaky plush toy and absolutely alcohol-free. Oskar is having the time of his life.
While walking through the old town, we encounter more basilisks, large and small dogs, and some cheeky pigeons that dare to get too close to Oskar. He barks furiously and would like nothing more than to turn the birds into tartare, but I forbid him to do so for merciful – and aesthetic reasons. This time, you can't! On Münsterplatz, we meet two fellow black male Labradors. But these three kings have little time to spare and lack the patience to line up gracefully for a photo. Oskar grew up in the country and often finds the hustle and bustle of the big city demanding. However, with the help of some nerve-calming snacks – vegan snacks from the little magic box labelled Les Trois Rois – everything progresses well, even down to the shaky crossing on the Vogel Gryff pedestrian ferry.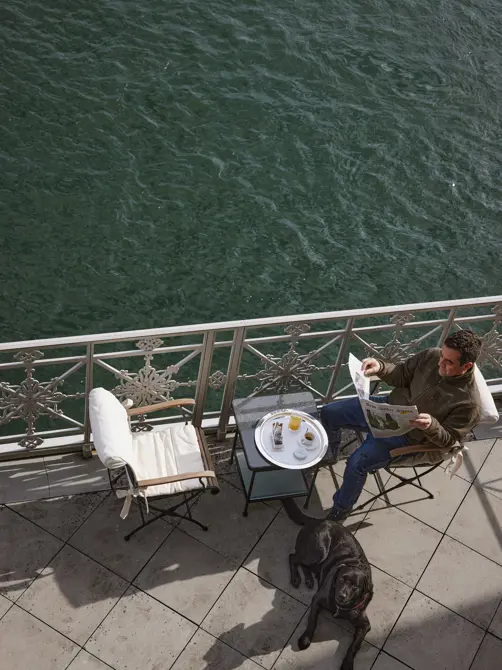 One hundred and twenty grams of raw minced beef, egg yolk, sambal oelek, capers, cornichons, chopped onions, parsley, ketchup, and mustard – Mahler presents the ingredients on a tray at the table before skilfully mixing everything in a bowl. Oskar follows every movement of the maître's hand as devoutly as a classical music fan follows the movements of a celebrated conductor. His mouth waters, but this time the dish is meant for his master, and this preparation would be too spicy for him. Legend has it that the Tatars invented raw minced steak by tenderising the meat under their saddles while riding on their war campaigns before later devouring it. Even if this is a myth, the Tatars (from the Greek those who come from hell) probably earned their savage reputation dishonestly. In any case, they were believed to feed on raw meat, which to this day still seems slightly barbaric to minds of the more tender disposition.
Not to Oskar, though. But he finds it barbaric and highly unfair that he is denied the deliciously spiced delicacy in the brasserie. His joy is all the greater when we return to the suite, and his bowl is once again filled with his favourite dish: another tartare! So you don't have to be a King Poodle or Cavalier King Charles Spaniel to quite literally be treated like a king at the Grand Hotel Trois Rois. This bourgeois Labrador feels like a Royal Canine. Long live King Oskar IV!
Words Titus Arnu
Photos Enno Kapitza