Oskar Goes To... St. Moritz
A colourful evening with fondue, fun and friends in the company of a colour-blind Labrador: despite this apparent contradiction, we spend a delightful time at the ultra-stylish Carlton Hotel in St. Moritz.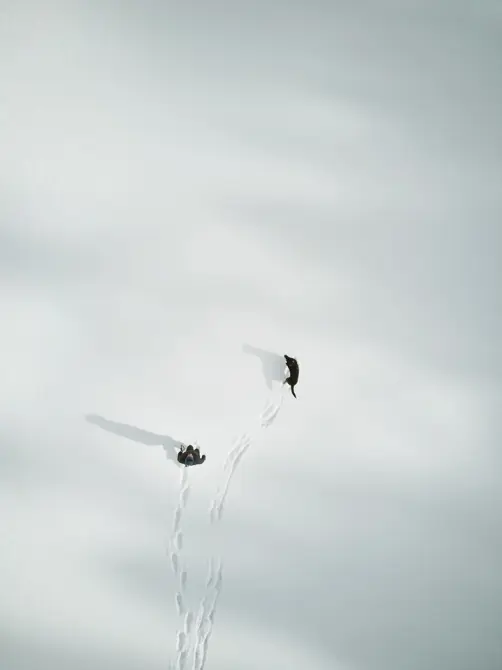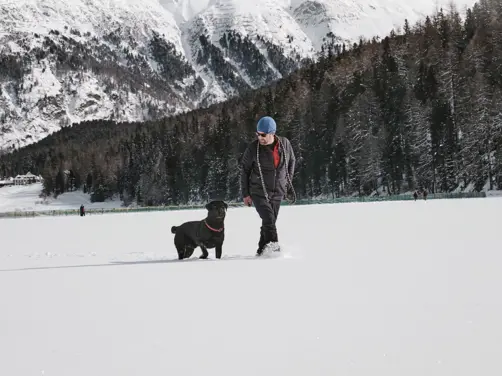 Is my dog psychic? When it comes to food, indisputably. When I begin to think about what to make for dinner, he'll be by the fridge, drooling in anticipation. If a piece of sausage falls 100 metres away, there he'll be before it even hits the floor. He may have a sausage-detecting radar previously undiscovered to science. Even in total darkness, he'll hone in with military precision and accuracy, perfunctorily examining it for edibility before downing it at once.
Oskar's sense of taste and smell is unbeatable, especially when food is involved, but his vision is less so. If I say, 'go fetch the red ball!' he understands 'fetch' and 'ball', but he may retrieve a blue or yellow ball instead. I wondered if he might be colour-blind or perceive the world only in black and white. Scientists at the University of California provided the answer with the Colour Vision in the Dog study. Dogs do see colour but perceive it differently from humans. Our four-legged friends' vision is similar to that of people with red-green deficiency (beware of pedestrian crossing lights!).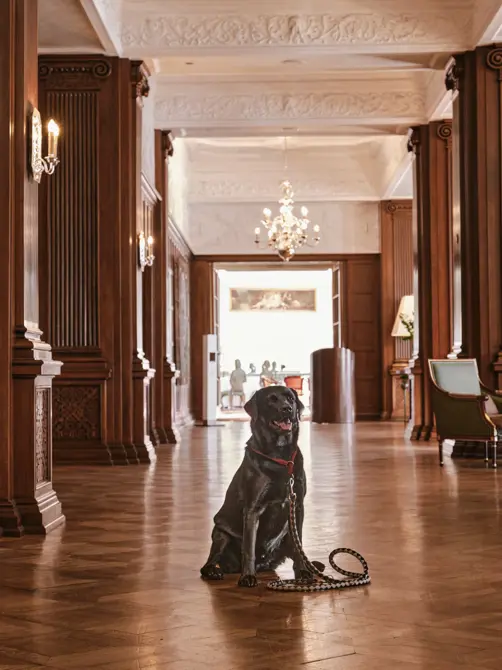 Dogs mainly recognise colours in the yellow and blue range while missing the receptors for green. This turned out to be a real shame as our suite at the snazzy Carlton Hotel in St. Moritz was entirely decorated in shades of green. Ticino based interior designer Carlo Rampazzi's makeover of the hotel is a veritable explosion of colours ranging from discreet to seriously opulent, from delicate shades of pink to vivid tsunamis of purple. One can only imagine how Oskar experiences this, as an acid trip, a blue-yellow mist, or not at all, perhaps mere figments of his imagination (or mine).
The dog himself is glossy black and sports a dashing red collar. He has no eye for the nuances of the décor. Still, his attention is immediately captured by the browns of the chocolates, the pastels of the macarons and the purple, orange (and even green) contents of the welcome fruit basket. He sniffed with eyes half-closed in ecstasy before attempting to taste them. As I deftly placed temptation out of reach, he was already switching his attention to his next object of desire: a bright pink fabric hippo. It didn't seem to be about the colour but the earsplitting squeak when bitten. Fortunately, all rooms at the Carlton are entirely soundproof.
The suite's emerald curtains framed a vast, gleaming-white expanse: Lake St. Moritz was frozen solid. Racehorses, walkers and skaters completed laps on levelled tracks. All 60 Carlton suites face south. An imposing mountain range rises behind the lake, and high on the Corviglia, a gondola lift gently floats towards the summit.
Guests can directly access the town from the hotel. Just beyond the bobsleigh track is the ice stadium of the St. Moritz Skating Club, where the 1928 and 1948 Winter Olympics were held. Oskar is not interested in the pirouettes of the ice skaters, preferring to sniff the walls of snow on the side of the road instead.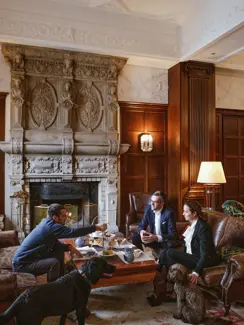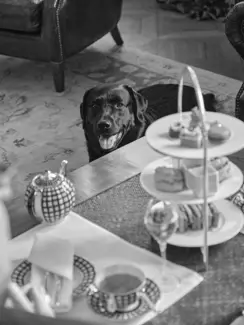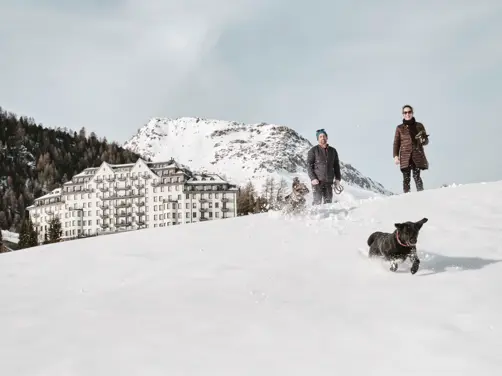 Back at the hotel after our leisurely stroll, Oskar and I visit the Bel Etage, delighted to discover a Coldplay classic being played on the grand piano next to a roaring fire. The magnificent hall is the heart of the hotel, a place to kick back, read, see and be seen. Guests lounge on huge leather sofas, the weathered wooden floorboards creak with the passage of bustling waiters, and the golden rays of the afternoon sun shine through the huge panoramic windows. Oskar thoroughly approves of his surroundings, especially when he notices the teatime trays of sandwiches, scones, cakes, and biscuits served elegantly on the coffee tables. Dogs are allowed in the Bel Etage, but the teatime treats are exclusively reserved for its two-legged guests.
Oskar is greeted by Sam, an Australian Labradoodle with a fun-loving glint in his eyes. He belongs to Michael and Stephanie Lehnort, the directors of the Carlton. Dogs are not simply tolerated at the Carlton; they are genuinely welcome. At Christmas, the more erudite canine guests receive dog biscuits inscribed with 'Merry Christmas' and for dog birthdays they have specially baked treats to mark their big day. When guests arrive accompanied by a dog, the rooms are fitted with cosy dog baskets, blankets, bowls, toys and treats. When Oskar decides it's time to slip into something a little more comfortable, a grey and turquoise dog bathrobe has been thoughtfully laid out for him. Naturally, it's a perfect fit. While he enjoyed the comfort, once more, he couldn't care less about the colours.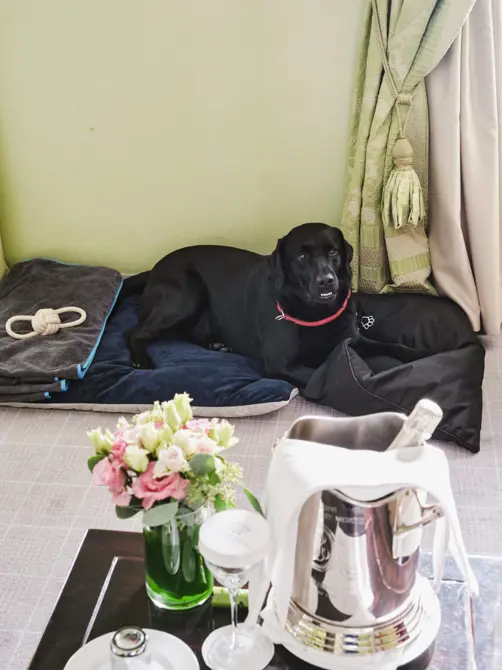 Built in 1911 in the classic grand hotel style, the Carlton first opened its doors in 1913. One of the hotel's former owners started rumouring that the house had been originally built as a summer residence for Russian Tsar Nicholas II, a scion of the famous Romanov dynasty, a clever marketing ploy to attract an Eastern European clientele. When the hotel was redesigned in 2008, designer Carlo Rampazzi revisited the theme, scattering the Romanovs' double-headed eagle emblems throughout the property. Comrade Oskar makes his sentiments about Tsarist politics very clear, distributing a salvo of wet paw prints all over the hotel to significant effect. Sam and Oskar become firm friends. On a walk to the frozen Lej da Staz mountain lake, they play together through the snow so deep and fluffy that only the cloud of powdered snow kicked up by their paws reveals their whereabouts. The area surrounding the hotel is a dog owners' dream: there are kilometres of groomed winter hiking and cross-country ski trails where dogs are allowed. On one of these, Oskar demonstrates his strength as a pulling machine: after a few false starts, he pulls his dog dad five kilometres through the snowy, sunny Upper Engadine, working off some of his many dog treats. He's having the time of his life. I'm just grateful he invited me along. In a memorable colourful event (memorable, to me, that is, probably wasted on Oskar), he is allowed to sit in the fondue gondola with myself and Enno, the photographer of the dogs on these pages. The shiny silver gondola cable car stands in front of the hotel entrance, with festive illuminations, generously lined with cosy colourful cushions and warm furs. This delightfully decadent setting is perfect for enjoying Switzerland's famed national dish, cheese fondue. Our waitress arrives bearing crusty warm bread and melting cheese to cap it all. With a smile in his direction, she slips him a tasty little titbit, a piece of his favourite sausage. I have never seen Oskar so happy. For Oskar, after such a perfect stay, that came – pardon the pun – completely out of the blue.
Words Titus Arnu
Photos Enno Kapitza