Partner
Nespresso Professional
We offer coffee solutions and machines for professionals, tailored to your specific business needs.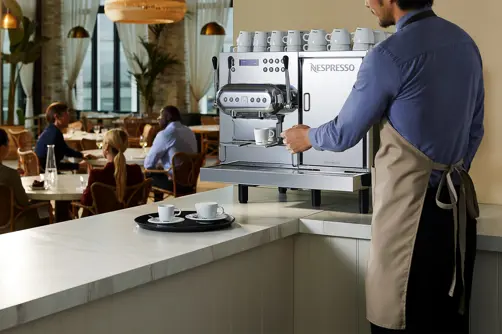 Founded in 1986, Nespresso is a Swiss brand which strives to create exceptional and original coffee experiences. We provide a wide variety of coffees, coupled with intuitive professional machines that are built to last and allow you to prepare any coffee at the touch of a button. The Nespresso Professional system integrates effortlessly into any venue, restaurant, buffet area, bar, meeting room or other, to deliver consistent quality, cup after cup.
"Together, we craft authentic and premium coffee experiences that elevate customer and guest satisfaction"
18 coffee varieties to satisfy every taste
Our portfolio of coffees offers something to satisfy every taste. From the classic ristretto to organic coffees, flavoured coffees or coffees specially created for milk or cold recipes, you will certainly find an option that will delight your guests. Not to mention our Exclusive Selection coffees which you have access to as members of the Swiss Deluxe Hotels. Moreover, did you know that all Nespresso capsules are produced in Switzerland?
Sustainability is at the heart of what we do
At Nespresso, we believe that every coffee can be a force for good and are pioneering a sustainable coffee economy. Since the very beginning, we've chosen aluminium for our capsules, as it protects the freshness and the quality of our coffees. Moreover, it presents the advantage of being 100% recyclable. Contact us to find out more about our free tailor-made solutions for the collection and recycling of used capsules.