Caffè Freddo
Cooled espresso over a few ice cubes is the Italian way to do iced coffee. That's «Iskafi» if you're in German-speaking parts of Switzerland and «café glacé» in Lausanne and Geneva. Dominique Niederhauser knows all too well that some varieties of coffee are better suited to being served cold. And so the Coffee Ambassador at Nespresso Switzerland has created his own cool coffee drink to sip on a hot summer's day.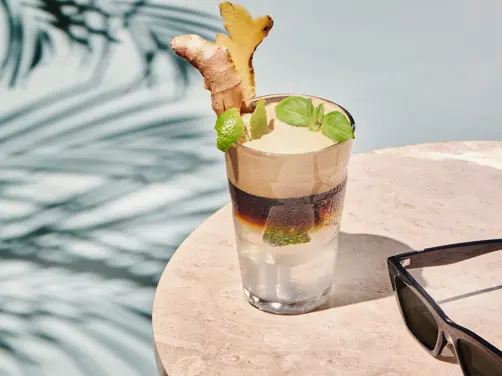 ´If you want to create a soft caramel sensation, we recommend a ratio of 1:2. That means you use double as much milk as espresso. Add a sweet hit of almond syrup or brown sugar to get the flavour spot on.´
´Recipes for cold coffee drinks have been around for quite some time, especially in countries further south, which are home to some of the major iced coffee trends. There is no question that some varieties taste much better than others when served cold. ICE INTENSO is a special drink designed to be mixed to perfection and enjoyed cold. ´
If you ask me, cold coffee is best served over ice with a teaspoon of almond syrup. A delicious and refreshing drink for a summer's day!
"Not all coffee is best served over ice. We searched long and hard before we settled on a beautifully roasted Arabica blend with a rich flavour."
´A cold coffee on the stronger side goes beautifully with other intense tastes like dark chocolate, but you could also create a nice contrast with the acidity of red fruit.´
´The choice of coffee beans and the specific roasting process make all the difference. The acidic or fruity notes of an East African Arabica are delicious when the coffee is served cold. Coffees from Costa Rica, though, are stronger with a darker roast and so may need some sugar or syrup to balance them out a little. Basically, stronger coffee blends work well as cold drinks when they are combined with chocolate, syrup or a lot of milk.´
´Coffee beans grown at a higher altitude, such as in Colombia, Ethiopia and Kenya, develop a consistent natural sweetness unlike coffee varieties grown lower down, which have a richer, stronger flavour.´
There are so many different ways to prepare a cold coffee, but it all comes down to getting the proportions spot on
Coffee over ice
Add 3 ice cubes to your glass or 90 g of ice

Pour 40 ml of cold coffee on top

Add 90 ml of cold water, then stir
Coffee over ice macchiato
Add 3 ice cubes to your glass or 90 g of ice Pour

40 ml of cold coffee on top

Add 90 g of cold milk foam, then stir