Trend Forecast
A crackling fireside chat at The Chedi Andermatt about the future, sustainability and megatrends between Henrik Wenders, Head of Brand, Audi AG, and Jean-Yves Blatt, General Manager at The Chedi Andermatt and Hotelier of the
Year 2020/2021.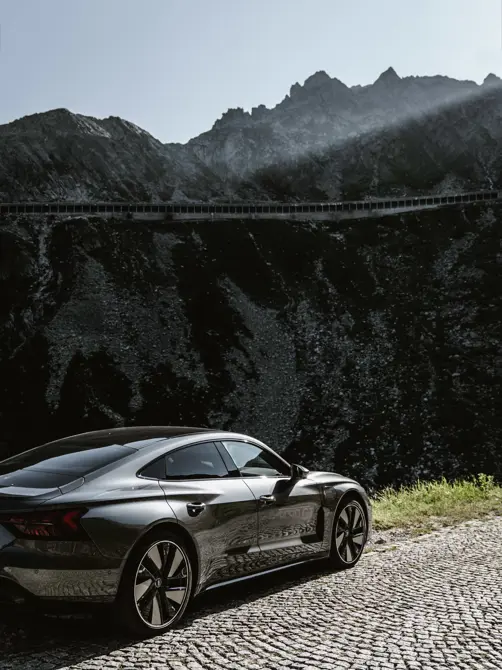 Future is an Attitude. What exactly is the meaning behind Audi's slogan? Henrik Wenders: The future doesn't just happen – it's a mindset. Creating the future you want takes a certain attitude. The Chedi Andermatt, for example, only came into being here because someone had a vision for Andermatt and wanted to have a hand in shaping the future. But alongside attitude, you also need courage and optimism. Audi used to define progress as 'Vorsprung durch Technik' (progress through technology/engineering). These days, however, the future's more than just technology. It's about creating experiences. This has always been the case at Audi, but the future's becoming more multidimensional.
The human being is always at the centre. Whether it's about driving an Audi or staying at The Chedi Andermatt, in the end, we're vying for people's lifetimes. Jean-Yves Blatt: That's exactly how I see it. The future is partly about creating a vision. When Samih Sawiris was envisioning The Chedi in Andermatt, there wasn't much more here than a redundant army base. You need a lot of strength to create something like The Chedi Andermatt – and the conviction that it will work. How do you know that your strategy for the future is right? Jean-Yves Blatt: You develop an instinct. As a hotelier, you have to keep developing trends and trying things out. Since we can't simply rebuild The Chedi Andermatt, we create new things with the software, i.e. the staff. Our team's very good at that. Part of the reason is that the average age of the staff is some ten years less than in other luxury hotels. We reap the benefits of this youthful freshness.
"We've created a real win-win situation by transforming ourselves into a purely electrical supplier."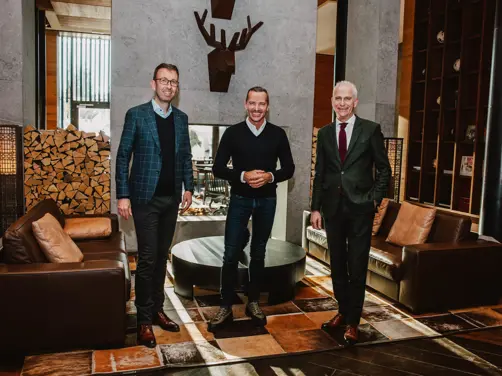 Henrik Wenders: Our antenna system is widely distributed and highly strategic. We have trend and market research hubs in Europe, Asia and the USA, but we're also in constant contact with all our markets. Think about it: a new model has a product lead time of five years, followed by a life cycle of seven years on average. For instance, we're currently working on a limousine-class vehicle that's due to launch in the middle of this decade. It will be keeping customers mobile into the 2030s. That's what I love about the automotive industry. We benefit from over 110 years of experience and from the influence of 115 countries in which we're present. And we have over 20 million customers worldwide who are currently getting around in a vehicle with four rings. We reach an additional 80 million people via social media. All this to say: we have a voice in the best-informed society in the history of humankind. And we want to use it.
What is your message? Henrik Wenders: Sustainability is now no longer a compromise, but an experience. We're on the brink of a new consciousness. We've come to realise that we need to act to stop climate change. Audi's investing 18 billion euros in hybridisation and electrification alone between now and 2026. We've created a real win-win situation by transforming ourselves into a purely electrical supplier. Every Audi e-tron, for instance, is handed over to our customers with a carbon-neutral balance sheet and can be driven without tailpipe CO2 emissions. How important is sustainability in the luxury hotel segment? Jean-Yves Blatt: Sustainability will also gain in importance in the luxury hotel segment. The construction of The Chedi Andermatt is Minergie-compliant, while the hotel draws electricity from 100 per cent renewable energies and is heated by a carbon-neutral district heating system. We also have energy recovery systems as well as programmes to combat food waste and so on. We use regional products and reduce energy consumption through continuous innovation. Our ice rink, for instance, has a synthetic surface. But this is only the beginning – it's an ongoing process of optimisation.
"Sustainability is one megatrend of the future. Another one is digitalisation."
Is sustainability the megatrend of the future? Henrik Wenders: Sustainability is one megatrend of the future and another one is digitalisation. Audi is increasingly transforming itself from a pure car manufacturer to a tech company that builds smart devices. As at The Chedi, the hardware of the vehicle will remain the same, while the software will individualise each car and make it unique. Jean-Yves Blatt: The future of the hotel sector undoubtedly lies in digitalisation, from the self-check-in to the personalised menu offering. The guest experience is becoming ever more tailored, ever more personal.
Even in a hotel with many tens of thousands of guests a year, the guest of the future will feel as if they are the only one. Fully digitalised hotels already exist, but not in the premium segment. The luxury hotel segment mustn't let this trend pass it by. Will luxury eventually become obsolete? Henrik Wenders: I think the desire for luxury is instinctive. Even 2000 years ago, people were striving for an exclusive experience, for recreation or mobility. That will still be the case in a thousand years from now. The luxury of the future will of course be sustainable, but much more tailored to the individual. Jean-Yves Blatt: Size, room layout, design, materials: luxury is a sensory experience, which means it will never go out of fashion. But I agree with Henrik – the luxury of the future in the premium hotel segment will become more personal, as long as it's based on sustainability.