Circle of Progress
Promoting a high-calibre exchange of ideas around current topics of relevance across several sectors, a new event platform created by Swiss Deluxe Hotels and partners Audi Switzerland and Prestige Magazine introduces a high-profile stage for impact-generating issues.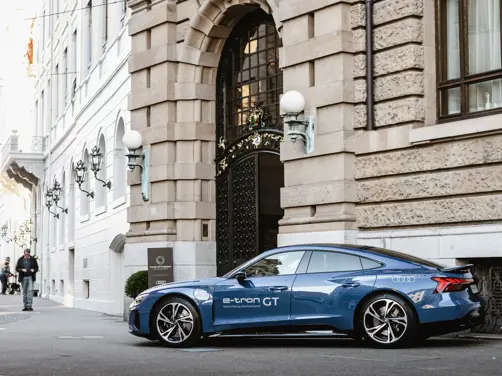 Around the central theme of transformation, the first such event has taken place in attendance of a small circle of entrepreneurs, visionaries, and intellectuals at Basel's legendary Les Trois Rois Hotel. An experienced line-up of inspiring personalities has come together to launch this impact-driven talk series, kicking off the Circle of Progress series with a discussion on major transformational challenges top-tier brands and their respective environments face today.
Speakers included Dr Michael Trautmann, management consultant and co-founder of the advertising agency thjnk, who has researched the future of work for many years; Ralph Hollmig, responsible for Audi's innovative charging hub; and former skier Tina Weirather. Providing equally important food for thought, host and General Manager of Les Trois Rois Hotel, Philippe D. Clarinval, spoke about the current changes faced by the tourism industry and the future of luxury travel.
Raison d'être and hybrid models around the future of work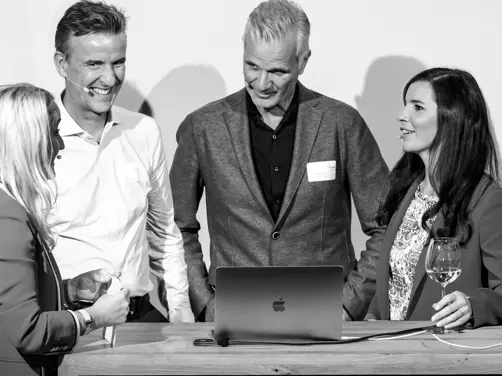 A former management consultant, global CMO at Audi and co-founder of Zurich-based agency thjnk, Dr Michael Trautmann has extensively followed developments around the future of work and its ensuing communication strategies within the scope of his entrepreneurial endeavours. Focusing primarily on younger generations, the Hamburg native explained: 'I know quite a few younger people who consistently achieve a lot, but on very different terms than those we were once prepared to accept.'
Another important key point of his speech included the concept of Home Office. 'The main challenge we face today is to accept that hybrid work models are feasible. The recent pandemic has shown us that working remotely works. Particularly in regards to meetings, an aspect that is likely to remain in a hy- brid format now and in the future, it is paramount to involve all participants without discrimination'. However, Trautmann is convinced that the office is here to stay, as some creative processes, spontaneous innovations and topics where emotions are involved demand physical collaboration on location.
'By the end of the Second World War, there was an ageing building at Boston's Massachusetts Institute of Technology (MIT), the so-called Building 20, which was supposed to be demolished. However, due to a lack of space, it was used to house staffers and academics from various faculties who kept running into each. Today, it is one of the most cited examples of innovation as a precursor to the idea of co-working spaces so popular today,' he says. 'Building 20 is where the first video game was invented and where the foundations of high-speed photography, the use of microwaves and computer hacking were laid,' Trautmann continues.
From vehicle manufacturer to ecosystem provider
The second speaker at this first edition of Circle of Progress has been at Audi for 25 years and currently heads the carmaker's charging hub project. For Ralph Hollmig, a higher level of quality is paramount. As the automotive industry undergoes the greatest transformation in its history, he affirms: 'We have to evolve from a vehicle manufacturer to a mobility and ecosystem provider with an undisputable customer-centric focus. An important part of this new ecosystem is a sustainable fast-charging infrastructure – particularly in urban areas.'
Fast-charging facilities with a correspondingly high charging capacity, such as those found at motorway service stations and charging points, hardly exist in urban areas. This is precisely where Audi's charging hub comes into play: a modern mixture of charging station and lounge space intended to offer solutions for peak demand in the future while transforming the actual activity of charging a vehicle into time well spent for its customer base. First assessments and feedback from the project's pilot in Nuremberg have been highly positive, and this November has seen the opening of the world's second charging hub in Zurich. With the help of Second-Life batteries, there is no need for an elaborate or expensive infrastructure with high voltage lines and transformers, as relatively low demands are placed on local power grids for the electricity required. Audi's charging hub is thus able to introduce a sustainable, fast-charging infrastructure via its own battery storage system to areas where power grids cannot provide sufficient capacity.
Personal Transformation: Creating new passions
Last but certainly not least, following valuable insights, former skier Tina Weirather rounded up the evening with her own account of personal transformation from top athlete to media specialist, presenter and social media expert. For 15 years, the Lichtenstein-born athlete ranked amongst the world's top 15 skiers until announcing her retirement two and a half years ago. 'Following an initial sense of euphoria immediately after my retirement came a feeling of void,' says Weirather.
'I have concluded that passionate activities don't automatically present themselves to me, but it is also possible for me to aspire to or create new ones.' While still navigating through her personal transformative process, she has learned to consciously experience and steer it. 'I allocate more time to think about things and make all important decisions while being in nature.'
Words Swenja Willms & Isabelle Riederer
Photos Tom Lüthi