Entering New Spheres
When the flood light poles of Letzigrund Stadium shine their gleaming light on the arena, the Weltklasse Zürich venue looks like a gigantic spaceship that just landed in the city. Perhaps, the architects' intention had been to point to the fact that Letzigrund Stadium is an ideal stage for extra-earthly performances.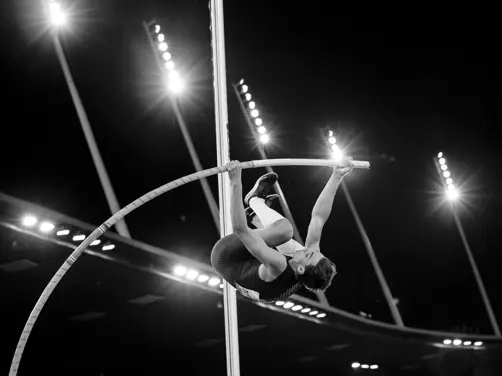 Over the course of the meeting's long history – its very first edition was held on 12 August 1928 – the Zurich audience cheered 25 world records, the most recent one dating back to 28 August 2009. When Russia's pole vault queen Yelena Isinbayeva cleared 5.06m, 25,000 excited fans could hardly believe their eyes. Her record still stands today. When the fans use the advertising boards as drums, beating them softly at first and then forcefully and loudly, they create a vibe that encompasses everyone in the stands and captures the athletes. Anything seems possible. The meeting's unique ambience is now inspiring a new generation of athletes – young, rising stars.
USA's Sydney McLaughlin, for instance, or Armand Duplantis, a pole vault prodigy from Sweden who keeps soaring to greater heights. They are both 21 years old. Or take Noah Lyles, a 23-year- old US star sprinter, a world champion, and the fourth-fastest 200 m runner of all time: in 2019, he proved that a world record is not the only way to turn Weltklasse Zürich into a magical experience. First, he set the arena's track on fire in the 100 m race and then returned to the infield taking the stage as a rapper. Together with pole vaulter Sandi Morris and Zurich's Baba Shrimps, he treated the audience to a musical «Souvenir». As host for the Wanda Diamond League finals in 2021 and 2022, Weltklasse Zürich is entering new spheres.
Over the course of two days, the meeting will feature as many as 32 final events. Two locations will serve as meeting venues – Sechseläutenplatz, the city's famous square with a view of the lake and the Alps (on Wednesday, 8 September), and Letzigrund Stadium (on Thursday night, 9 September). More national and international athletics stars than ever will be inspiring Weltklasse Zürich visitors and viewers at home.
Words Alex Kuehn
Photos Urs Jaudas