5 Questions - Simon & Gabriela Jenny
The farm Terreni alla Maggia is part of the Castello del Sole estate.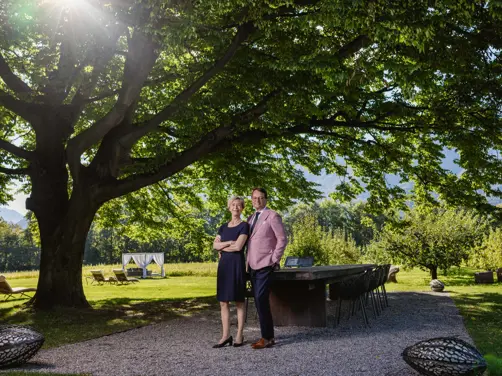 How does a farm complement a luxury hotel?
We describe Terreni alla Maggia as a 'farm with top wines and innovative specialities'. This definition fits very well within the context of our hotel's overall service proposition, which embodies what we call a 'one resort feeling' across 140 hectares of land.
Is it fair to say that nature is the new luxury?
Yes, guests are increasingly looking for a reimagined feeling of luxury, one that is steeped in tranquillity and nature. Activities such as our weekly 33-minute Rice Talk with Rice Man Markus Giger are a big hit. With trees up to 250 years old dotted all over our grounds, the 33-Minute Treewalk with our head gardener is similarly popular. Furthermore, guests interested in ornithology can take part in the 33-minute Birdwatching in our very own sanctuary.
And in the hotel's garden, guests are allowed to pick and eat their own fruit?
Yes, at Castello del Sole we have been cultivating this iteration of down-to-earth attitude for generations. One of our guests, who is now over 70 years old, has recently told us how he and his siblings used to pick apples as children before departing our hotel, innocently hoping that the apples would last them until their next stay.
Is it still possible to raise the bar as hosts when pretty much everything about a property is already unique?
Of course! In the areas of service, sustainability, and sincere friendliness, we do everything we can to set new standards, and we accomplish this with the support of a highly motivated team.
What's your ultimate insider tip for a memorable stay in Ticino?
Besides the beautiful lakes and the palm trees, guests can also explore high-Alpine valleys in Ticino. An insider tip is Val Bavona with its gushing waterfalls and picturesque villages teeming with authentic rustici. At the end of the valley, a mountain railway takes visitors up to Robiei at 1,900 metres above sea level, where one can observe marmots, Alpine goat-antelopes and ibexes!