Chef's Portrait - Anne-Sophie Pic
Anne-Sophie Pic's culinary creations are a lot like her elegant, harmonious and inspiring. That makes sense given that this French chef believes that a cook's personality is always reflected in the food they serve up.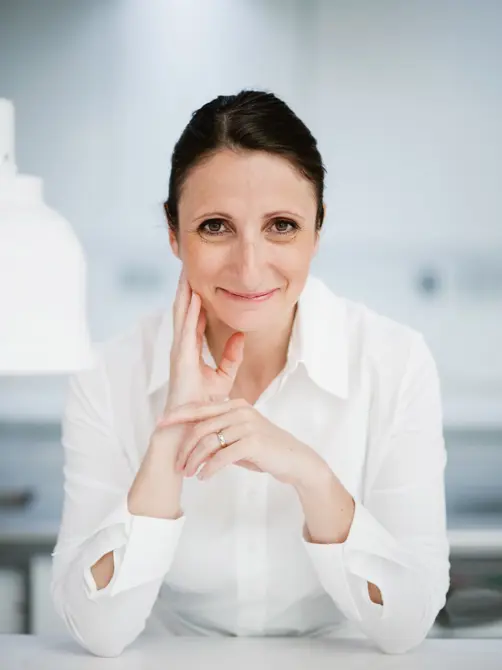 Anne-Sophie Pic can even bring oysters, coffee and whisky together in perfect harmony. There aren't many chefs out there who can combine ingredients quite as skilfully. But Madame Pic has a special talent for pairing foods that really shouldn't work together. It is her mission to delight and surprise diners. «My career may be based around the element of surprise, but my priority is still to bring ingredients together in perfect harmony,» she explains. Although Madame Pic doesn't actually drink coffee herself, she is fascinated by its complex blend of flavours. «I really wanted to produce a dish featuring coffee for that reason. And when I was looking for something to complement the iodine-rich oysters, the smoky undertones of whisky popped into my mind.» Her impressive culinary combinations have earned her Michelin stars, countless other awards and even a compliment from the great Paul Bocuse.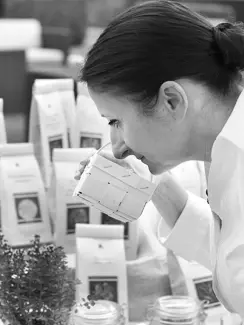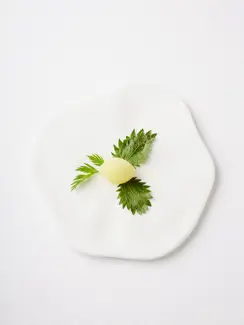 «Anne-Sophie, you are the Mère Brazier of the 21st century,» he once said after a visit to the daughter of his friend Jacques Pic. In 1933, Eugénie Brazier and Marie Bourgeois became the first women to be awarded three Michelin stars. And Mère Brazier also happened to be Bocuse's mentor, who had a major influence on his culinary career. «Of course, being compared to Mère Brazier by none other than Paul Bocuse gave me a huge boost,» says Anne-Sophie Pic. «That compliment came at just the right time. When our restaurant in Valence had not yet managed to win back the third Michelin star it lost after my father's untimely death. It helped me believe that I would be able to do it. And I was confident then that I could turn to Monsieur Paul for help. It turns out that I was too proud to do that anyway and I ended up going it alone.» These days, Anne-Sophie Pic is following in Bocuse's footsteps and has become a culinary icon in her own right. And she is never afraid of making drastic changes if that's what it takes to stay true to herself. For example, her interest in bitter flavours is growing because of that persistent aftertaste that acidic accents simply don't have. «Just think of a lingering fine wine. Acidity used to be at the heart of my dishes, but now I really only use it to offset bitterness. It's all about balance.» And what about umami, the fifth basic taste we hear so much about? «That yummy savoury flavour is an important part of my cooking,» explains Anne-Sophie Pic. «I started to be more deliberate in my use of umami than I was before we were all so familiar with the concept.
"It's all about balance."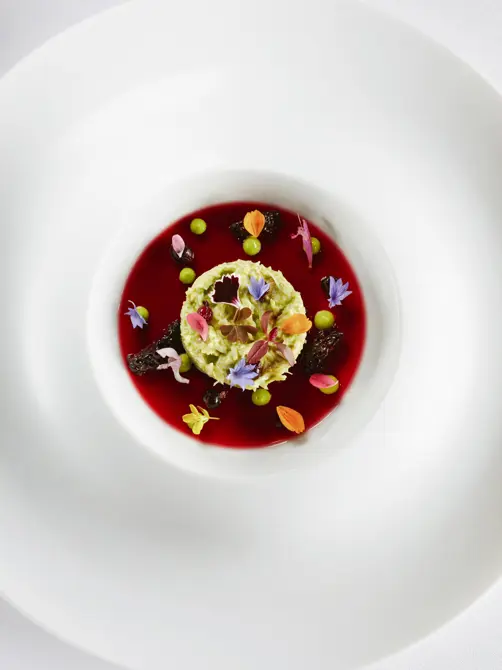 Umami-inspired dishes already featured heavily in traditional French cuisine with its rich sauces, but more of a conscious effort goes into creating them these days. And they are fresher and more complex.» According to the creative chef, as the focus of haute cuisine continues to shift towards umami, sweet sensations are becoming less popular. «In my own savoury dishes, I only ever add sweetness in the form of alcohol. A chartreuse sauce, for example, is a flavour explosion with a sweet hint. And it's that complexity that makes it such a hit.» It's a different story, though, when it comes to the dessert menu. «We do need proper sweet dishes as long as they're well balanced. It would be awful if the distinction between starter, main course and dessert disappeared altogether. I am steering clear of that trend.» The philosophy behind Anne- Sophie Pic's cooking is the same at her original restaurant in Valence and at the Beau-Rivage Palace in Switzerland. And yet these two eateries each have their own unique character. Madame Pic and Kévin Vaubourg, her head chef in Lau-sanne, centre their menus around premium local produce. The succulent Limousin entrecôte from Vaud served with a beautifully fresh jus infused with shiso is sourced from the Boucherie d'Onex just outside of Geneva. It comes with baby aubergines grown by Mathieu Cuendet, a vegetable farmer based in Bremblens. The berlingots – delicate pasta parcels à la Pic served with Green Zebra tomatoes, verbena and watercress – are filled with a moitié-moitié fondue mixture typical of the Romandy region.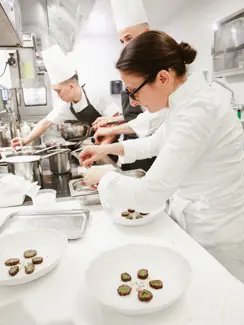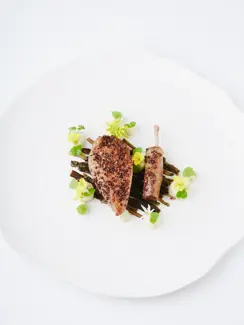 Every plate served by Anne-Sophie Pic reflects her passion for her work. But does such a busy woman ever find time to actually go out for a meal in a restaurant? «Not really when I'm in Lausanne. It's more important for me to spend time with my team at the Beau-Rivage,» she explains. «Having said that, I did thoroughly enjoy the meal I had at the Hôtel de Ville in Crissier here in Switzerland. And I was lucky enough to experience Andreas Caminada's exquisite, thoroughly modern cooking at a four-hands dinner here in Lausanne. My husband also raves about the Cheval Blanc in Basel. So now I'm very keen to try Peter Knogl's Asian- and Mediterranean-inspired take on haute cuisine one day.» Ma-dame Pic visited two restaurants in France last summer, tucking into the delights served up by Glenn Viel at the Oustau de Baumanière, which had recently been awarded three Michelin stars, and by Fanny Rey at the Auberge de St-Rémy-de Provence. Her visit to Rey, a finalist on TV cooking show «Top Chef» in 2011, also gave her a chance to offer support and encouragement to an up-and-coming female colleague. After all, Anne-Sophie Pic knows all too well what it's like to be a woman in the largely male pool of top chefs. And she deals with it completely differently now that she is further on in her career. «At the start of my career, I wanted to let my food speak for itself. I wanted to be seen purely as a chef rather than a female chef. But now I draw attention to the fact that I'm a woman with a view to showing young female chefs that the sky's the limit for us.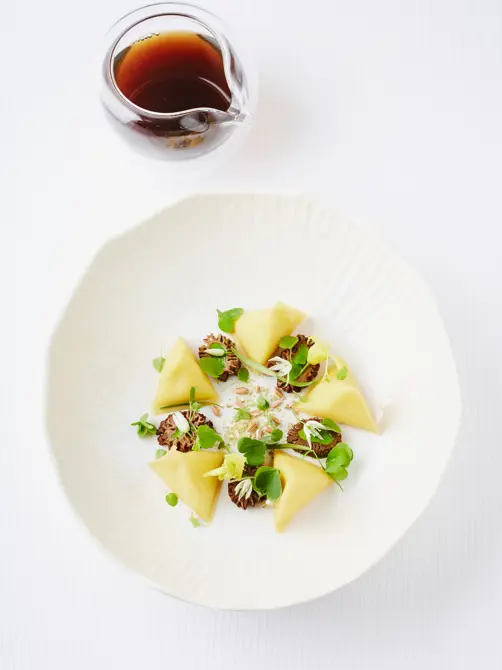 There's nothing stopping them from getting to where I am today.» As a mother of a 15-year-old son, she describes her cooking style as predominantly feminine but acknowledges that some of her dishes have a very definite masculine edge. She firmly believes that women are not restricted to cooking deemed to be feminine. Neither does a man have to worry about his food being overly masculine. «Everyone has their own unique qualities and ways of doing things. A chef's personality is always reflected in the food they serve up. Each and every dish is an attempt to spark an emotional response. That explains why it hits us so hard when what we create doesn't have that effect on someone. And it makes it all the more meaningful when our food does also end up feeding the soul.» Madame Pic doesn't need to show off or be overly strict in the kitchen to assert her authority. «If you want to be respected, you have to be fair and in a position to teach your staff to help them grow and improve. Cooks work hard and expect respect and fair treatment in return,» says the grande dame of French cuisine. And she has a little trick up her sleeve just in case. When things are beginning to get just a bit too hectic, she doesn't shout to be heard. Instead, she whispers to force everyone to concentrate extra hard on what she is saying. The most important thing to know about Anne-Sophie Pic, though, is that she comes across as a lovely, warm person. «Cooking somehow has a motherly feel to it. A mother follows her natural instincts and feeds her family. I apply that instinct in my work life too. I have one son at home, but I also feel a similar sense of responsibility towards my team.»