Poetry on a Plate - Chef's Portrait, Stefan Beer
Why seek far afield?
Victoria-Jungfrau Grand Hotel & Spa's Stefan Beer cooks in harmony with what nature provides in the area.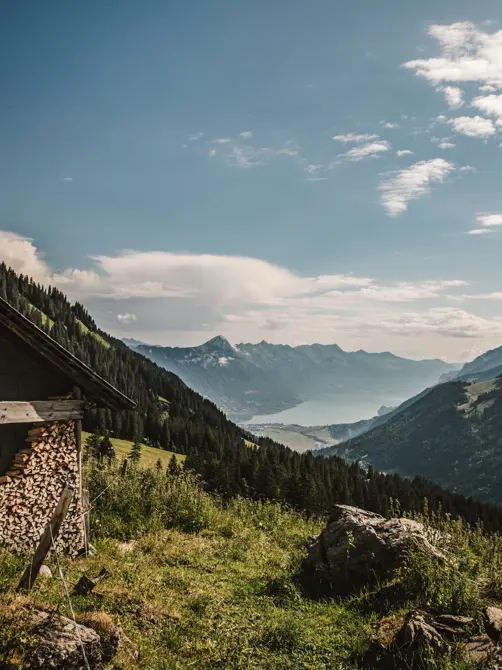 «The Bernese Oberland region is a culinary Cockaigne,» says Stefan Beer.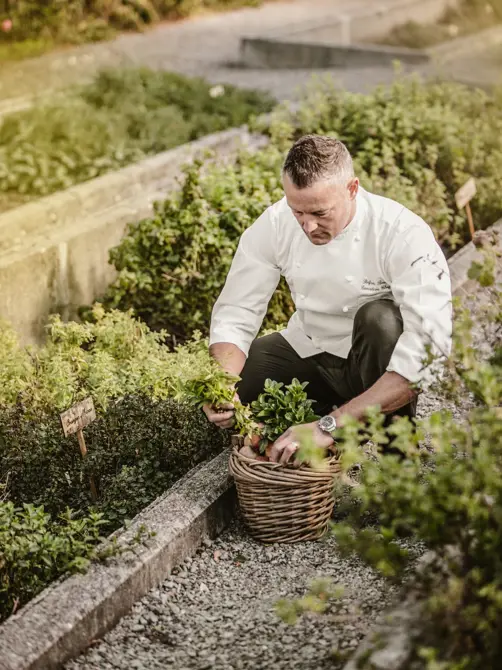 «Everything I need to create my menus is there. Even Osietra caviar.» The comparison with the myth suggests luxury and ease, but the Executive Chef of Victoria-Jung- frau Grand Hotel & Spa is putting in quite a bit of effort. «Finding outstanding producers was one thing, distracting their fears of cooperating with a luxury hotel another,» Stefan Beer recalls. Four and a half years later, his network has grown considerably, and by now allows him to use only products from within a radius of 40 km for his «Z Menu vo hie» – the local menu. «When news about our cooperation with Bönigen-based truffle hunter Christina Mader, a kindergarten teacher in her day job, spread, two additional suppliers contacted us,» Stefan Beer explains. «And the same happened with other products over the course of the last few years.» Monika Wyss, owner of Wyssacherhubel farm, where we pick up a couple of sacks of flour and coarse-grained wheat flour for Stefan Beer's calabaza pumpkin tortellini with Feuzes Bergli cheese and sage during our interview, is greeting the star chef like an old friend. «Thanks to Stefan and his menu idea, a new sense of closeness between the Victoria-Jungfrau and local residents has developed,» she says.
Monika Wyss also supplies Stefan Beer with homemade meringue and Advocaat. The eggs for both products are provided by the chicken that are strutting around the meadows outside. For the liqueur, the Wyss recipe, unconventionally, involves the family's own plum brandy. The La Terrasse kitchen, in turn, creates the following: a Meringue sphere with apple jelly, stewed plums, and Advocaat ice cream. «The plum brandy adds a lovely perfume to the stewed plums,» explains Stefan Beer. «All I had to do to create this dessert was to take a look around Wyssacherhubel farm and then come up with an arrangement of what's there.» A poem, co-written by a chef and the people of the region around him.
Should a product go out of stock temporarily, the chef, a holder of 16 GaultMillau points, resorts to improvisation. Last year, for instance, he had to replace cherries with mirabelles for his «Menu vo hie» dessert, then with greengage, and eventually with plums. «Nature has no use for our restaurant, but the feeling is not mutual at all,» reflects Stefan Beer. After getting back home from eight years in places like Shanghai, Hongkong, Bangkok, and Singapore, he realised that he wanted to offer guests a cuisine that is firmly rooted in the region, a cuisine that would make local residents feel proud and, at the same time, leave a lasting impression on international guests. The last thing a chef could want, is guests who cannot remember what they had a few days after visiting a restaurant.
Stefan Beer feels deeply connected to the rural region, and yet, he always makes sure to add a pinch of subtle elegance to his creations. He plays with temperatures and textures, he emphasizes his point with hints of acidity or umami, the much-talked-about fifth taste. He serves his starter «Tropenhaus Frutigen meets Burkhalter's free-range hens» together with a sketch that explains the individual components of his creation and illustrates just how complex this dish in two egg shells is. One shell holds a zander tartar, a tomato- and-fish jelly, minced egg yolk, sour cream, and caviar; the other a sturgeon tartar and a fish-based foam with vodka. There is even a tongue-in-cheek nod to the world of theme eateries in Stefan Beer's «Menu vo hie»: The cucumber sorbet with Swiss Crystal gin from Interlaken is served on a snow shovel. The atmosphere at the Grand Hotel with its impressive Art Nouveau halls and its 150 years of history may be elegant – but never stiff!
"It is important to me, if at all possible, to meet our guestes at the table to tell them the story of the dish, the products and their origin"
Stefan Beer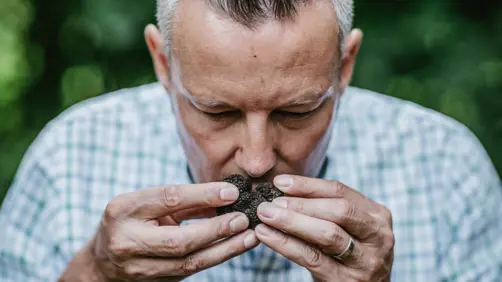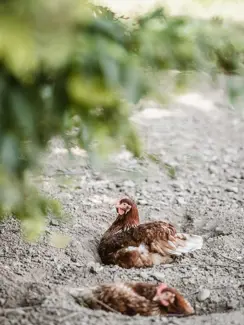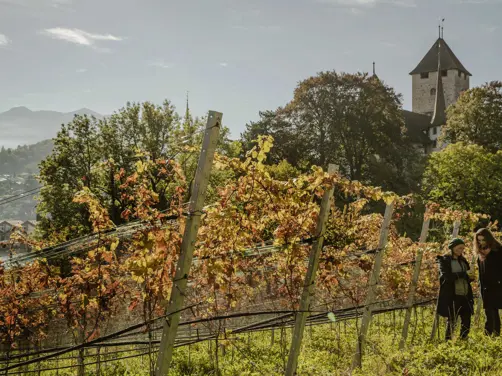 The love for all things regional is not limited to the culinary delights on the Victoria-Jungfrau menus. The hotel also serves as a stage for little known wines of the canton of Bern. Daniela Wüthrich, Head Sommelière, and congenial partner to Stefan Beer when designing unforgettable fine dining experiences, has meticulously tracked down dozens of first-class products, including Andreas Lanz' sparkling rosé wine which is produced according to the Champagne method at his bio-dynamic winery in Steffisburg. Dry, yet silky, with fresh fruit flavours and a lasting perlage, it makes for a perfect prelude to the «Menu vo hie». Daniela Wüthrich pairs the first course – the eggs with sturgeon, zander, and caviar – with a classic, wonderfully fresh Chasselas produced at the Keller am See in Ligerz. «Christian Dexl, the owner of the winery is a newcomer with incredible passion. He started to produce great wines according to Demeter guidelines in his two-hectare vineyard on Lake Biel in 2016,» she explains. «His Chasselas is an ideal, nicely reserved companion for our local menu's creamy starter and its striking flavours.»
One of the allures of Daniela Wüthrich's job, is pairing the right elements. When she serves a Bernese sweet wine to round off the menu, she hits the bull's eye. The elegant Bacio di Andrea made from Pinot Gris and Gewürz-traminer from the winrey Hämmerli creates a wonderful contrast to the dessert of three kinds of apples, refreshingly rough Jung- frau Weizenbier ice cream, and Meiringen cream.
Photo Intro Alp Feuzesbergli
Photos Tina Sturzenegger
Words alex kuehn