Time for something new
A burnout, the end of a long-term business partnership, and a new love. Swiss chef Daniel Humm opens up about the most difficult and the best moments of his life in an interview in New York, his adopted home city.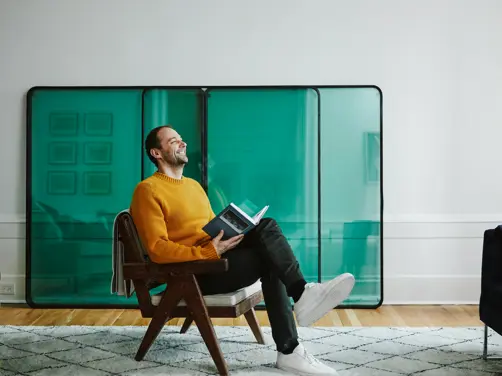 A cool morning in New York: Daniel Humm opens the door and welcomes us into his apartment near Central Park. Dressed in black pants and a mustard yellow sweater, he asks us to take off our shoes. The 43-year-old Swiss has agreed to spend a day with us in his adopted home city. New York is where he started his career and an unparalleled success story in the culinary universe – from Argovian school dropout to global super star. Humm is one of the most influential chefs in the world, some of his creations are icons of contemporary culinary art. But first things first: Humm starts his Italian espresso maker to brew coffee for us – a cappuccino prepared by every trick in the barista book. The interior of his living room seems as carefully composed as Humm's menus. It is the setting for our conversation in which the tall chef with an easy laugh tells us about his home an the darkest moments of an outstanding career that began to take root in Daniel Humm's childhood. Daniel Humm, your home is a deliberate composition of art and comfort. What do you need to make yourself at home? Every object has its meaning. There is nothing I bought just like that. Everything is part of my life story. How long did it take before your interior was complete? For two years, there were just a wooden bench, two chairs, and a glass object by Daniel Turner – a friend of mine who had also created an art object for my Eleven Madison Park restaurant. He melted down part of my old kitchen and created a step. Guests walking into my new restaurant now step across the old one. Where are you in your life right now? (deliberating the question for a long moment) I think I am at the beginning, somehow. The last year was the most the difficult one in my career so far. Ending the long-term business partnership with Will Guidara was hard financially. It is not easy to find investors in our business. Most of them would like to make their own mark in the trade, an ambition that could become difficult sooner or later. And an investor who just looks out for his or her investment will demand profit and may have little time for quality. Did the difficult year hurt your creativity? No, on the contrary. I feel like it was one of the best, creatively speaking. We opened «Davies and Brook» in London, a restaurant with its very own identity – and the first one I opened on my own responsibility. The «Eleven Madison Park» is moving along nicely, and I am dreaming of a Gesamtkunstwerk that includes all elements of the restaurant, even the materials it is built with. I am becoming aware of my purpose in the world of gastronomy only now … And that is? There are others who are working around the same idea, of course, but my mission is to redefine fine dining. Ferran Adrià's topic was molecular gastronomy, René Redzepi helped shape the Nordic cuisine, and I am devoted to fine dining – an area no one wants to hear about anymore. In Europe, three-star hotels are often half-empty because things stopped evolving. Top quality in a restaurant does not have to equal pretentious and showy, however. What is it that fascinates you in the fine way of dining? It is part of our culture and our history. In every culture, eating is an important element of social life. And it involves several disciplines – pottery making and the production of vegetables and meat, for instance. But it also includes architecture and the art of cookery and service. There have been discontinuities in your life. Why is that? Take a blackboard that has been written on. Every now and then, you have to wipe everything off in order be able to start afresh. And I have always been somewhat afraid of standstill. Where does that fear come from? When I was eight, I once asked my teacher for a bigger sheet of paper during a drawing lesson. I told him that my idea would not fit on the one he had given us. I wanted to draw a skyscraper. The teacher became angry and told me to act normal, just like everyone else in the class. I still drew the skyscraper, two thirds of it on the school desk.
Every object has its meaning. There is nothing I bought just like that. Everything is part of my life story.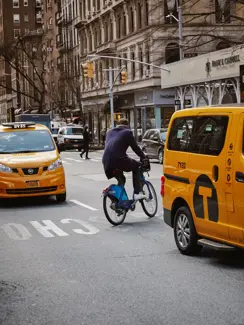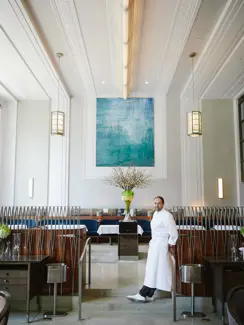 The whole thing ended in a crisis, of course. My parents were called, and I had to see the educational psychologist. Was she able to help you? I was very lucky to meet her. She worked on the basis of Carl Gustav Jung's method. We had sessions on every Wednesday afternoon for years. We talked, made pottery, cooked, and painted. «Never let anyone tell you that there is no big enough sheet of paper,» she told me. It was the first time I felt understood, and I will never forget that. And I have been searching for bigger sheets of paper ever since. The size of the paper does not refer to quantity, does it? It is quality, you are looking for. Exactly. It is not about pushing growth. It is about believing in your own idea and about realising it. Your career at school was not entirely successful, despite your educational therapist. We lived in Zurich at the time, and I went to a Rudolf Steiner school, which was great for me. But when my parents decided to move to the canton of Argovia, my world collapsed. I was not able to fit in, and I often skipped school. I moved out when I was fourteen, met the mother of my daughter Justine, and started my apprenticeship. Is there a discrepancy between the chef who knows about the almost military-style training in a kitchen and the creative mind who cannot fit his ideas onto a sheet of paper? Not necessarily. Even in creative processes, I am well-structured. Nothing in my life is chaotic. But I have no fear of losing everything. Arriving in the US with just two suitcases was one of my happiest moments. You did lose a lot, though – your first love, for instance. And you had no contact with your daughter for a while. True. That was very painful. But being able to make a difference is still very high on my list. I am not motivated by money, and I do not want to be a brand. I want to create things and not squeeze as much profit as I possible can from an idea. Economic success is necessary, of course. Without it, you cannot create extraordinary things. What do material possessions mean to you? I feel very comfortable with the art in my apartment. But I could walk out of here tomorrow, and not miss a thing. Therefore, I am not afraid of losing things. True value is within you. What are the values you uphold? What leads you in your life? I am open-minded and unprejudiced. I am looking for beauty and harmony. And I want to keep learning. All these things lead to creativity. We will change the Eleven Madison Park again, this fall, if we get to it. The restaurant is always fully booked, but it is time for something new. You said you were at the beginning. But before that, you had reached the end of the line. That's true. Three years ago, I travelled through India for eight weeks, because I had suffered a burnout. Getting through the day suddenly seemed too hard. I felt paralysed. It was scary to feel completely helpless. What provoked this burnout? After we were named «best restaurant» with the Eleven Madison Park in 2017, my world fell apart. I had been running up a mountain, and when I got to the top, the view was not as good as I had expected. There were days when I could not leave the house. Even calling my assistant was too much. At some point, I mustered the energy to embark on that trip to India. What kind of an experience was that Indian timeout? During the first two months, I switched on my phone for two hours on Saturdays only, so that my team would be able to reach me. I was way out of my comfort zone the entire time, and that changed everything. Not immediately, mind you. I still talked to a psychotherapist while on my search for new goals. But in time, I started to see things more clearly.
What helped you gain clarity?
Thorough psychoanalysis. That's just who I am: Once I decide to do something, I do it properly. I talked to my therapist for five hours each day for three weeks. It was work, and it helped me remove everything that was obstructing my view. This led to the end of your business partnership with Will Guidara and of your cooperation with the NoMad hotels in New York, Los Angeles, and Las Vegas. You were on your way to become a globally operating food entrepreneur… That's right. And I had let myself be drawn into that direction. All of a sudden, other people made decisions on my behalf. I looked into my day planner in the morning, and there were a dozen appointments somebody had arranged for me. I have taken back control now. I shield myself, and do not let everyone get close to me. Did your clean-up not put things at risk? Absolutely, and had I not be able to make a deal that allowed me to pay off my partner, it would have been the end. But because I knew what the future had to look like, I was prepared to stake everything on one card. There was an enormous risk involved. Without a deal, we would not have been able to pay wages for much longer. What does a situation like this, the risk of losing everything, do to you? It's a bit like basketball: If, with one minute to go, my team is two points behind, I am the one who takes the ball and tries a three-point field goal. By the way, we had already been on the verge of losing everything after the financial crisis in 2007. There were nights, when we had ten guests at the restaurant. Maybe, that is the artist in me: Creativity and spirit are more important than money. Entrepreneur Laurene Powell Jobs has been your partner for about one and a half years. When we were introduced, I knew that I had just met an extraordinary person. Ms. Powell is Steve Jobs' widow and holds Apple Walt Disney Company shares. Did you know who she was? Not really, no. But it felt like we had known each other for a long time. And Laurene has helped me be myself more, which in turn inspires my creativity and makes sure that I keep evolving as a chef. When you were looking for investors for your restaurant, you could have just asked your girlfriend. It was important for me not to do that. This is my business, I have built it. It would be offensive to me if anyone thought, that I was kept by in any way. I never take the easy road in life. What is a relationship about? Relationships are about partnership, spirituality, a shared sense of beauty, family – about feeling at home with someone, but feeling at home in one place together with that person. Laurene has shown me aspects of partnership I did not know existed. You live in New York, your children in Switzerland and Los Angeles, and your girlfriend in northern California. Sounds complicated. (laughing) Life is complicated, isn't it? But, if you are deeply connected with someone, things become easy. Before I met Laurene, I would not have thought a set-up like that could be possible. But I definitely feel different now. We have talked about goals: What is next for you? I don't want to sound arrogant, but I would like to be the Google of the restaurant industry. I am not talking about size, I just want to meet the highest standards in everything we do. Every team member assuming leadership in some aspect of our work should be the best person there is for the role. To do your job as chef – to prepare and season dishes, keep your kitchen clean, and be punctual – all that should be the absolute minimum. I would like to work with people who do much more than that. Isn't that the wonderful thing about human beings? We are fantastic beings. Just think of what we can achieve with what we create. This is why I am so passionate about working with my team.
Photos Peter Lueders
Words David Schnapp