The Kulm Hotel combines the best views over lake St. Moritz, tradition of hospitality since 1856 and modern luxury at 5-star superior level.
Contact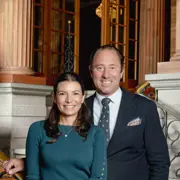 Heinz E. & Jenny Hunkeler
General Managers
Enjoy discovering the beautiful Engadine regain and leave your everyday life behind you in the most glamorous holiday resort in the world. At the Kulm we will take care of your personal well-being with commitment, experience and cordiality.
Heinz E. & Jenny Hunkeler