Art Basel History
Art Basel, founded by Basel gallerists Ernst Beyeler, Trudl Bruckner, and Balz Hilt, launches with 90 galleries and 20 publishers from 10 countries, attracting 16,300 visitors at the inaugural show.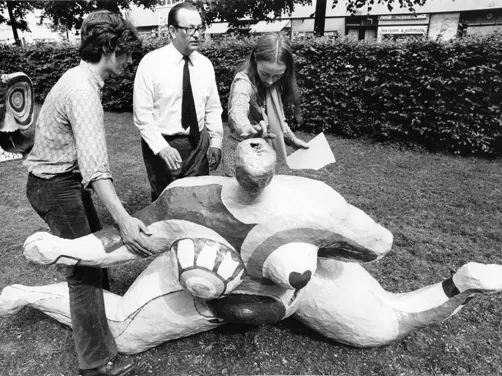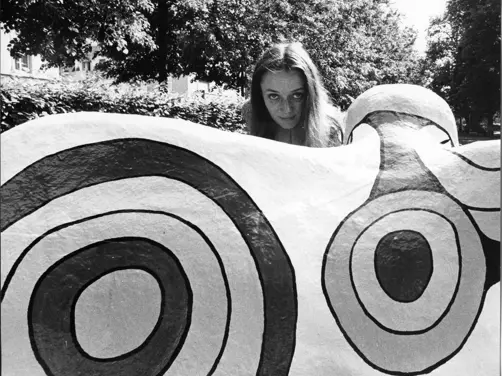 1970
During the eventful year of 1968, the Basel Gallery Association decided to stage an art fair featuring galleries from Basel and beyond. Basel needed something original with international participation. It had been possible to discover contemporary works in the salons and at large-scale museum exhibitions since the 19th century, but artists had only been represented by galleries for a few decades. It was therefore decided that prominent galleries should contribute to this new project, thus guaranteeing a first-class selection of works.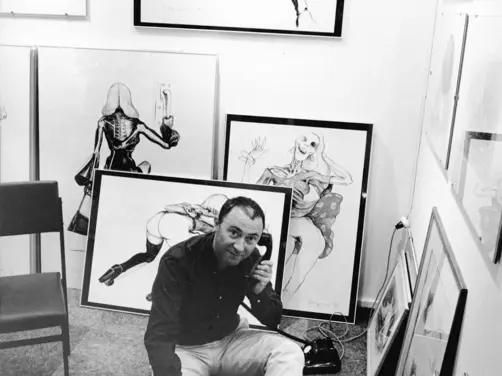 1973
«In 1973 an important structural step created the basis for the future development of Art  Basel. The local organising committee turned into an international Exhibitors' Advisory Board (from 1974). Only art dealers were represented in this body, and the distribution by country reflected the rented exhibition area.»
– Lukas Gloor, «The First Three Decades of Art Basel»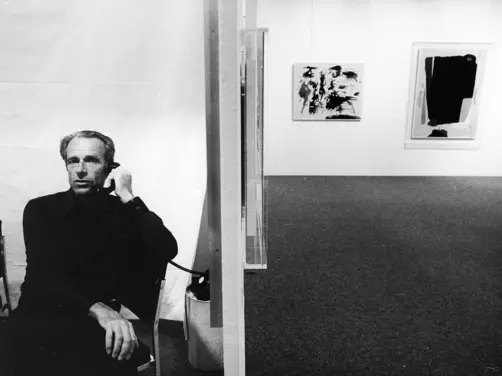 1976
«We first participated in Art Basel in this year. We showed Chris Burden's photo-etching facsimile of an Italian 10,000 lire note that we printed on both sides, and early works by Vito Acconci. To announce our ambitions, we handed out compressed sponges as business cards.»
– Kathan Brown, Crown Point Press, San Francisco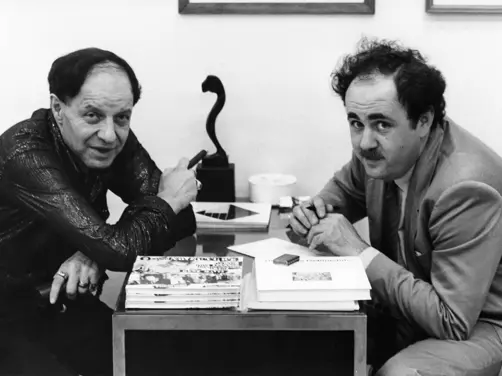 1982
«I was born and raised in Basel, and even went to school where the exhibition halls now stand. And that was back when they used to have separate classes for boys and girls! As a teen-ager, the Basel Kunstmuseum was my favourite place to hang out, and its unique collection shaped how I see art today. I moved to Vienna in the 1970s, and the gallery has participated in Art Basel every year since 1980. Already in those days Art Basel showed its potential as a strong platform for galleries and collectors, the perfect atmosphere for networking.»
– Rosemarie Schwarzwälder, Galerie nächst St. Stephan, Vienna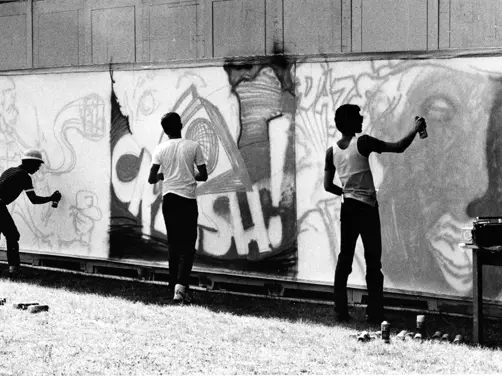 1984
Some of the most exhibited artists in 1984 are Joan Miró (22 galleries), Max Ernst and Lucio Fontana (16 each), Mimmo Paladino (15), followed by Henry Moore and Pablo Picasso (14), Martin Disler (13), then Hans Arp, Arnulf Rainer, Karel Appel, Antoni Tàpies, Antonio Calderara, and Andy Warhol.
"It made me discover a completely
different world from that of my gallery in Paris."
Natalie Seroussi, Paris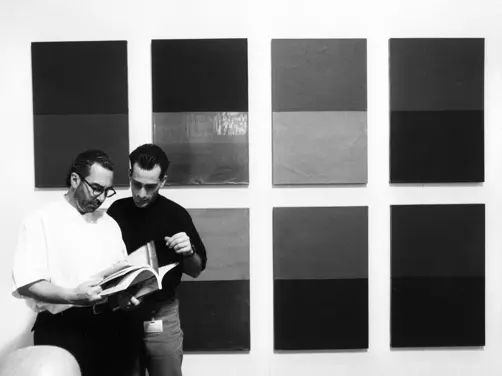 1991
«I first participated in Art Basel in 1991. I was the first Latin American gallery. In the first years, we didn't sell and didn't know many people. We had no contacts with clients, galleries, or museums. I was seen as the «Banana Queen» …
Fellow gallerists and collectors looked at me, coming from São Paulo, as if I came from nowhere. For a long time it was more about making our artists known than about selling their works.»
– Luisa Strina, Galeria Luisa Strina, São Paulo.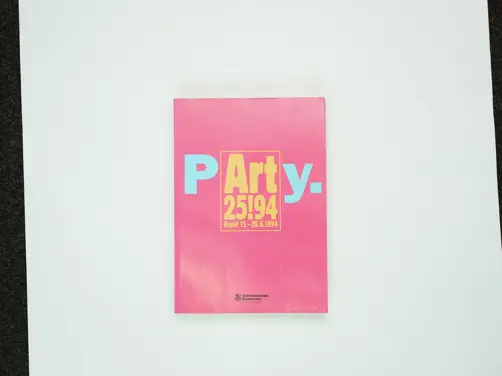 1994
Pipilotti Rist and Enrique Fontanilles are the first recipients of the video art prize endowed by the main sponsor, the Swiss Bank Corporation – which later merged with Union Bank of Switzerland to become UBS.
1995
In creating the Video Forum, Art Basel is giving this comparatively young art form a platform of its own for the first time. Video works, tapes, and spatial installations have as of yet been under-represented at art fairs. Not only do they demand special presentation conditions, they are also difficult to market.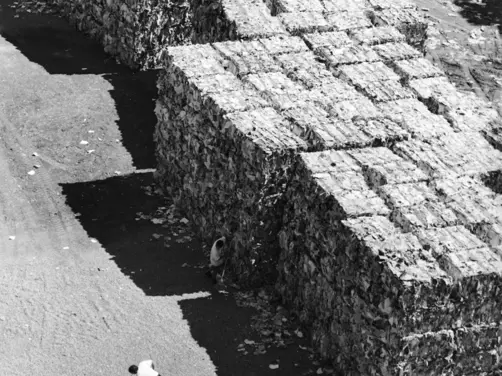 1996
Young Galleries is replaced by Art Statements, presenting 23 solo shows by young artists, establishing this sector as a launchpad for international recognition. The first edition included artists like Matthew Benedict, Ian Davenport, Pierre Huyghe, McDermott & McCough, Mariko Mori, Karin Sander, and Sam Samore.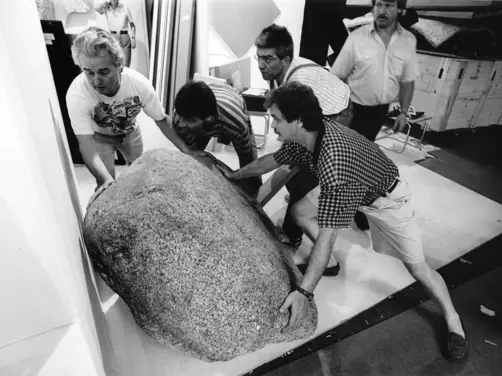 1997
We first participated in Art Basel in 1997 with Jorge Pardo in Statements. Already back then we faced the challenge of developing exhibitions for Art Basel with exactly the same approach and impact as those in our gallery space over the years.´
– Tim Neuger & Burkhard Riemschneider, neugerriemschneider, Berlin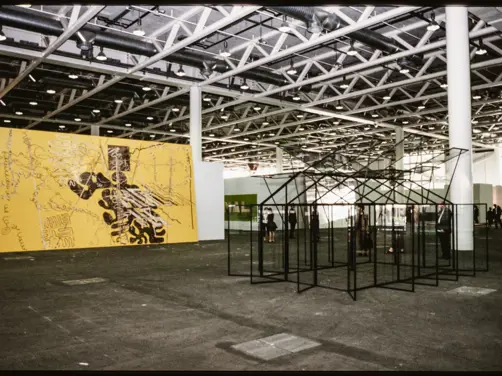 2000
«This year, we are proud to inaugurate Unlimited, an event that is destined to expand the spectrum of the art on show. In the adjoining, newly constructed glass hall, galleries and their artists are given an opportunity to show exceptional artistic projects that could not hitherto be exhibited and bought at art fairs. Unlimited is not subdivided according to gallery stands or sectors, but has been devised in the form of an open exhibition. In the 21st century, Art Basel will continue to provide art of every kind with an optimum exhibition, sales, and communications environment.»
– ­Samuel Keller, fair director (2000–2007), catalogue foreword, 2000
"The aim of Art Basel Cities: Buenos Aires was to highlight the wonderful artistic ecosystem of Buenos Aires and to build new relationships with the global art landscape through my curation and all the events, talks, and workshops."
Cecilia Alemani, Artistic Director, Art Basel
Cities: Buenos Aires 2019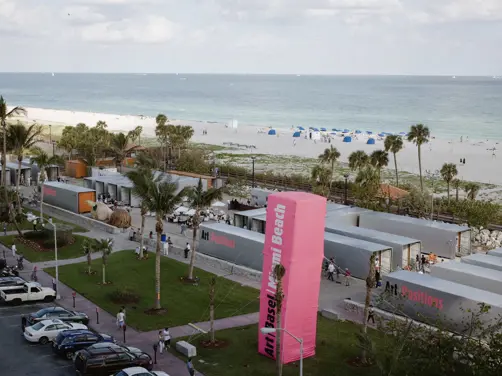 2005
Art Basel Conversations is launched: panel discussions with leading members of the art world providing privileged access to first-hand information on diverse aspects of collecting and exhibiting art. Art Basel in Basel launches Artists' Books, a sector dedicated to an art form ordinarily accorded marginal attention at art fairs. Its success leads to two follow-up exhibitions: the Small Press Scene in the 1960s and 1970s in 2006, and Artists' Records in 2007, a store/exhibit featuring recordings produced or designed by artists.
2009
One of the most spectacular events was the presentation of Il Tempo del Postino at Theater Basel, marking Art Basel's 40th anniversary. A group of the world's leading visual artists created a major experimental presentation, as a group exhibition that occupied time rather than space.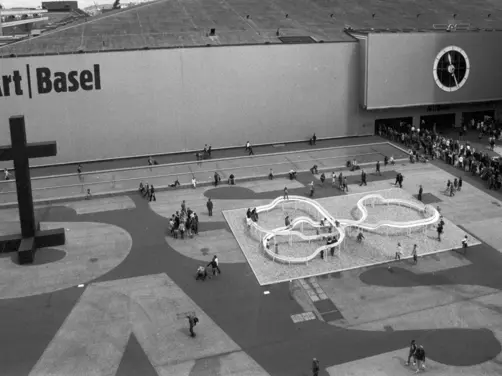 2011
«The first decade and a half of the 21st century saw possibly more changes in the art market than there had been for 100 years, and it has emerged as a very different global trading ground than it was 20 years ago. Some of the biggest changes have been in its size, its geographical distribution, and the polarisation of values at the top end and in modern and postwar, and contemporary art.»
– Dr. Clare McAndrew.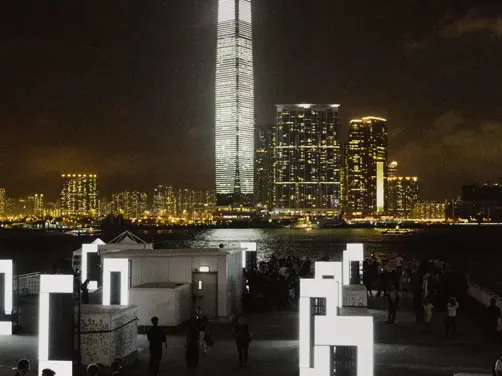 2014
Acclaimed artist Carsten Nicolai created alpha pulse for Art Basel in Hong Kong: a generated light pattern pulsating in a synchronised frequency across the entire facade of Hong Kong's iconic 484-metre-high ICC building. The tower sent its pulses into the city like a lighthouse, reaching out to Hong Kong residents and visitors. An accompanying mobile phone application allowed audiences to synchronise their phones with the light installation.
2017
Announced in March 2016, Art Basel Cities is a new, multi-year initiative that partners with selected cities to develop bespoke programs and present the art world new opportunities to engage with cultural offerings across the globe. Buenos Aires, a city with a rich cultural heritage and innovative creative industries, was chosen as the first partner, with an initial activation centred on the Art Basel Cities House in November 2017.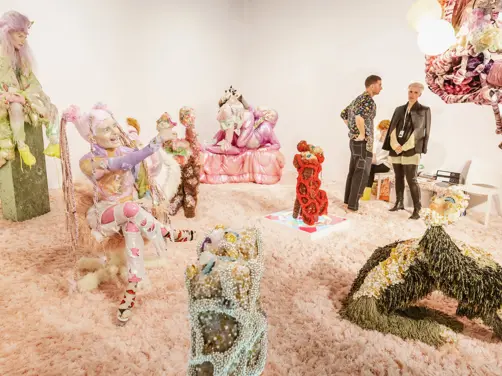 2019
Launched in 2019, Meridians at Art Basel in Miami Beach is dedicated to showcasing monumental works, pushing the boundaries of the traditional art fair format. First participants include Frank Bowling, Theaster Gates, General Idea, Luciana Lamothe, and Ana Mendieta.