From Swimming Pool to Pool Table
Whether you are relaxing in the spa, indulging in fondue outdoors, having fun at the Krönchen Kids' Club or dining in style in the Arven-stube, the whole family will be entertained by everything the Grand Hotel Kronenhof in Pontresina has to offer.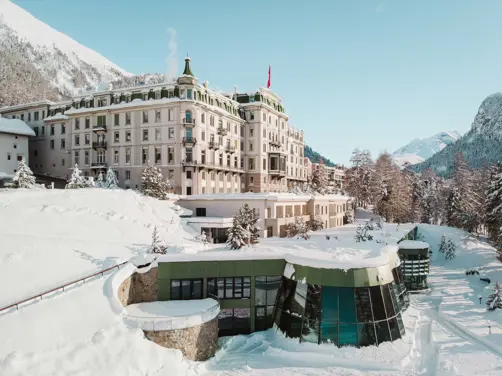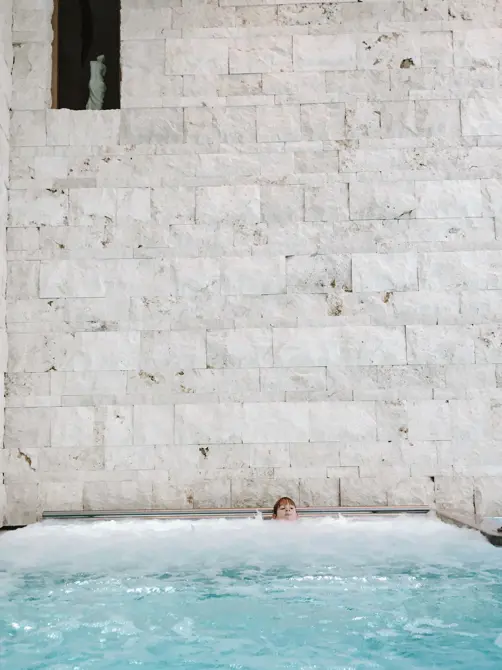 It's dark by the time we pull up to the Grand Hotel Kronenhof in Pontresina. I open the car door and freeze on the spot. The air on this January evening is almost too cold to breathe in. I swiftly shut the door again and turn to my trusty little sidekicks. Time for us to come up with a plan for how we are going to make it in one piece to the hotel entrance a mere five metres away.
We decide to make a run for it and we are inside before we know it. It's warm enough to make you forget those minus temperatures outside in an instant. The full hotel and room inspection will have to wait for now. What we really need after our long journey is a hot meal and a warm bed.
Am I just dreaming or is it the next morning already? It's hard to tell… Either way, I suddenly find myself standing at the edge of an empty swimming pool. I stare out of the huge windows. Outside, the sun is shining and the conifers are covered with a dusting of what looks like icing sugar. The kids go on a full tour of the pool area, give the water slide a go and press the button on the jacuzzi. It bubbles into life and their faces light up. My daughter proceeds to comment on the interior design: "That long, slanty column there looks just like a parsnip." I don't think even an architecture critic could have put it better than that.
We slip into our fluffy bathrobes and slippers ready to shuffle off back to our suite. The Krönchen kids club itinerary awaits us. And very exciting it is too… A treasure hunt followed by flower arranging, glitter tattoos and a giant pillow fight. When I ask my daughter what she fancies doing, she immediately cries, "Everything!" She even wants to stay at the Krönchen for her dinner this evening.
 "Outside, the sun is shining and the conifers are covered with a dusting of what looks like icing sugar."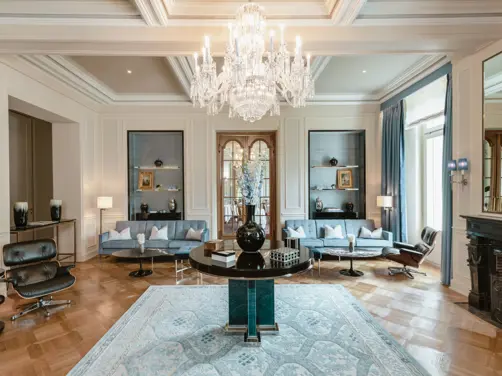 The last thing I want to do this weekend is stand in the way of her hopes and dreams. Her little eyes are just so alive with excitement. And the memories of my children refusing to go to a kids club without at least one parent in sight are still too fresh for me.
Thankfully, there is room in the children's jam-packed schedule for a hearty breakfast. As we sit down at our table in the dining room, our eyes are immediately drawn to the angels adorning the ceiling. They are the handiwork of Otto Haberer, who depicted the four seasons on the neo-baroque vaulted ceiling here back in 1901. We can't seem to stop looking up. But suddenly all our attention is focused back on what we came here for: Our crêpes are served! With a drizzling of melted chocolate and a sprinkling of Smarties. Sweet enough, you might think. Apparently, my son disagrees. "Can I have a mountain milkshake, please?", he asks. What a brilliant way to ask for even more sugar. I can't help but smile.
Now that we've refuelled, it's time to explore the local area a little further. Once we've completed a full tour of the huge, historical hotel complex, we plod along happily to Lake Staz. We had no idea that we were heading off on an adventure in a real-life winter wonderland. But boy were we happy to have the warm and toasty Kronenhof waiting to welcome us again with arms wide open (or doors, respectively).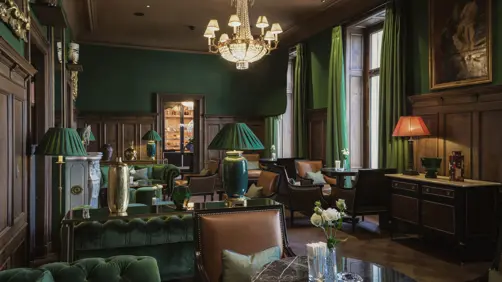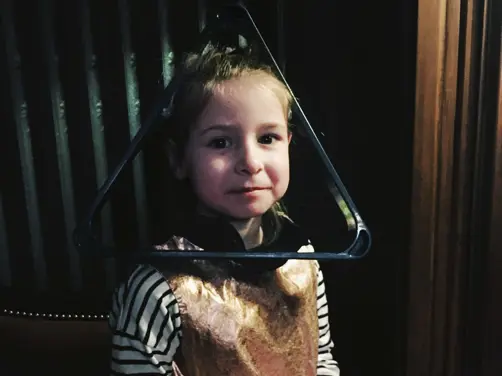 Both kids are keen to take part in the treasure hunt, giving their dad a bit of a breather. Moments like this, away from the busy to-do lists of real life, are made for sitting in the lobby of a grand hotel and pondering on life's big questions: Darjeeling or Oolong? Facial or hot stone massage? Grand Restaurant or Kronenstübli?
As it turns out, the decision about where to eat that evening is taken care of by my son. When I tell him that they serve a traditional homard à la presse lobster dish in the Arvenholzstube at this time of year, he doesn't have to think twice. That's my boy! So, whilst his younger sister is tucking into her special kids club meal with a group of youngsters, the meat from the head of the lobster and its roe are flambéed in Armagnac right in front of my son and I at our table. The hungry boy has just about enough time to clear his plate before his sister comes rushing over to announce that the pillow fight is about to begin.
Dad too feels like he's up for some physical activity so he decides that after all this sitting, moving to another table sounds like the perfect solution: the pool table that is! Soon after the cue is properly chalked, I am joined by my sweaty kids. A Virgin Mary and an embarassing defeat (don't ask!) later, I am ready to call it a night.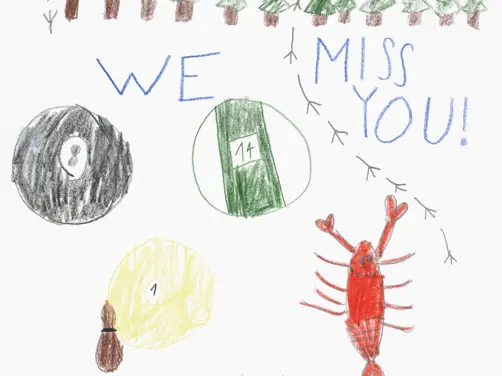 On our last day, we hang around for as long as we possibly can. What better way to delay our departure than trying out the hotel's own ice rink? After we've skated round a good few times, we realise that we need to indulge in some fondue. It's tradition after all. As we dunk our bread into the melted cheese, a couple of other kids show off their loop and edge jumps on the ice in front of us. It's like something out of a movie.
"Can I take one of those many pretty peacock feathers home with me?" My daughter summons all her courage to ask this question at checkout." This little florist in the making has been admiring all the arrangements in the hotel's never-ending corridors ever since we arrived. The receptionist is more than happy to grant her this last wish – just as all the staff have made all our wishes come true during our stay, constantly smiling (even with face masks in the way)."
As we drive away, we glance back at the Grand Hotel one last time. The crown sitting on top of the stunning building structure stands proud above the tops of the fir trees, illuminated in the dark sky. Quite literally the crowning moment of a stay we won't be forgetting any time soon.
Words and Photos Oliver Schmuki