Zurich Delights
'A delicious breakfast bowl is the best way to start your day,' says Janina Brucker. Her smile reaffirming her words as she sits at Kasa Kaisin with her sister Gioia. Both have demanding jobs; Janina manages the hip eatery Lumière, while Gioia works as a creative at one of the city's leading communication agencies. Making the most of their free time, they take us on a typical day off through the streets of Zurich.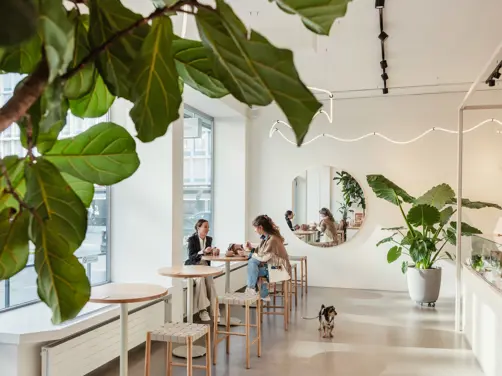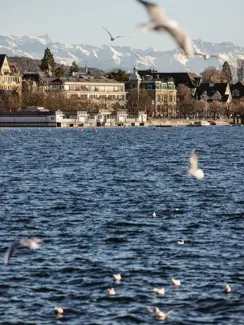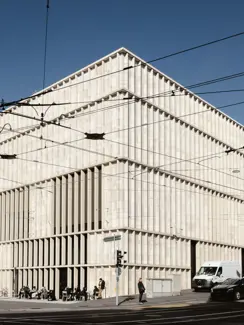 10:00 A.M.
– GLAMMING UP
Janina went to school with hair stylist Deborah Guye of hair salon En Vogue. ʻIn my view, she's the best in town,' she says of her childhood friend. Then there's the location: while you enjoy a relaxing head massage, you can peek at the morning bustle of Bahnhofstrasse.
– Bahnhofstrasse 35, 8001 Zurich
T +41 44 211 66 44, envoguecoiffure.com
12:00 P.M.
– LADIES WHO LUNCH
ʻWe adore the interiors here,' says Janina, who once worked as an interior designer. It's no longer an insider tip: if you're in the mood for a fantastic schnitzel, visit Baur's at the Baur au Lac hotel. And if you can't make it for lunch here, you should most definitely stop by for a drink at the bar in the evening.
– Talstrasse 1, 8001 Zurich, baurs-zurich.ch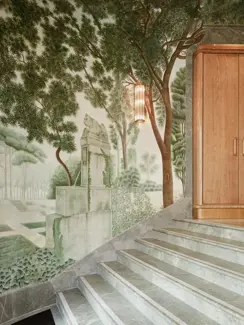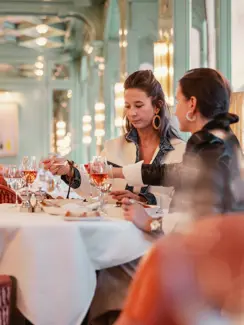 2:00 P.M.
– FLOWER POWER
Janina often visits the old town's small, colourful, fragrant flower shop Blumen Fitze – either to buy a bouquet for her restaurant or to give someone a present. ʻWhen you enter the shop, you are immersed in a multisensory experience – flowers from all over the world are sold here. This is my favourite florist in town.'
– Augustinergasse 20, 8001 Zurich, blumen-fitze.ch
3:30 P.M.
– SILK ROAD
The shop full of beautiful things founded by Monique Meier is an emotional place for Gioia. She received her first piece of jewellery here as a child. It put a smile on her face back then, and to this day, her eyes sparkle when looking around this quintessential Zurich address. The owners focus on local craftsmanship, and every piece of jewellery is made in Zurich.
– Strehlgasse 26, 8001 Zurich, ensoie.com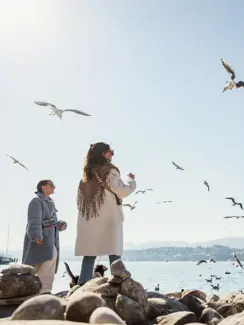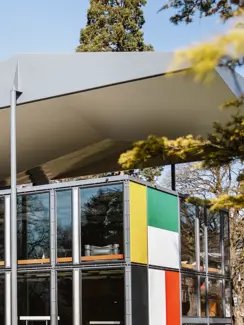 4:30 P.M.
– CULTURE TRIP
Strolling along the lake and enjoying the wintry, mystical atmosphere by the water, you reach the Pavillon Le Corbusier. An actual work of art that has always fascinated Gioia, who has a penchant for architecture. 'With his last work, he created an impressive, timeless building – a true classic.'
– Höschgasse, 8008 Zurich, pavillon-le-corbusier.ch
6:00 P.M.
– HAPPY HOUR
Such a glorious day needs to be celebrated with an aperitivo. To do so, the sisters visit their favourite brasserie, Bohemia, on Kreuzplatz. 'We enjoy the New York vibe here and the selection of terrific drinks.' The sisters have another tip: Sunday Brunch. That's when you meet them here regularly.
– Klosbachstrasse 2, 8032 Zurich, bohemia.ch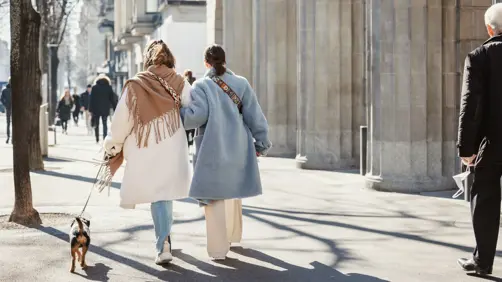 7:00 P.M.
– DINNER TIME
Gioia and Janina agree: Antiquario da Marco is their favourite Italian restaurant in Zurich. Gioia adds, 'This is where we always meet on Sunday evenings with our entire family, celebrating life, the end of a week and the inevitable beginning of a new one.' Buon appetito!
– Freiestrasse 213, 8032 Zurich
T +41 44 381 46 46, antiquario.ch
Words Martin Hoch
Photos Nico Schaerer