5 Questions - Richard Leuenberger
Richard Leuenberger - Managing Director, Badrutt's Palace.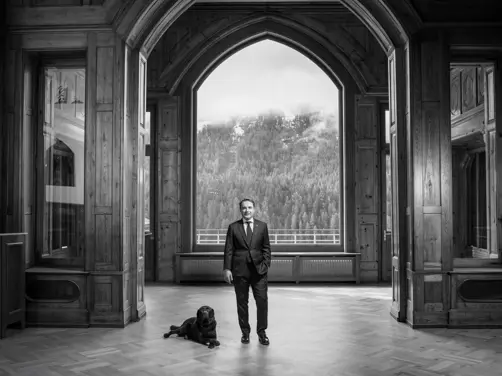 You manage a palace. Which role suits you better, that of a king or that of a butler?
The role of a butler. Primarily, a Managing Director is a host, and that requires humility. And even though my title is Managing Director, I am always a waiter and a receptionist.
People say you are an optimistic person with a sense of humour.
Optimism and a healthy portion of light-heartedness are essential. Our guests visit Badrutt's Palace to enjoy themselves, and they hope to spend a joyful time at the hotel. It doesn't do any harm when you yourself radiate a sense of fun.
The roots of Badrutt's Palace run deep. Is that a disadvantage when trying to feel the pulse of time?
On the contrary, guests are looking for authenticity. Being a hotel with a history is one thing we don't have to create, nor Engadine's pristine nature. With this combination, we're playing at a top level internationally.
To what extent can you, as Managing Director, contribute innovation to a hotel with so much tradition?
Courage to introduce change is growing increasingly important. Pioneering spirit is in the Badrutt's Palace DNA. There are numerous examples of innovation, such as transitioning to using water from the lake to provide heat for the building, reducing our heating oil consumption by 40 per cent. Here, I always find support for my ideas. As a hotel, we stay in touch with our guests by means of WhatsApp, WeChat and other services, which today represent more than half of our guest communications. We react to requests within less than one minute. It's a conscious decision to make use of the platforms which our guests communicate on.
Where will the journey take you in the future?
In addition to all of the innovation, we wish to remain a place where people meet, and where they connect with fun, festivities and vacations. A truly unique place.
Words Martin Hoch
Photo Nico Schaerer