A Swiss Conquers Berlin
In the gourmet restaurant of Berlin's legendary Adlon Hotel, Reto Brändli still fondly remembers the feeling when he first stood looking though the window out at the Brandenburger Tor.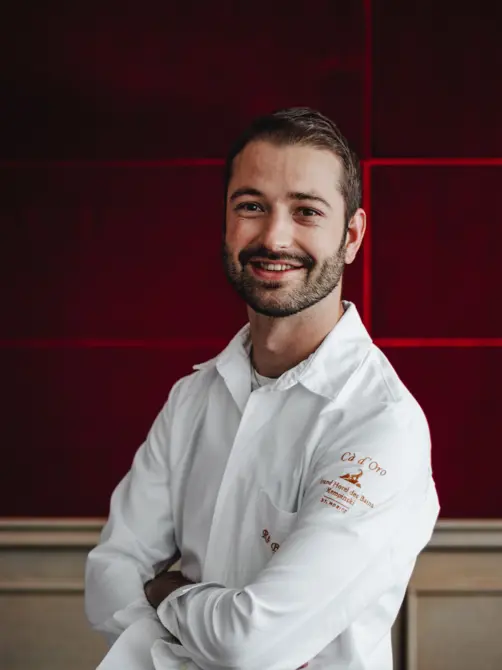 'I just thought, wow!' After packing his bags in St. Moritz and moving to the German capital, the news left Berlin's gourmet scene in awe. A 31-year-old Swiss chef was to head one of the number one addresses in town, taking over the capital's restaurant of restaurants, the Lorenz Adlon. A big task, no doubt, but the young man from Pfäffikon felt well prepared and ready for the challenge ahead. With two Michelin stars in his pocket and 17 GaultMillau points to boast at Kempinski's Cà d'Oro in St. Moritz, his CV also lists impressive tenures alongside some of Switzerland's most celebrated chefs, from Andreas Caminada and Benoît Violier in Criessier to his mentor Rolf Fliegauf. 'As a young chef, he has taught me how to work with top produce like a ten-kilogram Breton turbot, other wild-caught fish or rare wild birds like snipe.'
Brändli came to Berlin with a ready-written menu in his pocket. From day one, he wowed Adlon regulars with his creations, such as his frozen duck liver ball, which he makes into a surprisingly light dish with Granny Smith apple, tarragon and sour cream, yet void of any the heaviness of more classic foie gras iterations. Another absolute hit was his crispy fried guinea fowl breast, stuffed under the skin with morel and truffle and accompanied by a giblet dim sum. Brändli's personal life also developed positively in Germany's capital, moving into a beautiful flat with his partner in the city's Mitte district, not far from the Museum of Natural History. In the restaurant's maître Olivier Kraft, he found a great friend. 'We would go for after-work beers together on Saturdays and are both big bratwurst fans. We'd go go-karting or play beach volleyball.' It seems nothing stands on the path of this Swiss chef's stellar career in the German metropolis and one thing is for sure, Berliners beware, and buckle up for a gourmet rollercoaster ride!
Words Patricia Bröhm
Photo Simon Bühler