Ambassador of Taste
For Sapori Ticino's founder Dany Stauffacher, great food and wines are not just earthly pleasures but also an education; a combination of culture, creativity and responsibility that brings forward conviviality, shared experiences and knowledge.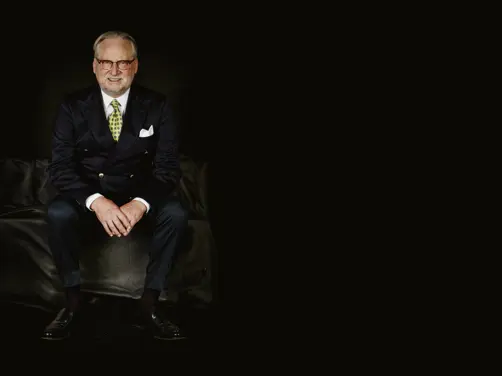 In a nutshell, how would you describe San Pellegrino Sapori Ticino? A gourmet festival peppered with ongoing successes through a series of high calibre events dedicated to flavour, combining the great names of international cuisine with Ticino's local accents for a unique gourmand experience fuelled by passion and stellar quality. What has sparked the initial idea for the event? Born by chance among a group of friends 16 years ago, I could never have imagined that we would get to where we are today, being awarded by Food & Travel magazine as last year's best food and wine event. This accolade could not have been achieved without the invaluable support of all players involved who have believed in the project since its inception. Our upcoming edition in October will be yet another high-point in our history, dedicated to Spanish chefs, so often at the epicentre of world-class cuisine. As we evolve, we continue to promote Ticino as a tourism destination by speaking the universal language of gastronomy.
What is San Pellegrino Sapori Ticino's ultimate Wow-factor? Conviviality based on a winning combination of great chefs and high-quality ingredients. So far, a wow factor repeated annually thanks to 320 Michelin stars and 3000 Gault Millau points combined. Who is the event's primary target audience? According to research published by the World Food Travel Association, gastronomic tourism accounts for 53% of the total spent. We must continue our quest to promote good food and wine culture to wider audiences with the awareness that quality tourism adds enormous value to the hospitality sector. The culinary element in this winning formula has become fundamental in the choice of destination for many travellers. Quality now ranks higher than ever before. The entire supply chain is now involved in environmental and sustainability issues which have become paramount to current and future generations of gourmands, all of which we aim to attract. Which role does the support of Swiss Deluxe Hotels play? The collaboration between Sapori Ticino and Swiss Deluxe Hotels has endured for a decade now, a partnership that I am personally very happy and truthfully grateful for. This essential collaboration has been fundamental for us, and I sincerely appreciate the continuous support, open dialogue, and prosperous professional relationship. Luxury is a significant aspect of the market we all navigate and represents considerable economic impact. With this in mind, our joint efforts with member properties of Swiss Deluxe Hotels have played, and will continue to play, a vital role in the luxury market as a suitable asset and platform for the promotion of Switzerland as a destination. I couldn't possibly talk about the importance of this important partnership without expressing sincere gratitude toward Jan Brucker, Managing Director of Swiss Deluxe Hotels. His loyal and committed support could not have been more fittingly described than during his speech at last year's opening event in Lugano: 'We all know that a luxury hotel is so much more than just a beautiful place to sleep. However, to be a top location, it has to offer exquisite culinary experiences provided by top chefs and their teams. Without innovation and constant renewal, tradition can quickly fade. Creativity and earnest conversations around current trends, future opportunities and a deep sense of place are absolutely vital. The commitment with which Dany Stauffacher and his team tirelessly put forward such incredible gastronomic highlights is a true blessing!'. These are the most meaningful words anyone has ever dedicated to our work, and for this I am very grateful and dare I say, also a little proud. What future synergies do you see alongside Swiss Deluxe Hotels? Hotels and their restaurants are important cornerstones of our event's identity. As we revive and revisit tourism as a whole along with its many facets, we will undergo impending quality controls.
Sharing new ideas and infusing new energy sources with creativity are all vital components of our ever-changing reality. Both partners are deeply rooted in tradition, albeit one that is not averse to innovation, while always staying true to a confident sense of style and elegance. The close link between food, wine and tourism overall has recently been underlined by the World Tourism Organization, confirming that travellers get more in touch with local culture thanks to their culinary experiences. Last but not least, what is your favourite dish? In my life, I've been fortunate enough to have visited many fantastic restaurants, over 3000 in fact. I always look forward to being seduced and surprised by the quality of the culinary propositions combined with the highest levels of service. However, my all-time favourite dish is still a good old Spaghetti al Pomodoro.