Creating Memories
While there are many talented chefs, only a handful ­possesses a clear creative signature to match that of Sven Wassmer. One year after its premiere, his restaurant, ­Memories, has become a beacon of Alpine cuisine.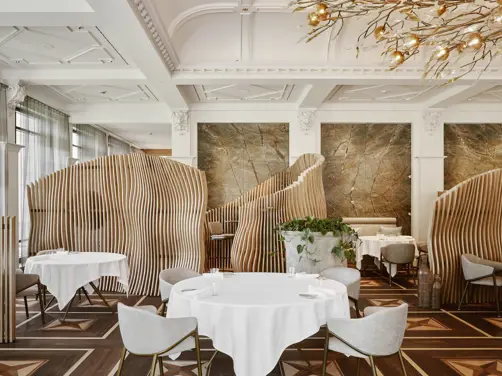 A sophisticated combination of ­­contemporary and historical: interior of the Memories Restaurant.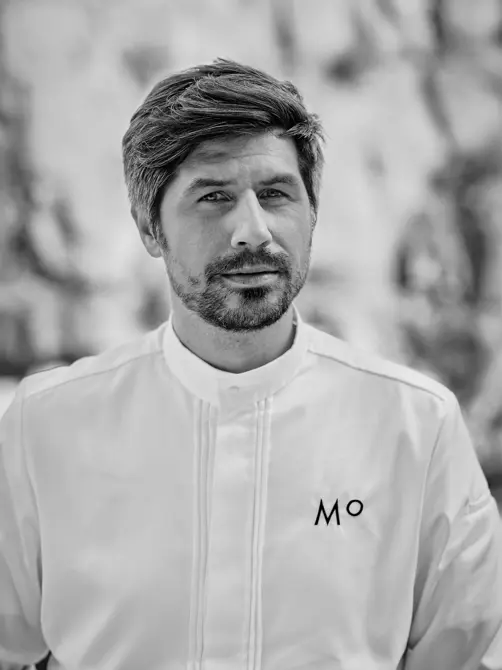 How can the nature of Sven Wassmer's sensual and natural cuisine be put into words without succumbing to cheap clichés? Perhaps, if we provide a detailed description of a typical Wassmer dish which he himself modestly labels a «green salad». The top layer of this creation consists of a bouquet of crisp lettuce leaves decorated with dried chive blossoms and a dash of herb-infused oil. Sliding the lettuce leaves aside reveals the salad's inner core: a green-pea flan base serves as the bed for a velouté of green asparagus, briefly blanched fresh peas, finely diced red fennel, and pickled elderberry blossoms. The key feature is sallow-thorn fermented for a week in salt and chilli, which lends the dish fruitiness, depth and a touch of spice. A drop of tarragon oil and elderberry-blossom vinegar completes this masterpiece.
While Massimo Bottura's famous blossom salad may look a little more avant-garde than Wassmer's Alpine interpretation of the theme, its flavour doesn't get close to it. «I've had the idea for a salad dish in my mind for years. One day, when I watched our vegetable supplier, Marcel Foffa, work in the field, I saw how pearls of morning dew developed on the Salanova lettuce heads, my brain began to work overtime,» the chef explains. «My idea was to move only one product into the limelight and not serve the entire range of Marcel's harvest on a single plate – aiming to condense the qualities of a lettuce and elevate it to the level of fine dining.» The Memories' kitchen immediately provides consolation in the form of Wassmer's signature dish: char carefully cured by Curdin Capeder in Val Lumnezia, accompanied by an enchanting sauce of caramelised cream, a dash of milk and fir-needle oil. «This dish has become a comforting memory for me – as well as for numerous guests who ask for it repeatedly. It reflects how we like to cook best: reduced and with Alpine flavours,» says Wassmer. «When I put char on the menu in Vals for the first time several years ago, I finally summoned up the courage to leave out everything that wasn't absolutely necessary. This concept characterises my style of cooking to this day. The success of this concept was the confirmation I needed to continue and consistently deepen my path.»
´A preference for ­regional ingredients, but never at the expense of culinary enjoyment.´
To accompany the iconic dish, Sven Wassmer's wife Amanda, who is responsible for purchasing and the choice of wines, recommends a wine from Canton Aargau – and not from the nearby «Bündner Herrschaft» region, as one would expect: «The fact that food and wine come from the same region is not sufficient reason for them to be a perfect fit. A Chardonnay from the Grisons is too overbearing, whereas Tom Litwan's Chardonnay, 'Schinz-nach Wanne', has the necessary lightness to accompany the dish, and it does not have a woody taste.» How does the couple work together, what makes them a successful team, both privately and in their profession? «Often, Sven will spontaneously call out for me: 'I've just created something, would you come over and taste it?' Of course, this usually happens when I'm busy with office work and under pressure,» says the Grand Hotel's wine director and laughs. What follows is a sensory ping-pong with adjustments on the one or the other. «If I have to fine-tune a dish to allow Amanda to make the ideal wine pairing, I gladly oblige. Our aim is to create an overall experience that will be memorable. The more expertise I can take advantage of, the better,» says the chef. Sebastian Stichter, the restaurant manager and sommelier, sous-chef Benedikt Gerster, and chef-patissier Andy Vorbusch, each with a fine sense for food creations, join the tastings. Ideally, emphasises Amanda Wassmer, the wine will open up new taste experiences with a flavour that is not entirely round and appealing. Guests appreciate this enthusiasm, and sometimes over 90 per cent of them order the recommended pairing, which is also available in a non-alcoholic or mixed version.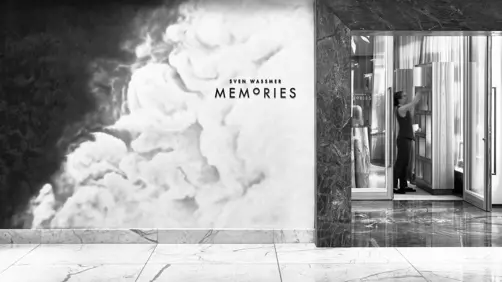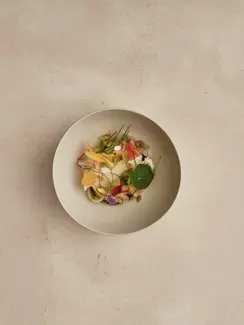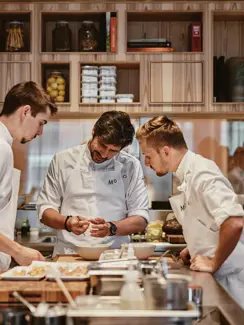 In contrast to some of his colleagues in the Champions League of culinary fame, Wassmer is not attracted to luxury products, but to modest ones, a case in point is a whitefish from Lake Lucerne. He pickles it for four minutes by means of which he achieves a gentle cooking process. He softens the leathery skin with a dozen small cuts, and quick flaming gives it a crispy texture. The two-star Michelin chef serves the fish with a cream of sorrel, finely cut leaves of sorrel and nasturtium, freshly shaved horseradish and sour cream with horseradish and roe of whitefish. If you did a blind tasting of the fish, you'd never think it was whitefish. Its meat is juicy and buttery, yet beautifully filigree. «Whitefish presents a challenge, and it took a long time for me to find the right approach,» says Wassmer. «But then the freshly caught fish reminded me of herring, and I knew: it wants to be pickled!» On the other hand, cuts in the skin are rooted in Kaiseki cooking: «Japan has a spring eel that is edible only if you cut each of its bones.» Wassmer's aspiration is to challenge himself and his team of top culinary professionals every day. «When you stop looking for and discovering new things, life gets boring.» He adds that «my chefs don't work here only to earn a salary. They feel an urge to consistently continue developing both themselves and our kitchen.» He doesn't shy away from rough edges. Take, for instance, the braised celeriac he carves into thin slices and returns into the shape of the original bulb and serves with an intensive, dark poultry sauce cooked with finely chopped needles of a Swiss stone pine tree.
"Whitefish ­presents a challenge, and it took a long time for me to find the right approach."
Contrary to his fish creations, this is a dish that may not be to everyone's taste, but it will deeply imprint itself in every guest's memory. It is as earthy as the mountains surrounding Bad Ragaz and, amazingly, it conveys the comfort experienced when smelling the fragrance of this royal tree in nature. The final chord of a Memories menu is always played by Andy Vorbusch – one of the world's best patissiers. The morning of our visit, he spontaneously embellished freshly picked wild strawberries with some Chantilly, a crunchy biscuit and a sorbet of elderberry-flower kombucha: uncharacteristically simple with an outstanding flavour. A true master knows when to hold himself and his artistic talent in check when a product, such as wild strawberry, requires a discreet and subtle companion. Vorbusch reveals his skills when preparing an ensemble of short pastry, mousse of cream cheese, apricot meringue and hay nougat. The dessert brings back memories of a childhood in Switzerland when apricot tarts were ubiquitous – of course, this symphony of flavours is far fancier. Even more delightful: Andy ­Vorbusch's beeswax ice cream with a cream of flowers, mead granité and lemon verbena. The Memo-ries team started the honey wine required for the ice cream twelve months earlier. After all, time is one of the helpers in the search for flavours that will be remembered for many years to come.