Culinary alchemy with lime juice and chilli
After studying medicine for three and a half years, Daniel Galvez Estrada decided to follow his dream and become a chef. As an ambassador for Peruvian cuisine, he takes his diners on a journey with his traditional ceviches and tiraditos.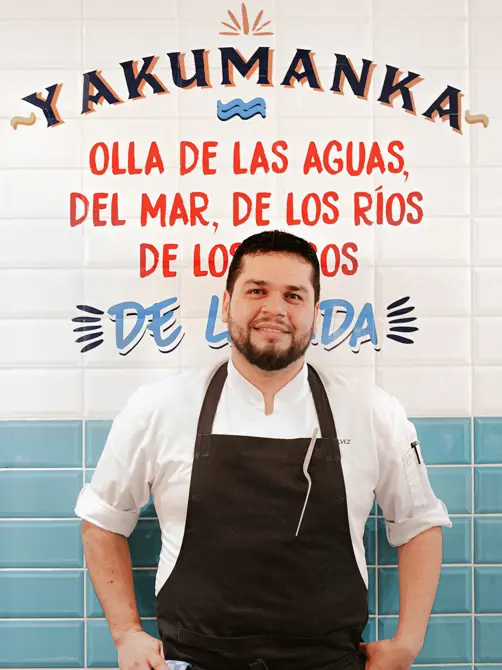 You'd be forgiven for thinking that Daniel Galvez Estrada is a surgeon after watching the way his hands work with such precision when he's preparing fish for the dishes he serves up at the Peruvian restaurant Yakumanka at the Mandarin Oriental hotel in Geneva. Especially since this chef studied medicine for three and a half years in his native Peru before he embarked upon a career in gastronomy. He was never too thrilled about his original path: 'When I finally told my psychiatrist father that I'd decided to quit my medicine course and train to become a chef instead, he kicked me out of the house on the spot,' says Daniel. 'He has since become my biggest fan and is so proud of what I do now.' And rightly so! After all, it was the great Gaston Acurio who sent his son to head up the kitchen in Geneva. Acurio is the figurehead of Peruvian cuisine and the brains behind the Yakumanka concept. Without him, there wouldn't be a cevicheria in pretty much every town in Europe and North America. 'I was so nervous before my first meeting with Señor Acurio,' admits Daniel. 'Luckily, I found out that there's a lovely person behind his professional image and the high standards he expects of his staff.'
Originally set to work beside Acurio for three months, the young chef ended up learning from the best for four whole years. 'The way you cut the fish for a ceviche varies depending on where you are,' explains Daniel Galvez Estrada, who has invited me into his kitchen for a quick masterclass. 'It's squares around the capital city Lima, but rectangles in the north. And the fish is left to marinate in the leche de tigre for longer up there too.' Leche de tigre is a creamy liquid with freshly squeezed lime juice as its main ingredient. The fish is left to soak up the goodness without any heat being applied. Our chef adds flavour to the lime juice by blending it with garlic, onion, celery, ginger and salt. The carefully filleted fish is chopped up and placed in the lime juice mix with some crushed ice. 'Leche de tigre must always be ice cold,' points out Galvez Estrada. As the finishing touch, he adds coriander and aji limo chilli peppers which are medium hot with a citrus flavour. 'If I added those final ingredients earlier, they would turn the leche de tigre red or green. I only pop them in the mixer for a couple of seconds. A good leche de tigre is pale and milky with a subtle tang. It should definitely be acidic but not overpoweringly so.'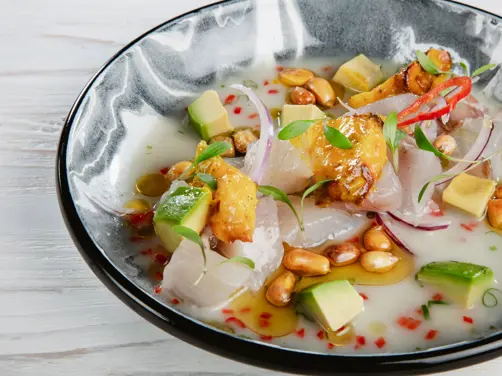 All that needs to be added now is two types of corn kernels, finely sliced red onion, fresh coriander, sweet potato and a lettuce garnish. Et voilà – ceviche anyone? The large, almost white kernels that Daniel Galvez Estrada uses are called choclo – one of around 50 types of corn native to Peru. He also adds golden-brown fried cancha corn nuts for their crunchy texture and roasted flavour. According to Daniel, there's no hard and fast rule about which fish to use. Given the choice, he tends to plump for hake. But the plan is to add freshwater fish from nearby Lake Geneva to the menu soon. 'We like to partner up with local suppliers whenever we can,' explains the chef who has headed up the kitchen at Yakumanka since last December. Now that the ceviche is taken care of, it's time to move on to a tiradito limeño. The main difference between this dish and Peru's signature offering is the way the fish is cut.
Think sashimi but much thinner! So thin, in fact, that if you hold up the fish in a tiradito to the light, you can almost see through it. Yet it still has a nice bite to it, so it's not like a European carpaccio. Daniel Galvez Estrada uses leche de tigre as the base for his sauce again. But he goes on to add a long list of ingredients to it, starting with smoked olive oil and aji amarillo chilli. That last one has a light and sweet fruity flavour and falls in the middle of the spice scale. Daniel pours the bright yellow sauce over the sliced white fish and his French sous-chef Maxime Martin adds a row of dark green dots on top of that. The minty, earthy aroma of the herb oil comes from the slightly serrated huacatay leaves that may be mistaken for hemp at first glance. At Yakumanka, fish skin doesn't belong in the bin. Instead, they pop it in the oven until it dries up to form crunchy crisps. 'We try to use every little bit of the fish where possible. We just haven't found a use for the eyes yet,' says Daniel. Committed to his mission of bringing Peruvian culture straight to his diners' plates, he is always on the lookout for produce that is typical of his home country. He was particularly keen to introduce zapallo loche, a Peruvian squash with dark-green skin and orange flesh. It tastes a bit like a butternut squash but has a stronger, tangier flavour. And the head chef and sous-chef both enjoy experimenting with it!