GM Portrait - Thomas Maechler
Thomas Maechler, General Manager, La Réserve Eden au Lac. A new management position at a new hotel back on his old stomping ground. Life is looking good (pandemic aside, obviously) for the General Manager of La Réserve Eden au Lac in Zurich and Vice President of Swiss Deluxe Hotels.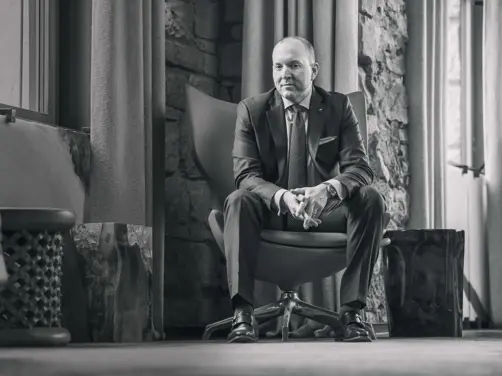 Old elephants head back to where they were born, he tells us. The 52-year-old is quick to add that he may not be quite that old yet but he is an elephant – «and now I'm back where I was born». He took on the role of General Manager of the La Réserve Eden au Lac in Zurich last autumn. Of course, he had originally imagined that his glorious return to Lake Zurich – the La Réserve has been called the Eden au Lac forever and Thomas Maechler grew up in Küsnacht a few miles upstream – would go a little differently. French hotelier and wine connoisseur Michel Reybier opened mid- January 2020 just before the lockdown. That hasn't stopped the bookings rolling in at the weekends since then, with around 80% of rooms being occupied. Lots of guests already familiar with the La Réserve brand have travelled from Romandy to Zurich, where there's more going on. Weekdays are a different story, though, with only around 30% of the 40 rooms being filled as it stands. «We are muddling through,» he says, getting down to business over a breakfast of Eggs Benedict, avocado on toast and assorted dim sum at his hotel last December. It's difficult to predict what the future holds right now – and that's certainly true within the hospitality sector. And yet Maechler is on team optimism. He points out that he is running a small hotel that very rarely holds seminars and events. «Our focus is on individual guests.» And he believes that this is the first type of traveller we can expect to see on the move and treating themselves as soon as possible. He is confident that the situation will improve. Things may even be better by the time this article is published. For the past 16 years, Maechler and his family have been living in Neuchâtel, where he ran the Beau-Rivage. But the opportunity to open and run a hotel like the La Réserve in Zurich is only really likely to come about once in a lifetime. «Michel Reybier seeks out entrepreneurs rather than hotel managers,» says Maechler of his new boss.
Not to mention that his wife and three children were keen to move to Zurich. And it all just slotted into place for him too. So now the elephant (Maechler's own word) is back in Zurich or, more specifically, in «Sobe» (South of Bellevue), the name he gives to the area in which the La Réserve is located. Some rival hoteliers may be quick to point out that this isn't the right neighbourhood for an upmarket hotel. The old-fashioned view would be that only an address on or near Paradeplatz is good enough. But Maechler vehemently disagrees with that opinion. In his mind, the Seefeld district («Sobe») is quite possibly the city's most stunning spot. And that comes down to the beautiful lakeside location and the selection of elegant restaurants, trendy cafés and high-end boutiques. He believes that the hotel's position «at the heart of the neighbourhood» and the «image of mingling with the community» are crucial to its success. Maechler is keen to get the top restaurants within walking distance on board, for example. Even though La Réserve has two restaurants of its own – La Muna and Eden Kitchen – serving up exceptional food and fine wine. «We want our guests to have plenty of choice,» he says. And he is confident enough to work on the basis that the in-house options are difficult to beat and will prove popular despite the strong competition nearby. As the General Manager of a new hotel, he has no chance of getting bored any time soon. But Maechler somehow has space in his busy work schedule for one more responsibility, as he is now the Vice President of Swiss Deluxe Hotels. After eight years on the Board of Directors for the association of five-star hotels, the time had come for him to take on a leadership role. His main job is to maintain contacts and relationships. Managing his network is something he takes very seriously. But now the elephant has returned to Zurich. And it looks like he is here to stay. Where would elephant Thomas Maechler be more at home than at La Réserve, a hotel group with an elephant in its logo?
Words Mark Van Huisseling
Photo Nico Schaerer