Skill & Finess with a Cheeky Twist
A meal prepared by Stefan Heilemann at the Widder Restaurant is a journey for all senses that takes you from Central Europe all the way to Thailand. Always on board? Exceptional skill and a real feel for flavour.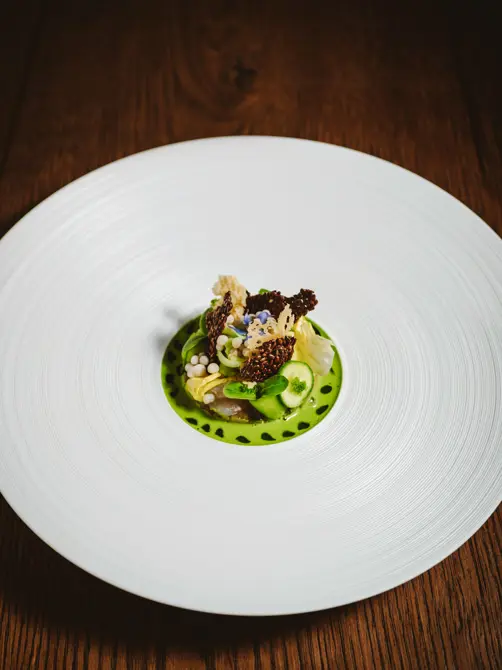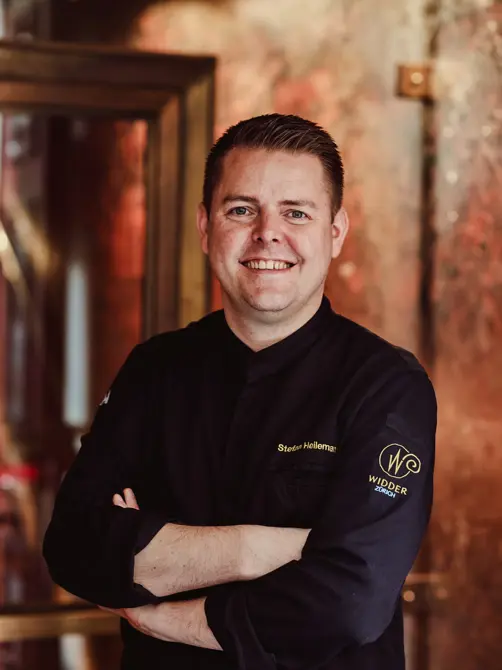 As if by magic, a crispy fried pig's ear served with a Thai-inspired cucumber salad appears on the table. This unusual delicacy is straight out of the kitchen of Stefan Heilemann, Head Chef at Widder Restaurant since the summer of 2020. Heilemann loves Thai flavours and is known for including a quirky dish or two in his menus. That explains the pig's ear, then. "Lots of my diners have been following my cooking for over five years. That level of trust allows me to send out plates like this once in a while," he explains. Whilst many other successful professional chefs stick to food from their local area, Heilemann is not keen to restricting his creativity to one place.
"I love travelling and am interested in other cultures. I want my international mindset to come across in my cooking," he says. "It's nothing to do with fusion cuisine, though. With my Asian dishes, the only western influence comes from the techniques and some of the ingredients. But I never compromise on the typical flavours." Stefan Heilemann's Asian-inspired creations may come across as ultra modern, but his attitudes toward cooking are as traditional as they get. The five years he spent working with the legendary Harald Wohlfahrt at Schwarzwaldstube (a restaurant with three Michelin stars) at the Hotel Traube Tonbach clearly had a lasting impact on him.
"You can't get anywhere in this job without the proper skills. And that's why my menus are traditionally French at heart to this day," he explains. One of his most famous dishes is the perfect example of exceptional culinary skill. A whole turbot filled with langostinos, scallops and coriander – served in a delicious tom yum sauce, with a simple bowl of fried rice on the side. The enjoyment he gets out of spoiling and surprising his guests with a cheeky twist shines through again and again. Heilemann has taken great pleasure in blurring the (previously impenetrable) boundaries between street food and haute cuisine. This comes across from the moment you pop that first amuse bouche into your mouth. A light and airy bao bun with braised duck and green curry.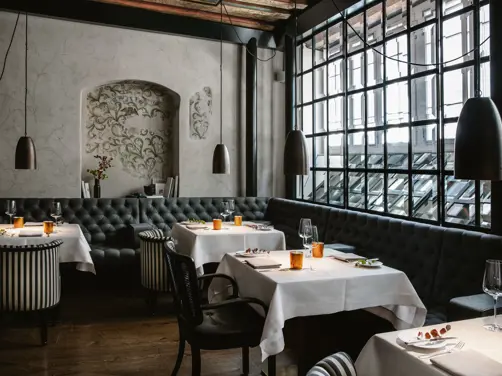 "Complexity is an important element of a full menu, but the focus has to always be on flavour. I want my guests to always want more whenever they try our dishes," explains the master chef. When he first became Head Chef at the Hotel Atlantis in Zurich (which has since closed down), he seemed to be a bit on the shy side. Now he fully embraces cooking in front of diners at the Widder Restaurant, where he can watch over the Chef's Table and chat with guests happily tucking into his food.
The vast majority of customers here are regulars who come to the Widder because they know they will be served exquisite food that not many other chefs would be able to replicate. That could be a duck liver with a salt crust or a perfectly matured game bird. Diners who come to the Widder know that they won't be served up anything overly pretentious. From the very first appetisers to the desserts created by pastry chef André Siedl, which are always perfectly balanced and, of course, seasonal. Wild strawberries, wood sorrel and liquorice is a classic Siedl combination that never fails to impress. "We just cook dishes we would like to eat ourselves", says Heilemann with a smile.
Aiming to open up his culinary creations to a wider circle, the chef created a range of simple Asian dishes to take away from the Zur Schtund restaurant (which belongs to the Widder Hotel) in the spring. His sandwich filled with beautifully succulent pork belly, coriander cream, Thai coleslaw and roasted onions became a firm favourite in the city. If you ask Stefan Heilemann for the secret to his success, his first answer is his team. And that's the whole team – from the chefs to the waiters and the kitchen porters. "Although I give the direction as far as the food is concerned, a restaurant only succeeds if the entire team works together. If it were down to me alone to prepare every single meal as the head chef, there's no chance we would have two Michelin stars and 18 GaultMillau points."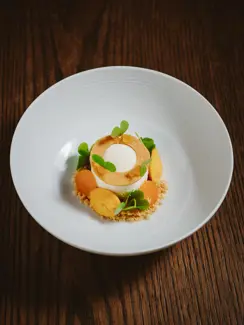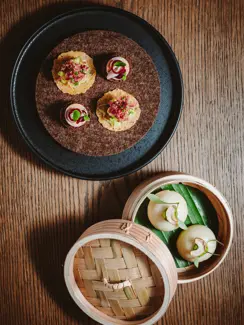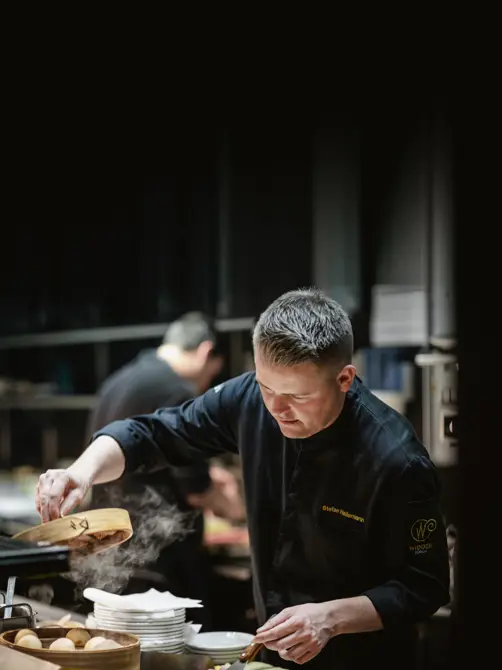 Friendship and solidarity are two qualities that Heilemann takes very seriously. After the Atlantis closed down in spring 2020, he didn't just sit around and wait for another job to come along. Instead, he worked with his chefs to put together gourmet boxes for high-end department store Jelmoli. He peeled vegetables and chopped onions like any hard-working intern. Now that he's working at the Widder, his career dreams have come true: "This restaurant is iconic and I couldn't ask for a better platform.
The fact that I was able to bring almost my whole team with me made the transition so much smoother. Consistency is one of the determining factors when it comes to high-end gastronomy. We can't be expected to work blind." Heilemann and Restaurant Manager Stefano Petta, who is also the sommelier, are a bit like an old married couple at work. "We have been working together for almost seven years and that makes my job a whole lot easier. I am fully acquainted with Stefan's flavour palette, which allows me to serve the perfect wine with his Thai-inspired turbot without having to always turn to a Riesling, which is known for going nicely with these kinds of dishes.
So I may recommend a rich rosé Grenache or a Vermentino di Sardegna with a more mineral and less acidic taste," explains Petta. Heilemann clearly has a friendly relationship based on respect with his kitchen team. And he's also always happy to hear from the service team if they have any concerns or points to raise. "The only time his facial expression is anything less than positive is when I give him direct and deliberately provocative feedback on a new dish that he is still perfecting. His response is always the same: 'Stefano, you're the worst taste tester I've ever worked with!'"