And Oskar Goes to... Badrutt's Palace, St. Moritz
A Labrador in a luxury hotel: author Titus Arnu and his dog were guests at Badrutt's Palace. A very special hotel with friendly canine benefits.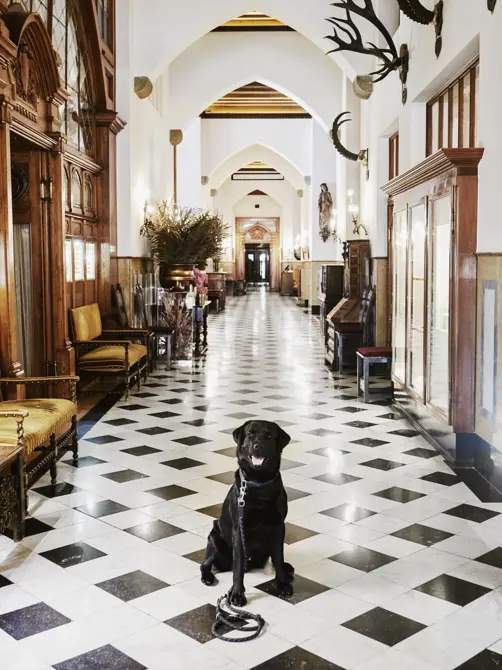 As the owner of a Labrador retriever, one is always prepared for petty food theft. These animals eat practically everything that is not locked up or tied down. They cannot walk past a dining table without being tempted to snatch a piece of bread, a slice of sausage, or a wedge of cheese, preferably all of it at once. The cheekiest thing that my dog did was to steal an entire raw trout lying next to the stove, ready to be fried. All I had done was briefly run in the garden to cut a handful of herbs. When I returned, I just managed to see a tail fin disappear down Oskar's throat. Oskar is a master thief. He can smell a treat from two kilometres against the wind, he is fast and strong, and well fed. His jet black coat shines like silk, probably as a result of his healthy diet consisting of raw fish and other delicacies originally purchased for his owners. He would be a successful draught animal in skijoring or a member of an avalanche search-and-rescue-dog team, but he is definitely not a lap dog you could hide in a handbag. Now, however, he has got to show off his best side, because we are checking in at one of Switzerland's top-rated hotels, Badrutt's Palace in St. Moritz. Oskar, heel! And, more than anything else, keep your paws and your snout off the food. As a start, we try to enter the foyer as elegantly and accident-free as possible. Before we get to the entrance, however, small piles of snow sit to the left and the right, and Oskar lifts his leg and puts down a brawny mark.
"It seems, Oskar wouldn't mind staying at the Palace forever."
After all, this is his first time in the area, and he has to leave a clear signal for the local dog community. The porters watch the goings-on and smile. These well-trained professionals will undoubtedly discreetly wipe away the yellow spot later. A porter's responsibilities include packing and unpacking luggage, parking cars and running errands in the hotel. Oskar is being welcomed by Patron, a four-year-old, chocolate-brown male Labrador, who wears a chic leather collar decorated with shiny-gold cows. His owner's name is Richard Leuenberger, the General Manager. Patron and Oskar get on well right from the start. Perhaps Patron barks into Oskar's ear in Labradorian that the storage room is filled to the brim with salmon, cured meat, legs of veal, cheese and other delicacies, and that the loot would easily be sufficient to satisfy the two of them. At check-in, Oskar is given a pendant for his collar, a stylised little tower of Badrutt's Palace to identify him as a hotel guest. In the room, everything Oskar might need has been put out: dog bed, feeding bowl, a gift bag containing goodies, and plastic bags to collect dog droppings on a walk outside. Oskar feels comfortable in the room, especially when he realises that his owner brought along a bag filled with dried dog food. Before dinner we take a walk. Directly next to the hotel, a long, steep flight of steps leads down to Lake St. Moritz. Cross-country skiers glide across the frozen lake, walkers with fur hats on their heads raise their nose to catch the sun. The view shifts to the snow-covered mountaintops of the Upper Engadine: Piz Surlej, Piz Lunghin, Corvatsch. From somewhere in the distance, one can hear the jingle of a horse-drawn sleigh. Oskar runs through the dreamy landscape and fumes like a little steam engine.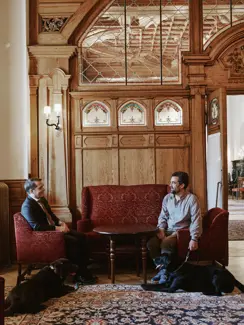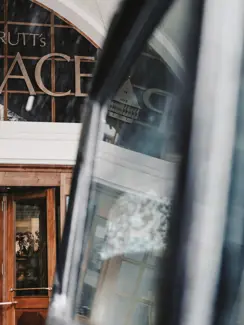 Labradors love snow. Their fur is dense and short, their paws are hardly sensitive to cold temperatures. I often take Oskar on ski trips, sometimes go dog sledding with him, and I let him pull me on my cross-country skis. We also enjoy taking long winter hikes. St. Moritz is ideal for such sports activities, and most of these sports can be embarked on right from the hotel. Signposted dog cross-country trails connect La Punt, Zuoz, and S chanf, a few kilometres down the Inn valley. After a while on the lake, we decide to return to the hotel, where several amenities await us – including Oskar's new friend, Patron. In the «Grand Hall», Oskar's claws click on the marble floor. The high ceilings, antique furniture and paintings on the walls are impressive – but not for Oskar. He is more fascinated by the pastries which he can smell here. Afternoon tea at Badrutt's Palace is legend. Guests can choose from 28 different kinds of tea, finger food is served on tiered cake stands sandwiches, scones with jam and cream, and an assortment of pastries. I try to explain to Oskar that this is finger food and not paw food. He rejects my explanation, which he shows in his body language, so I take him to our room. Dogs are permitted in the Grand Hall if they behave, but not in the restaurant. Oskar is not permitted to join me in the swimming pool either, although Labradors are known to love water. But that would be too much of a good thing. Later, we meet Patron and his owner in the Hall. In principle, Managing Director Leuenberger welcomes dogs at the Palace, regardless of whether they are Chihuahua or Irish Wolfhounds, although no longer in the bar following an incident in which both dogs and guests were injured. Leuenberger lives in the hotel with his family, directly adjacent to the kitchen which, of course, is an ideal location from a Labrador's perspective. One can order dog food from room service, ranging from uncooked vegetarian to fresh trout and fillet steak.
"After only one weekend in St. Moritz, Oskar is known all over town."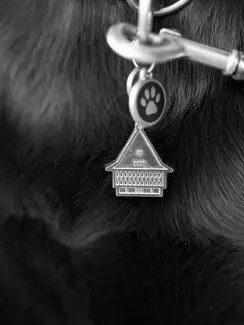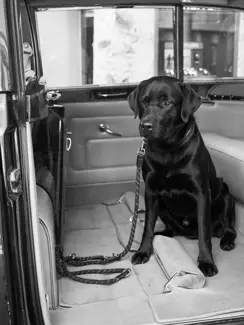 Hansjörg Badrutt, the former hotel owner, coined the saying: «When there are dogs in the hotel, times are good because people can afford them». It seems, Oskar would not mind staying at the Palace forever. He lies comfortably on the carpet of the Grand Hall with his friend, Patron, probably dreaming of an invitation to dinner. Unfortunately, after two nights at Badrutt's Dog Palace, the final farewell is nearing. In style, of course. In other words, bye-bye – heel! A black Rolls Royce is parked outside the hotel, and the colour suits Oskar's. Ezio Colturio, one of the porters, opens the rear door and lets Oskar climb in first, for a souvenir photo. The Rolls Royce Phantom was built in 1966 and belonged to the British Royal Family. It is very likely that Queen Elizabeth's Corgis were driven to and from the royal residences in this car. Colturio is extremely courteous, even to dogs, and Oskar obviously feels comfortable in the rear of the luxury saloon. He poses for the camera and presents his best side. Tourists stop, point to the presumed pampered Labrador, and film the scene. Against the backdrop of the black Phantom, black fur optically turns into a phantom itself. Nevertheless, it can be noted: after only one weekend in St. Moritz, Oskar is known all over town.
Words Titus Arnu
Photos Enno Kapitza