And Oskar Goes to... Tschuggen Grand Hotel
Falling for Luna: Author Titus Arnu checked into the Tschuggen Grand Hotel with his canine pal and watched a heart-warming winter's love story unfold before his eyes.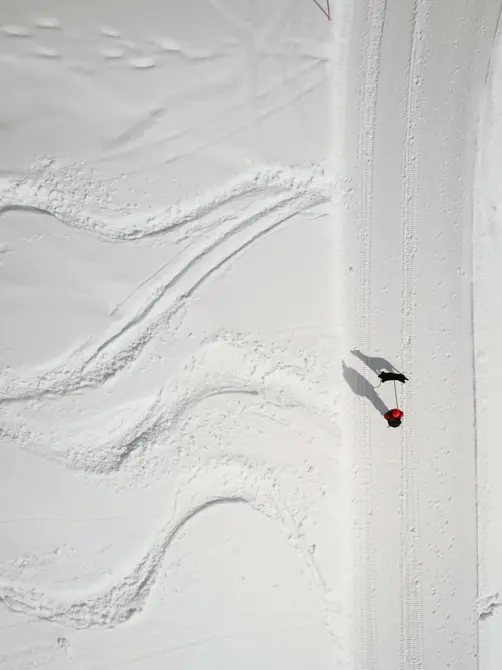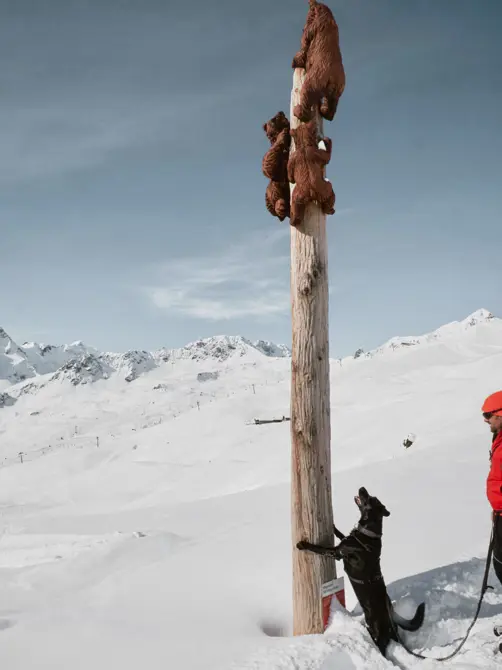 Can dogs fall in love? Do their hearts skip a beat? Do they get goosebumps? Do they feel butterflies in their stomach? My dog Oskar once had a butterfly in his stomach. I don't think we could call it love though given that he hunted it down and ate it. It's definitely possible that little insect snack gave Oskar a nice fluttery feeling inside. But I don't think that's quite what us humans have in mind when we talk about love and romance.
Let's look at this through the eyes of a dog. What must they think about our weird dating rituals? Lighting, scented candles – they stink! Drinking Champagne – how disgusting! Eating chocolates – that's just silly! And listening to soft rock classics – cover your ears! Dogs are a lot more direct when it comes to this stuff. They can't be doing with setting the scene. Or aphrodisiacs or music. Talking of music… Do you know the Cat Stevens love song "I Love My Dog"? It just doesn't make sense – a cat loving a dog. I mean, really? Here's some of the lyrics: "All he asks from me is the food to give him strength/All he ever needs is love and that he knows he'll get."
Dogs can't rhyme. They can't even force it like Cat Stevens does here. But they sure can sing. My Labrador once sat in the hallway and howled for hours like a wolf. Research has actually shown that wolves howl even louder when they are separated. Say if another wolf has left the pack. Oskar had fallen in love with a dog in heat in our village and was pining for her so badly that he expressed his sorrow in a song. The title of this future doggie number one smash? "Aroooooo, aroooooo, where are youuuuuu!"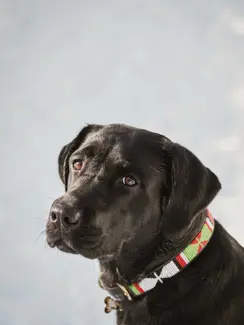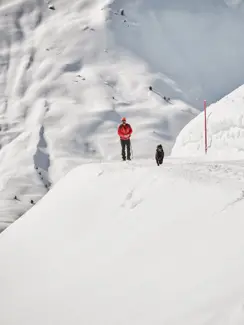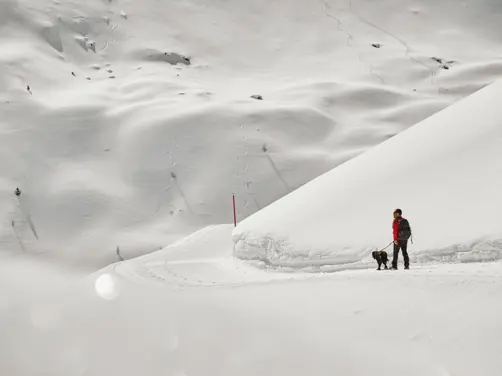 Now we could easily put this all down to hormones. But it isn't quite as simple as that. Oskar is picky. He has a definite type when it comes to the ladies. A very specific idea of what beauty looks like. Basically, his ideal partner would be the spitting image of him in female form. Labradors are by far his favourite. They can be golden, black or chocolate. But they have to smell good and share his hobbies (sniffing, scoffing, digging, cuddling). Oskar's first girlfriend was called Mala. His dream was for them to have lots of puppies and grow old together. As you can probably guess, she was a black Labrador.
You may well be wondering why I'm telling you about my energetic pup's love life in such detail. Well, you need to know a bit about his dating profile and usual type if you want to have any chance of understanding what happened when we stayed in Arosa. From the moment we arrived, it felt like we had stepped straight into a winter fairy tale. It was a beautiful day, the sun beaming down for the first time after almost two straight weeks of snow. As big skiers, my friend Enno and I only had eyes for the untouched pistes. We couldn't get out into the deep, powdery snow fast enough. Oskar lifted his nose up into the air, sniffed something and was off before we knew it.
Stefan Noll, the Hotel Manager, was waiting to greet us on the red-carpeted steps at the entrance to the Tschuggen Grand Hotel. Standing next to him on a smart red lead was Luna, a black Labrador. She looked just like Oskar. She was just a bit younger with a silky smooth black coat and a colourful collar that made her look chic and elegant on that red carpet. The two dogs looked into each other's eyes and proceeded to sniff each other all over. Boom! Oskar was in love! Head over heels. And I couldn't blame him to be honest. Luna is a very pretty little dog and a bit of a charmer. Her father was crowned the Swiss champion at the national Labrador dog show, so it's in her genes.
Stefan Noll is a dog person through and through. That much is clear from his hotel. In fact, as we found out when we took Luna and Oskar for walkies, he only took the position at the Tschuggen Grand Hotel on the condition that his dog could come with him. This laid-back luxury hotel is all geared up for guests with dogs and there are usually several pets staying here at any one time. Only the restaurant and spa are off limits to our hungry, hairy four-legged friends, which is totally understandable when you think about it. But pillows, snacks, bowls and a fluffy blanket were waiting for Oskar in our room. The only disappointment was that the dog bed didn't smell like Luna. Nevertheless, Oskar still snuggled up and shut his eyes with a satisfied sigh. No doubt he was dreaming about his new love interest. He really was crazy about her after their very brief encounter. You could even say he was a luna-tic!
"He really was crazy about her after their very brief encounter.
You could even say he was a luna-tic!"
The next morning, the sun was shining down over the mountain tops and the glistening snow was calling. After a delicious breakfast of bircher muesli and tea for us and dry food and water for Oskar, we set off to explore the mountains in this winter wonderland. Well maintained hiking trails start right behind the hotel – one heads towards Prätschli via a Swiss pine forest and the other takes you up to a sky area.
Pretty much the entire network of footpaths in Arosa is kept clear during the winter months, so there's no need to worry about dog walks being off limits. We took the hotel's own cable car up to the ski resort and walked along a panorama trail, admiring the stunning view of the valley down below and all the way to Innerarosa. Oskar burrowed in the deep snow, tried (and failed) to catch birds and flirted with skiers along the piste.
But the highlight of Oskar's day was waiting for him down in the valley. During the day, the lovely Luna chilled out in the manager's office and helped him with his work. "We all know that Luna is the boss around here really," admitted Stefan Noll. We had arranged a romantic walk for later in the afternoon.
The two dogs sped off and rolled around in the snow. When Oskar went a bit too crazy, Luna rolled straight onto her back and went with it. A flirting expert would probably tell them to play it a bit cooler, but dogs don't really know the meaning of hard-to-get. The love birds nibbled each other on the neck and ears. Until Oskar gave a little yelp – out of pain rather than desire this time. In the heat of passion, Luna had bitten him. Not in a nasty way. More to leave her mark so that Oskar wouldn't forget her.
That evening, we took Oskar to dinner with us. Sadly, Luna couldn't join us. Down in the basement, the oldest part of the hotel, there's a bowling alley and cosy restaurant. Burgers, steaks, sandwiches and salads are all on the menu and you can even order fondue if you fancy it. As we dipped bread and potatoes into our melted cheese, Oskar was lying on a blanket, staring longingly at our dinner and making sure we all knew that he wanted food, attention, cuddles and love. I think we can safely say that he got all that and more in Arosa. If we had asked him if he wanted to stay at the Tschuggen Grand Hotel forever and ever with Luna by his side, he would have let out a resounding bark. Once back home, Oskar didn't stop talking about our stay in Arosa for a while. Well, he howled about it. It went a little something like this: "Aroooooo, Aroooooo, Lunaaaaaa!" A rough translation? "Luna, I love you madly!"
Words Titus Arnu
Photos Enno Kapitza