Lake Geneva
Let's saunter around the Lavaux Vineyard Terraces, drink wine from this sun-soaked region, visit Freddie Mercury in Montreux, explore the boutiques, cafés, museums and parks of lively Lausanne, and relax in the finest spas and hotel suites Lake Geneva has to offer. Summer comes easy around here.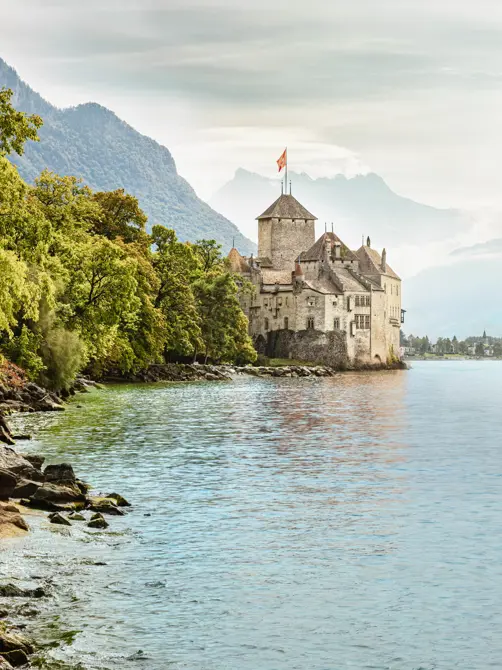 There is no end of ways to explore the area around Lake Geneva. You can hop on a train or board a boat. But sometimes your best bet is to just get walking. And don't forget that the only underground network in Switzerland can be found in Lausanne. We decided to favour comfort and convenience for our adventure along Lake Geneva, so it had to be the Audi Q4 e-tron. Several Alpine passes later, we come to the east end of Lake Geneva, where we're greeted with a breathtaking view of Chillon Castle. This medieval moated fortress stands proud, with its oldest parts dating back to around a thousand years ago. Its mighty fortified towers may have been designed to put off attackers back in the day, but visitors are more than welcome here now. Whether you take a guided tour or just wander around on your own, you're going to want to stop for a rest at Café Byron afterwards. The monument that awaits us in Montreux is on a different scale altogether – a statue of musician Freddie Mercury. Lake Geneva was a source of inspiration for Queen's lead singer, who recorded eight rec-ords here. It makes sense that 'Made in Heaven' was one of them because you get the sense that paradise can't be far away when you gaze out over the water here. The legendary Mountain Studios at Casino Barrière, where Queen recorded their albums between 1978 and 1995, is well worth a visit too.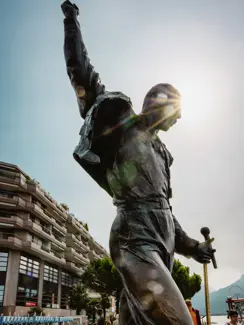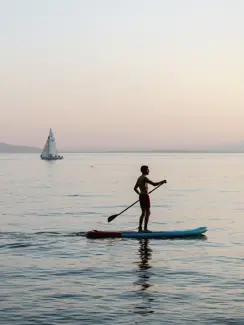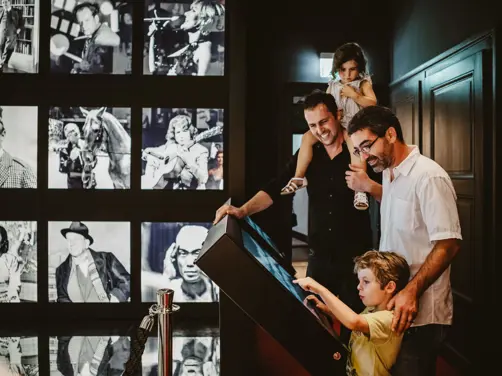 Chaplin's World, Corsier-sur-Vevey
In Corsier-sur-Vevey, we turn our attention to another legend from the entertainment world – Charlie Chaplin. Chaplin's World is a museum dedicated to the comedian with the baggy trousers and bowler hat. A fun and immersive experience, the exhibitions are bound to be a hit with the whole family.
– chaplinsworld.com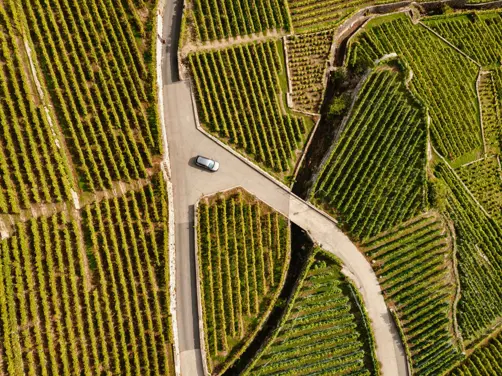 Lavaux
We cruise through the Lavaux Vineyard Terraces between Vevey and Lausanne. Along the way, we stop at the Domaine Bovy estate to admire the view of the lake and enjoy a drop of refreshing white wine. If your itinerary allows it, you could lace up your walking boots here and explore the vineyards by following the signposts along trail 113 between St. Saphorin and Lutry.
– domainebovy.ch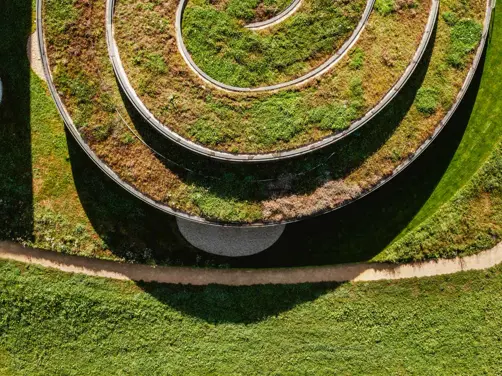 AUDEMARS Piguet, Le Brassus
Heading away from Lake Geneva, we drive along the remote roads in the Vallée de Joux. We soon learn from the Musée Atelier Audemars Piguet that this is the original home of watchmaking.
– museeatelier-audemarspiguet.com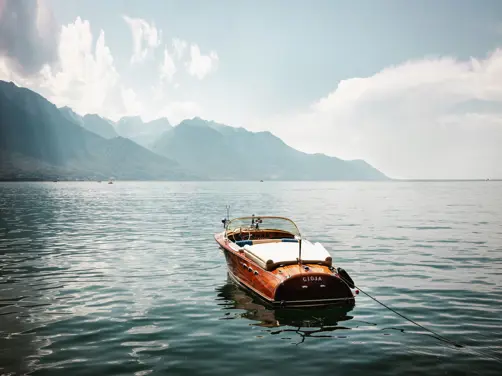 Grand Hôtel du Lac, Vevey
If you're looking for a seriously stunning spot for a lakeside stroll, head straight to Vevey. You'll probably find you want to stick around here for a bit longer. And that'll partly be down to the Grand Hôtel du Lac – a rare gem of a hotel that's as chic as they come.
– ghdl.ch
Jet d'eau, Geneva
The city of Geneva sits right at the southern tip of Lake Geneva. The main attraction here is impossible to miss! The Jet d'eau is a huge water fountain that shoots jets of water as high as 140 metres in the air. Five hundred litres of water are released every second, with speeds reaching 200 km/hour. The fountain is still switched on manually every morning.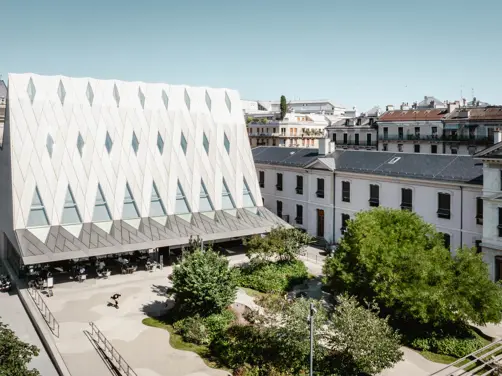 MEG, Geneva
We have Zurich-based architects Marco Graber and Thomas Pulver to thank for the exceptional exterior design of the Geneva Ethnography Museum (MEG). Inside, the collection features over 80,000 exhibits and 300,000 documents.
– meg.ch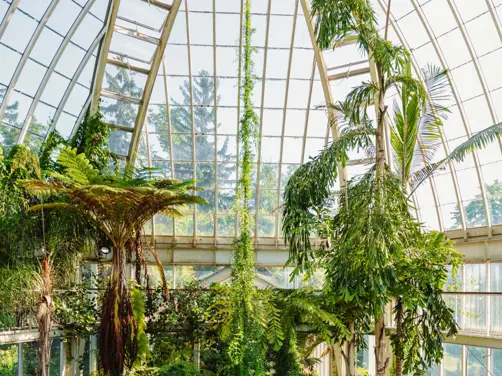 Botanical Garden, Geneva
In Geneva, you can leave the urban jungle behind and step straight into a tropical jungle when visiting Switzerland's largest botanical garden. The Conservatory and Botanical Garden of the City of Geneva is home to exotic plants from all around the world across 28 hectares.
– cjbg.ch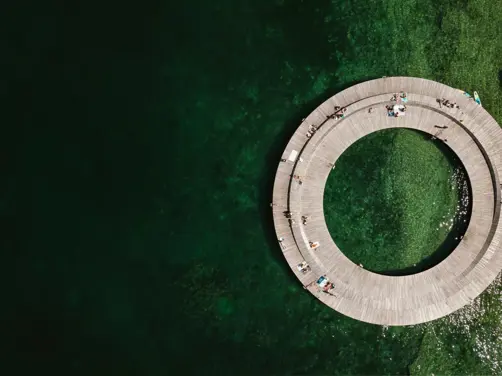 Bathing platform, Cologny
Once our journey has come to an end, we soak up some rays on the circular bathing platform at Quai de Cologny and jump into the water to cool off.
Words Martin Hoch
Photo Nico Schaerer